VMware was one of the first IT companies to turn its physical event into a virtual event. Initially, the company wanted to present its future grandly in San Francisco, but the corona virus reshaped the presentation of VMware Cloud Foundation 4. The suite includes vSphere 7 with support for Kubernetes.
In recent years VMware has slowly taken steps towards Kubernetes. Companies like Heptio have been acquired to get the right technology, but above all, the right people on board. The question coming from the market was: when will Kubernetes replace virtual machines?
vSphere 7 supports Kubernetes
VMware's preliminary response is "it won't". This was supported by presenting VMware Cloud Foundation 4 with vSphere 7, which allows you to manage not only your virtual machines (VMs), but also your Kubernetes containers. The entire core of vSphere has been revamped to support both VMs and containers, says Ray O'Farrell, executive vice president at VMware.
With this, VMware is entering a new era. An era in which it is not only a dominant player in the virtualisation market but also in the Kubernetes container market. Simply supporting Kubernetes in vSphere is not enough, which is why VMware has revamped its portfolio and juxtaposed two solutions that should really make a difference. Not only for IT operations, but also for developers developing modern cloud applications.
VMware Cloud Foundation 4 (with Tanzu)
The new VMware Cloud Foundation 4 comes in two flavours: with and without Tanzu. By default, Cloud Foundation 4 consists of vSphere 7, vSAN 7, vRealize 8.1 and NSX-T. With VMware Cloud Foundation, VMware is still aiming for the hybrid cloud: the solution runs in a data center, and can be extended to the cloud as desired, for example to VMware on AWS or one of the many other partners.
vSphere 7
As mentioned earlier, vSphere has been significantly revamped so that not only the management of VMs but also of containers is now possible. vSphere 7 with Kubernetes support will also only be available through Cloud Foundation 4 and not as a separate product. So, VMware really focuses on the VMware Cloud Foundation suite.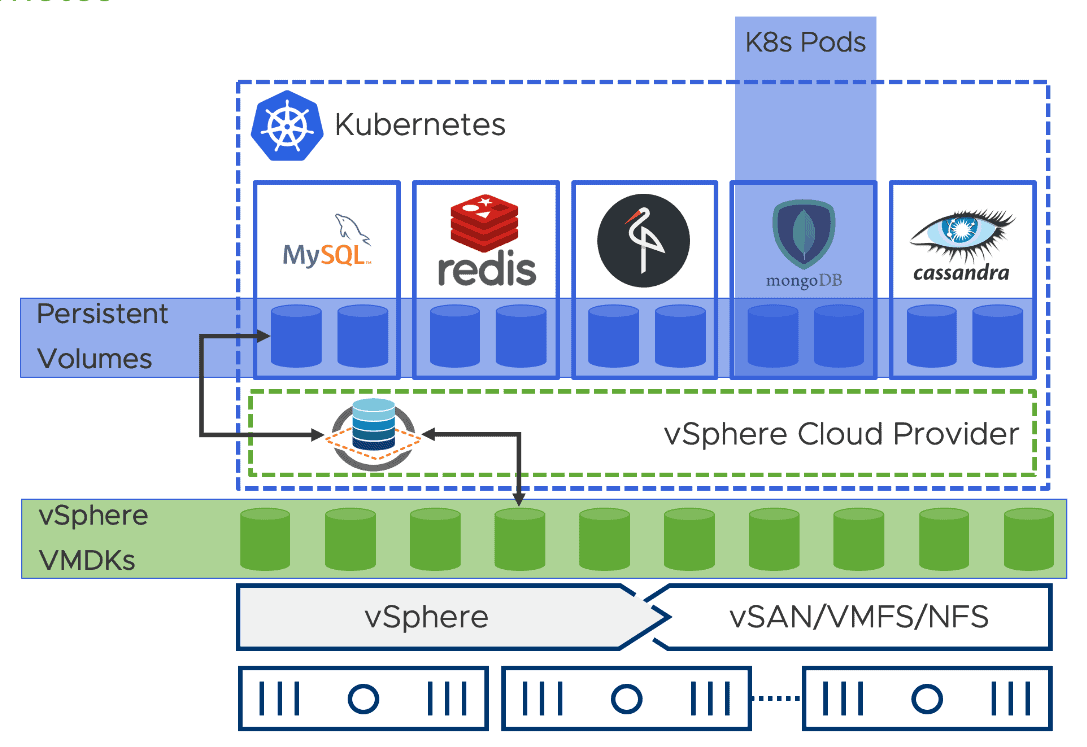 vSAN 7
With vSAN 7, storage capacity can be virtualised in the company's own data center, depending on the needs of the project. In addition, vSAN offers cloud-native storage (CNS) for modern applications. This provides vSAN with a container storage interface, so that storage can be created specifically for Kubernetes containers and can also be used by containers.
vRealize 8.1
Also, vRealize is still part of Cloud Foundation and now offers possibilities for automation of VMs and containers. Both virtualised in its own data center and to the cloud.
NSX-T
Finally NSX-T. With this, VMware offers a complete networking stack and security solutions to connect and secure VMs and containers.
VMware Cloud Foundation 4 with Tanzu
The other flavour is VMware Cloud Foundation with Tanzu. This option adds Tanzu Runtime Services and Hybrid Infrastructure Services. It boils down to a VMware interpretation of the open-source Kubernetes solution. Furthermore, there is a complete API set so that developers can also work with containers on the VMware platform. They can use APIs to build and manage the entire infrastructure.
Therefore, it seems that the normal VMware Cloud Foundation 4 is not suitable for developers, because there are no APIs available, and everything has to be done via vSphere and the GUI. In addition, the primary focus is still on-premise, and you can outsource to the cloud, but not yet manage it.
For a true multi-cloud approach, VMware Cloud Foundation 4 is not enough. Then you really need the solutions from the Tanzu portfolio.
VMware Tanzu portfolio for multi-cloud and modern applications
VMware also paid a lot of attention to the VMware Tanzu portfolio, which consists of VMware Tanzu Kubernetes Grid, VMware Tanzu Mission Control and VMware Tanzu Application Catalog.
The big difference between the Tanzu products and Cloud Foundation is that it's more focused on developers and cloud environments. While VMware Cloud Foundation has 'cloud' in its name, it's primarily a way to make your own data center capable of handling the cloud. It remains an on-premise solution that can be extended to the cloud, giving you a hybrid environment. With VMware Tanzu Mission Control, you have a central management platform that really works multi-cloud. Wherever a Kubernetes environment is made available, according to the standard open-source specification, Mission Control can work with it. With VMware Tanzu Kubernetes Grid, it is possible to deploy and make such an environment available anywhere.
For example, VMware Tanzu Mission Control can work directly with VMware Cloud Foundation in your own data center, but also with the public cloud Kubernetes solutions from AWS, Microsoft Azure, Google Cloud Platform, Oracle Cloud, IBM, Alibaba and many others. It's a true multi-cloud management tool that developers can hook into with APIs. This way, a company can, for example, make optimal use of hyper-scaler regions. In some European countries, for example, Google is represented better than AWS, or in China, Alibaba is much stronger than American players. With VMware Tanzu Mission Control, you could run Kubernetes in different clouds, and then manage it from a single control panel.
By the way, managing those Kubernetes environments is more than just creating and activating a container. Issues such as governance and rights to certain data or containers can also be managed centrally.
VMware Tanzu Application Catalog is actually the old Bitnami. This is a database full of applications that are pre-installed in a VM or Kubernetes container and can be deployed in your own cloud environment at the push of a button. Many of these applications are open source and not always easy to manage or deploy. That burden is taken over by the Application Catalog. In addition, a bit of security is involved; all applications are tested and secured. It adds an extra layer of security, which improves the standard security. Better than when developers in a company install and roll out applications themselves.
The renewed Tanzu portfolio is available immediately. The VMware Cloud Foundation 4 suite will become available on May 1st.
Also read: Will VMware Tanzu be the leading Kubernetes management solution?