More than 19 million people worldwide use Microsoft Teams, of which more than 13 million use them daily. With this, Microsoft's chat service surpasses that of its competitor Slack, which has a total of 10 million daily users.
The software giant launched the communication and collaboration platform in early 2017 and made it part of Office 365. Since March, more than 500,000 organizations have been using Microsoft Teams, including 91 percent of the Fortune 100 companies, said Silicon Angle.
Part Office 365
The predominance of teams in the market for communication and collaboration platforms is remarkable. Something that is also clearly visible in the diagram below (from Microsoft) which shows user numbers of both Slack and Microsoft. While Slack is also showing growth, that of the software giant has been considerably larger since August last year.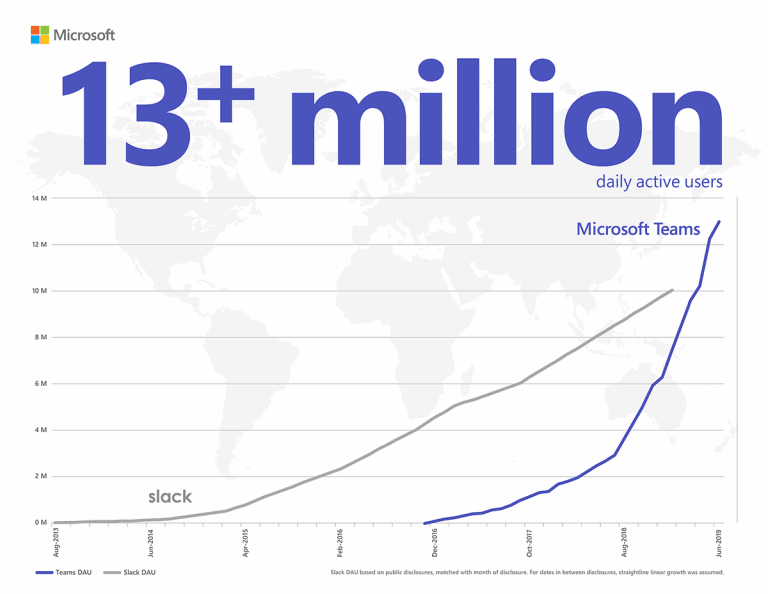 However, it should be said that bundling the chat service with Office 365 Microsoft is an advantage for large companies. Slack, on the other hand, is a stand-alone service for which you have to pay separately. This makes this solution more popular with smaller companies that may not have Office 365 subscriptions.
Prioritised communication
With the announcement of user numbers, Microsoft also announced a number of new features within Teams. Structural innovation at Teams can therefore be seen as a key factor for rapid growth. Priority communication is now a possibility, including priority messages and read confirmations. In addition, a new announcement function is now available and a single message can be posted in multiple channels at the same time.

In addition, a new timer function allows employees to enable and disable their services via Teams. In addition, a new targeted communication option improves communication with team members, given the ability to send messages to all people in the same position.
Slack
Slack also regularly adds new features to its chat service, but compared to Microsoft, it's very little. Since its IPO last June 20, Slack immediately made a leap of almost 50 percent to the New York Stock Exchange. Slack opened at 38.50 per share, which eventually rose slightly to 38.62 euros. Sun 49 percent higher than the target price of USD 26 previously set by the stock exchange on the basis of limited trading on the private market, according to the AP.
The value per share has now fallen, but the closing price is still around 35.19 euros. At the time of writing, the Slack share is at 35 euros.
Read also: Microsoft rolls out urgent update for the Windows 10 update process
This news article was automatically translated from Dutch to give Techzine.eu a head start. All news articles after September 1, 2019 are written in native English and NOT translated. All our background stories are written in native English as well. For more information read our launch article.