Google Cloud announced BigLake, a new data lake engine. Furthermore, Google is updating Cloud Spanner, its existing SQL database management service.
The newly announced BigLake should unite various data lakes and data warehouse environments in a single platform. In doing so, Google eliminates the risks of maintaining separate data lakes and warehouses, which typically drains storage capacity.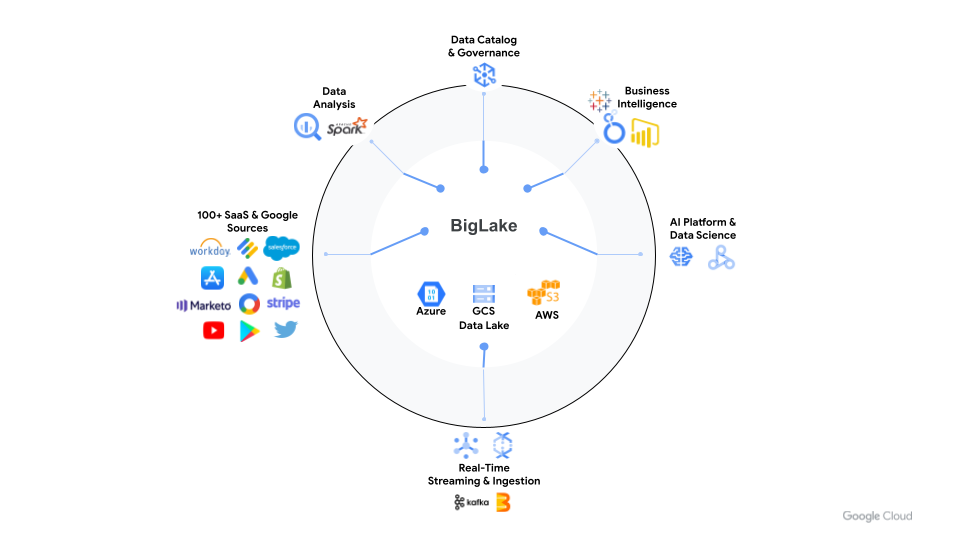 BigLake unifies all data lakes and warehouses in one place. Analytics is performed in the same environment. Most data formats and systems are supported. The environment is managed with an API that unifies environments like Google Cloud, engines like Apache Spark and open file formats like Parquet.
Spanner change streams
Furthermore, Google's existing Cloud Spanner service was extended with functionality for changing streams; Spanner change streams. This monitors Spanner inserts, updates and deletes so that changes can be streamed in real-time to the end-users of a Spanner database. Resultingly, customers always have access to current data, and can easily replicate data from Spanner to BigQuery environments, among others.

Vertex AI Workbench
In the area of AI, Google is making Vertex AI Workbench generally available. The solution allows customers to unify data and machine learning systems in a single interface. AI model developers gain a toolset for data analytics, data science and machine learning.
Partner ecosystems
Google Cloud also expanded its BigQuery partner ecosystem. Currently, partners can validate their skillset with the Google Cloud Ready BigQuery certification. The ecosystem now consists of about 25 partners, including Informatica and Tableau.
Tip: Google BigQuery Omni let's users query data on multiple clouds