Huawei presented its new mobile chipset at IFA in Berlin. The Kirin 980 is the first mobile 7 nm processor worldwide and will first appear in the Huawei Mate 20 Pro, which will be announced next month.
The Kirin 980 packs 6.9 billion transistors on a 1-inch by 1-inch die. These are 1.6 times more transistors than the Kirin 970, which was baked on a 10 nm process. According to Huawei, this translates into 20 percent better performance and 40 percent more efficient energy consumption.
The chip has eight computing cores, including four energy-efficient Cortex-A55 cores (1.8 GHz) and four brand new Cortex-A76 cores. The Kirin 980 is the first chipset with the new Cortex-A76 from ARM on board. Two cores are optimized for performance (2.6 GHz), the other two for power consumption (1.92 GHz).
Flex Scheduling
In order to take full advantage of this configuration, Huawei has developed a new Flex-Scheduling technology that enables the cores to be switched on in a flexible manner.
The energy-efficient Cortex-A55 cores take care of the simple tasks, while the energy-efficient Cortex-A76 cores are used for sustained performance. Finally, the high-performance cores remain reserved for immediate, intensive workloads.
Mali-G76
For graphical purposes the Mali-G76-gpu was added. It would perform 46% better and be 178% more energy efficient than the previous generation. The CPU incorporates AI technology to boost clock speed for gaming workloads, among other things.
While Huawei has meanwhile kept up with Qualcomm in terms of computing power, graphic performance has always lagged somewhat behind. We will have to wait for the first benchmarks to see if that difference can be made up with this generation.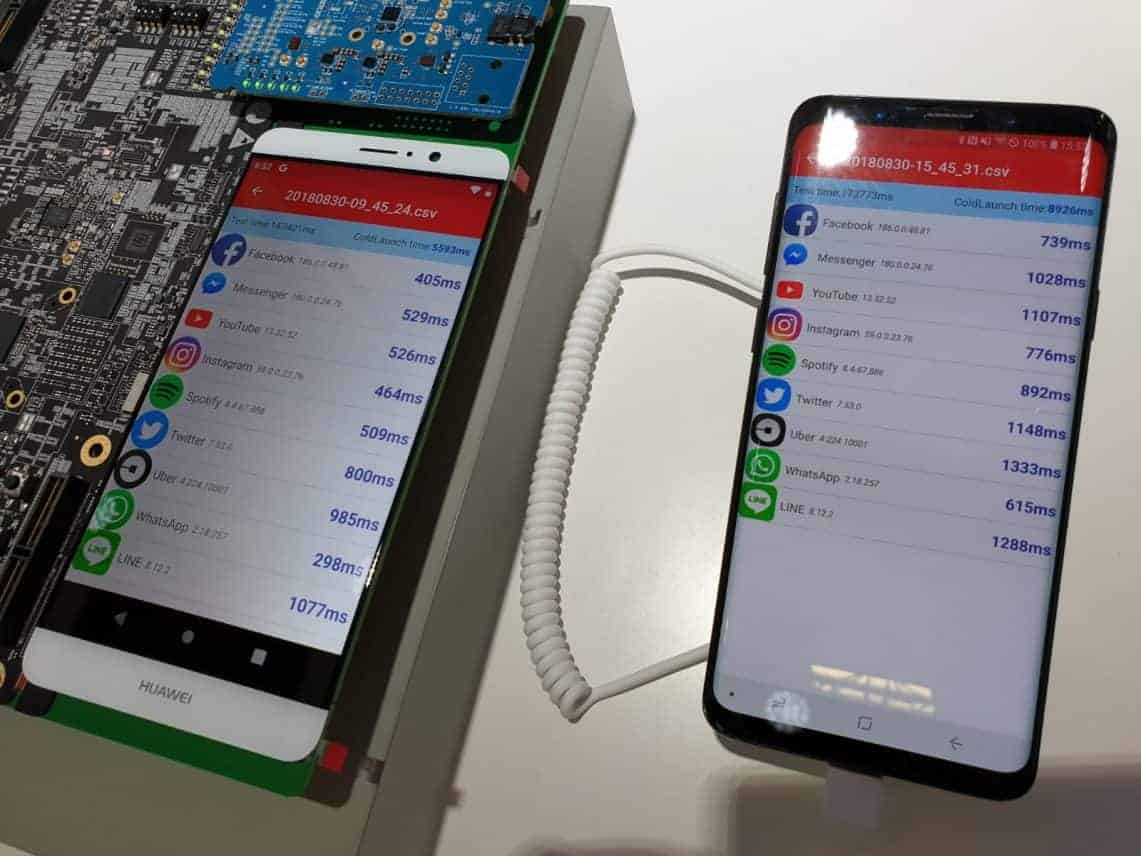 Dual NPU
With the Kirin 970 last year, Huawei introduced a Neural Processing Unit (NPU) in its chipset for the first time. How else can it surpass that than with a Dual NPU in the Kirin 980?
The on-device processor for AI workloads can recognize up to 4,500 images per minute. This is a 120 percent improvement in performance compared to the previous generation. Kirin 980 supports different frameworks such as Caffee, Tensorflow and Tensorflow Lite, and would make the development process for on-device AI a lot easier.
In addition, a completely new generation of Huaweis Image Signal Processor (ISP) was added to the SoC. It provides better support for multi-camera configurations, all-new HDR technology and multi-pass noise reduction to preserve more detail in low-light photos.
Finally, the Kirin 980 contains the first modem that supports LTE Cat.21, allowing theoretical peak speeds of up to 1.4 Gbps. The SoC will eventually also be available with the Balong 5000 modem for use in 5G devices.
7 nm of TSMC
The new Huawei chip is baked by TSMC, which is the first chipbaker to have a 7 nm process in volume production. It should be noted, however, that TSMC's process uses 193 nm ArF immersion, which is currently used by almost all chip bakers.
However, the new EUV technology, which Samsung is experimenting with for its 7 nm process, is much more efficient and budget-friendly. Next year, TSMC also plans to take a few steps in their 7 nm process with EUV, which should reduce the chips by 20 percent and require 10 percent less energy.
This news article was automatically translated from Dutch to give Techzine.eu a head start. All news articles after September 1, 2019 are written in native English and NOT translated. All our background stories are written in native English as well. For more information read our launch article.