A new photo has been leaked of a Nokia smartphone that is yet to be launched. It doesn't have the usual two, but five lenses on the back. The lenses of manufacturer Zeiss are placed in a circle on the back of the unit and are of course accompanied by a flash and light sensor.
That's what the IT home site, which shares the photo, reports. The lenses would have been made by Zeiss, just as has always been the case with Nokia phones since 2017. The phone in question seems to be the Nokia 10, of which we also heard rumours earlier this year. Also then there was the story that it's a phone with more than two lenses.
Five lenses
By releasing a phone with no less than five cameras, Nokia is making immediate steps ahead of the competition. Earlier this year, Huawei launched the P20 Pro, a smartphone with three lenses on the back. These support three times optical zoom and five times hybrid zoom.
There is also a rumour that LG wants to release a phone with three lenses on the back. What exactly will be the use of five lenses is not yet entirely clear, but it is likely that they will at least contribute to the possibility of zooming. But there will most likely also be other functions.
Which one, however, is not certain. In any case, the picture below is an interesting one and shows that Nokia phones remain innovative since HMD took over the brand from Microsoft.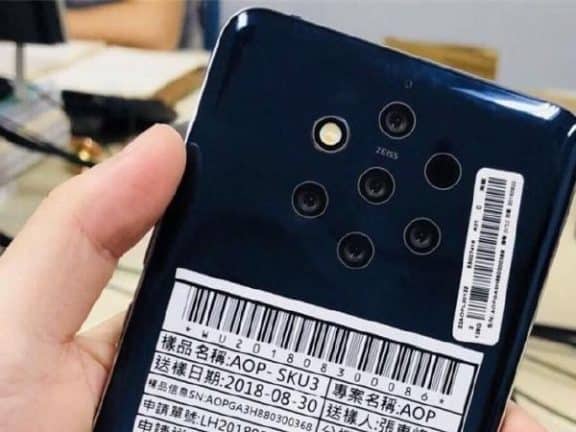 This news article was automatically translated from Dutch to give Techzine.eu a head start. All news articles after September 1, 2019 are written in native English and NOT translated. All our background stories are written in native English as well. For more information read our launch article.