The Microsoft Surface Hub 2 will be released in the second quarter of 2019. But Microsoft does that in two editions. The edition that will be released next year will be called Hub 2S and a year later the company will release the Surface Hub 2X.
Microsoft reports this in an extensive blog. Surface Hub 2S is equipped with a removable processor cartridge, which allows for some important upgrades. In the course of 2020, Microsoft will launch Hub 2X, which includes a rotatable screen. Not only that: this variant can also be linked with multiple screens, to form a large board together. This is not possible with the 2S, but it is possible when the processor cartridge of the 2X is used.
The Surface Hub 2S and 2X
According to Microsoft, Hub 2S was developed primarily for customers who indicated that they wanted the original Surface Hub experience, but in a lighter, thinner version with a more vibrant design. The company responds to this, because judging from the image below, it is a fairly light device that looks like a thin television screen.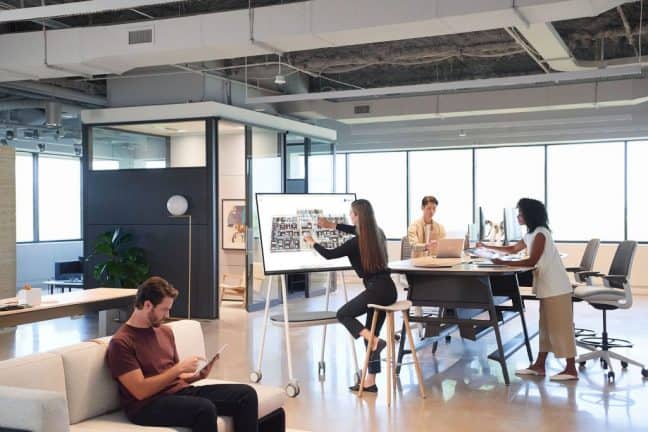 A year later, the Hub 2X is released, which makes it possible to rotate the screen, connect it to other screens and allow multiple users to log in at the same time. On the back of the Hub 2S and 2X is a flap behind which the cartridge is located. This makes it easy to change the cartridge.
Surface Hub 2 features a 50.5-inch display and offers 4K resolution. In addition, the aspect ratio is 3:2. The 2S also features Surface Hub software, where the 2X upgrade will soon feature Windows 10.
https://www.youtube.com/watch?v=lPEE-zOcnKI
This news article was automatically translated from Dutch to give Techzine.eu a head start. All news articles after September 1, 2019 are written in native English and NOT translated. All our background stories are written in native English as well. For more information read our launch article.