Global sales of network switches and routers reached a record level in the third quarter. The market experts of the Synergy Research Group have stated this in a recent quarterly report on this market segment. Cisco is still the absolute market leader.
The researchers found in their quarterly report that the 1 percent annual growth was enough to realize a total turnover of no less than 11 billion dollars in these market segments for enterprise network Ethernet switches, enterprise routers and service provider routers.
The North America region accounts for the largest turnover, 40 percent of the total, followed by the Asia-Pacific (APAC), EMEA and Latin America regions. The APAC region is the fastest growing market, mainly due to increasing sales in China.
Most interest goes to Ethernet switches
The growth of the market segments shows, according to the quarterly report, that despite the rise of Software Defined Networking (SDN), Network Function Virtualization (NFV) and the self-designed equipment of the hyperscalers, the market for Ethernet switches and routers is still very large and, although slow, continues to grow.
In the past quarter, Ethernet switches were the main source of interest in network equipment. This network equipment accounted for 60 percent of total global sales. This specific segment was also able to achieve the most growth. The strong growth of the enterprise Ethernet switch segment is mainly due to the high demand from companies and organizations for 100 GbE and 25 GbE switches, according to the specialists of Synergy Research Group in their report.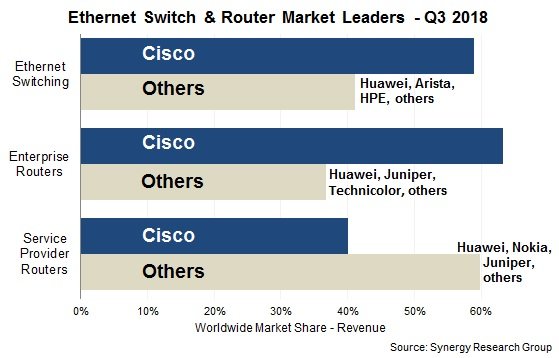 Cisco still the biggest
Naturally, the researchers also looked at the various market shares of the various suppliers. The overall conclusion is that Cisco is the market leader across all three market segments. The total market share of this supplier is now around 53 percent. In the last four quarters, this was still 50%. The variables were between 63 percent market share for the enterprise router segment and 40 percent for the service provider segment.
Market shares after Cisco are contested by a large number of suppliers, but the experts indicate that on average Huawei, Juniper Networks, Nokia Networks, Arista Networks and HPE are the runners up. Despite all the recent scandals, Huawei scores well because of the strong sales in China. Arista Networks recorded the strongest growth in the last third quarter of this year. Strongly emerging vendors in the enterprise and service provider segments are, according to specialists H3C and Extreme Networks.
This news article was automatically translated from Dutch to give Techzine.eu a head start. All news articles after September 1, 2019 are written in native English and NOT translated. All our background stories are written in native English as well. For more information read our launch article.