AT&T's 5G Evolution service is marketed as a true 5G service. The aim is to make the American public aware of the high speeds that 5G can achieve. But test results from OpenSignal show that the service is slower than competitors' enhanced 4G LTE networks. A small disgrace for the company, which put the service on the market with a lot of bombardment.
OpenSignal tested the speed of the 5G E network and compared the results with 4G networks of competing telecom providers. It turned out that a 5G E phone had an average download speed of 28.8 Mbps, whereas T-Mobile had an average of 29.4 Mbps and Verizon 29.9 Mbps. In addition, the average download speeds of AT&T's 4G network were also slower than those of T-Mobile and Verizon, but faster than Sprint's network.
Slower than 4G
The 5G E speeds experienced by AT&T users are very similar to an ordinary 4G speed and do not represent the huge leap forward that 5G promises to be, writes OpenSignal in its report. AT&T did launch the 5G E-mark as a way to get consumers acquainted with 5G.
The brand name has already led to protests among AT&T's competitors. For example, last month Sprint filed a lawsuit against AT&T because the 5G E-brand name would be misleading and would cost Sprint turnover. T-Mobile, which will merge with Sprint this year, also took AT&T on board and Verizon's CTO Kyle Malady criticised the choice for this brand name. Nevertheless, AT&T still supports the brand and does not agree with the OpenSignal research method.
The tests of OpenSignal took place with AT&T phones released under the 5G E brand name and indicating that they are connected to a 5G E network. According to AT&T, however, this is not enough and the researchers should have confirmed that the phones were actually connected to a 5G E network. The latter was not done, so AT&T does not write down the research methodology as sufficient.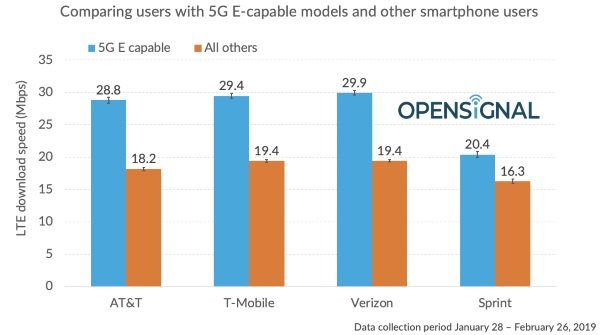 This news article was automatically translated from Dutch to give Techzine.eu a head start. All news articles after September 1, 2019 are written in native English and NOT translated. All our background stories are written in native English as well. For more information read our launch article.