One day after Intel announced its second generation Programmable Acceleration Card (PAC) for data centers, Xilinx is doing the same. The new Alveo U50 FPGA card supports PCIe 4.0 and has 8GB of HBM2 on board.
The single-slot Alveo U50 runs on Xilinx 16nm Ultrascale+ architecture and follows in the footsteps of Intel's own D5005. The latter uses a 14nm Stratix 10 FPGA.
However, the new Alveo U50 has some trump cards that Intel can't offer. This gives it 8 GB HBM2 instead of 32 GB DDR4 memory. Thanks to HBM2, the Alveo U50 has 460 Gbps of bandwidth at its disposal.
Two firsts
Xilinx provides two firsts in terms of accelerator cards. For example, the Alveo U50 supports PCIe 4.0 and ARMs cache-coherent CCIX protocol. It is striking that Xilinx has been waiting for the announcement of AMD's Epyc Rome chips with PCIe 4.0 support to get the most out of the card.
It also supports 100 GbE (QSFP 28) and claims low power consumption of up to 75 watts. The Intel D5005 has a TDP of 215 watts. Xilinx targets use cases with the map, including machine learning inference, video transcoding, data analytics, eletronic trading and financial risk modeling.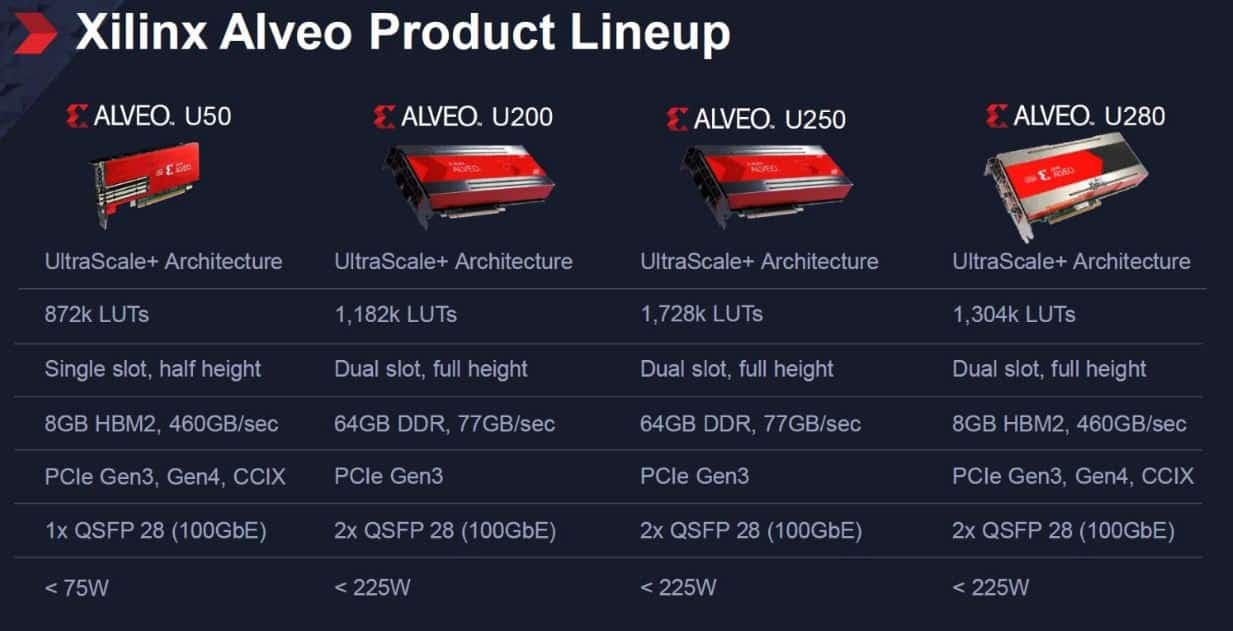 The Alveo U50 is the fourth card in the UltraScale+ portfolio of Xilinx. The first samples are delivered today with a wider availability in the autumn.
Related: Intel debuts new FGPA card in HPE ProLiant server
This news article was automatically translated from Dutch to give Techzine.eu a head start. All news articles after September 1, 2019 are written in native English and NOT translated. All our background stories are written in native English as well. For more information read our launch article.