Network specialist Netgear introduces a new system to its Orbi wifi 6 mesh portfolio, the Orbi AX4200 (RBK572/573). This model should give consumers and small businesses better wifi coverage at a lower price.
Netgear's Orbi wifi 6 AX4200 mesh systems are designed to give homes and small businesses strong and stable internet coverage anywhere and at any given moment. Among other things, the wifi 6 mesh network enables various bandwidth-intensive activities to be carried out simultaneously and without problems via the wifi 6 mesh network. Examples include streaming in 4K, UHD or even 8K, online gaming and video conferencing for people working from home.
RBK572/573 features
The new model, the RBK572, is added to the default AX4200 version RBK852/853. However, the RBK572/753 is more accessible for multiple households due to a lower price. Like the other version, the RBK572/753 offers the same coverage and supports up to 40 different devices at the same time. In addition, it has a speed of 4200 Mbps and a maximum bandwidth of 1200 Mbps over the 5GHz wifi frequency. The new Orbi mesh system is also designed to perform at ISP gigabit internet speeds and supports speeds of up to 1 Gbps.
Compared to the standard version, the newly presented RBK572/573 system does have some limitations: 40 instead of 60 connectable devices, lower wifi speed, less LAN ports and backhaul.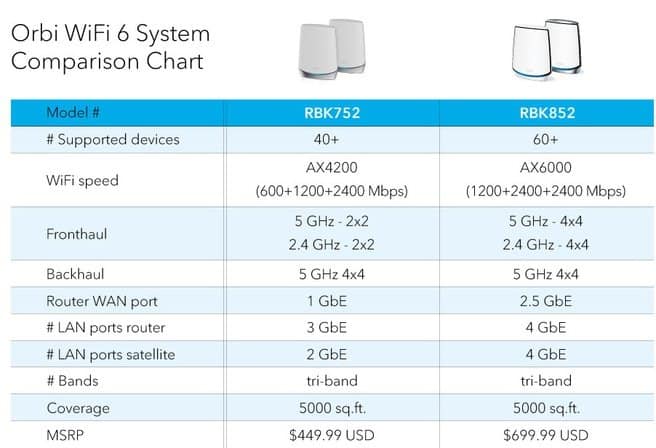 Other functionality
The Orbi AX4200 mesh system also includes a wireless router and satellite by default, which, thanks to tri-band mesh, provides the customer with a powerful network. The router has three Gigabit Ethernet LAN ports, and two on the satellite, to which multiple devices (wired) can be connected to create a stable internet connection for a home office or home entertainment system.
The Netgear Orbi RBK753 will be available at the end of July and will cost 600 dollars. The Netgear Orbi RBK752 will be available in August and will cost 450 dollars.
Tip: NetGear Orbi Pro; The strength of access points without network cables