Synology launched the WRX560. The router provides fast and secure internet in homes.
The WRX560 aims to give households high-speed wireless internet. The router offers a maximum throughput of 3000 Mbps. Throughput peaks at 600 Mbps for 2.4 GHz and 2400 Mbps for 5 GHz. The router is approved for the new wifi 5.9 GHz spectrum, allowing higher speeds in little-used frequencies.
Other specifications include a quad-core 1.14 GHz processor, 512 MB of RAM, a 2.5 GbE WAN/LAN port and mesh functionality that allows the router to integrate with other Synology routers and access points. A total of 150 devices can be connected simultaneously.
Software features
Integrated software includes Synology Router Manager (SRM). This operating system provides standard network functionality, such as VPN server hosting, detailed bandwidth monitoring of devices and VLAN network segmentation.
Through the mobile DS router app, users can manage tasks such as the router's setup, traffic monitoring, network management and guest network configuration. Integrated Safe Access functionality further provides parental control and web filtering capabilities.
The Synology WRX560 wifi 6 router is now available.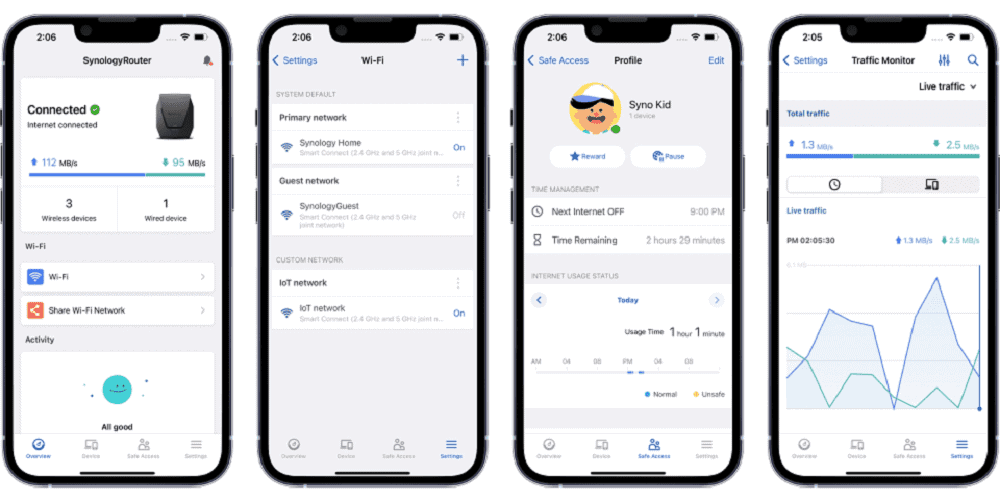 Tip: Synology ramps up data management and protection in 2023