Oracle allows customers to use its complete Oracle Gen 2 Cloud environment stack and portfolio in their own data centers with the introduction of Dedicated Region Cloud@Customer. This gives customers a complete managed option of all services and functionality offered by Oracle's public cloud regions.
By offering Dedicated Region Cloud@Customer, Oracle wants to give its customers the experience of a public cloud environment for their most essential workloads, including access to all Oracle cloud services. This means that customers also have access to the renowned cloud solution Autonomous Database.
This is a response by the cloud giant to customers' wishes. Many companies expect to run some of their workloads in their own on-premise data centers in the near future. This leads to high demand for a hybrid architecture that includes the same services, functionality and the ability to easily transfer applications and data between public and on-premise cloud environments.
All public cloud services available on-premise
With the launch of Dedicated Region Cloud@Customer, Oracle offers all its cloud services on-premise. These are more than fifty different services. They also benefit from all APIs, SLAs, optimal price performance and the highest security that the public cloud environments typically offers. According to Oracle, this is ideal for highly regulated or security-oriented companies that need to meet strict legacy and data residency requirements or companies that need to reduce operational costs and modernise legacy applications.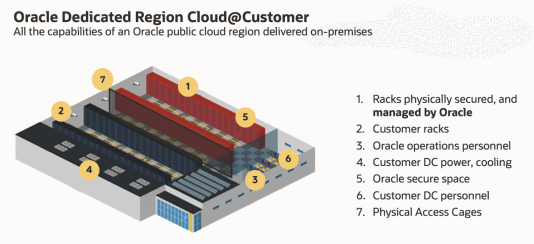 Full management options
In addition to the full capacity of the Oracle Cloud Infrastructure, Oracle Dedicated Region Cloud@Customer also offers full management capabilities and access to new functionality once they become available in Oracle's public cloud.
The on-premise version of the second generation Oracle Cloud environment also provides strong isolation of customer data, including all API operations that are kept local to customer data centers and provide the highest levels of security. In addition, Oracle Dedicated Region Cloud@Customer is certified to seamlessly run Oracle cloud applications, such as the Oracle Fusion Cloud Applications Cloud ERP, Cloud HCM, Cloud SCM and Cloud CX. This also creates a fully integrated cloud experience on-premise. Customers only pay for services they use with the same predictable low prices offered in Oracle's public cloud regions.
Oracle Dedicated Region Cloud@Customer is now available.