Synology has introduced the RackStation RS2421+, RS2421RP+, and RS2821RP+. It is a trio of rack-mounted NAS devices that offer better performance than their predecessors due to the updated hardware.
The three systems are similar to the RS1221+ that Synology announced in January but feature more drive bays. Like the RS1221+, the systems feature an AMD Ryzen V1500B processor and 4GB of ECC memory, user expandable up to 32GB. The systems are equipped with four gigabit Ethernet ports, but there are additional expansion options through the free PCIe slot. The PCIe slot can be used, for example, to connect a faster network card or an NVMe SSD for cache.
12 or 16 drive bays, with room for growth
The differences between the three new models are minor. RS2421+ and RS2421RP+ are both 2U sized with 12 drive bays, but the RP+ version features an additional power supply for redundancy. The RP2821RP+, which has 16 drive bays in a 3U format, also has this additional power supply. When the 12 or 16 drive bays are full, the NAS devices can optionally be expanded with the RX1217. This expansion unit adds 12 additional drive bays to the systems, optionally with an additional redundant power supply.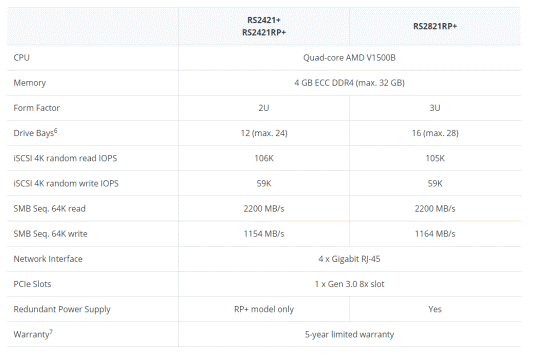 Twice as fast
Synology claims the new systems are over two times faster than their predecessors in terms of both read and write performance and IOPS. The IOPS performance in read and write is over 100K and 59K, respectively. Sequential read and write speeds are 2200 and over 1150 MB/s, respectively.
DiskStation Manager
As with all of Synology's NAS systems, the new RackStation devices run on DiskStation Manager. This platform offers a variety of apps from both Synology and third parties. Examples of these are Hyper Backup, which helps to back up the contents of the NAS to the cloud, and Active Backup, which helps to backup Windows clients, servers, file servers and VMs. With Surveillance Station, users can easily store the footage from their security cameras on their NAS.
The RS2421+, RS2421RP+ and RS2821RP+ are available for purchase immediately. Synology did not mention prices.