A former Chinese employee stole sensitive company information in 2022, chip machine manufacturer ASML reported the theft in its annual report over the past year. Specifically, this includes intellectual property involving ASML's most advanced EUV technology.
In its recently published 2022 annual report, the Dutch chip machine manufacturer indicates that in the past year, a former Chinese employee was guilty of stealing intellectual property. This theft, which ASML claims was only recently discovered involved information about the company's most advanced technology, EUV technology.
The theft of the data has no impact on ASML's financial performance, but does impact the export ban on it's technology to China. Therefore, after the discovery of the data theft, the company notified the Dutch government that it may have violated export regulations.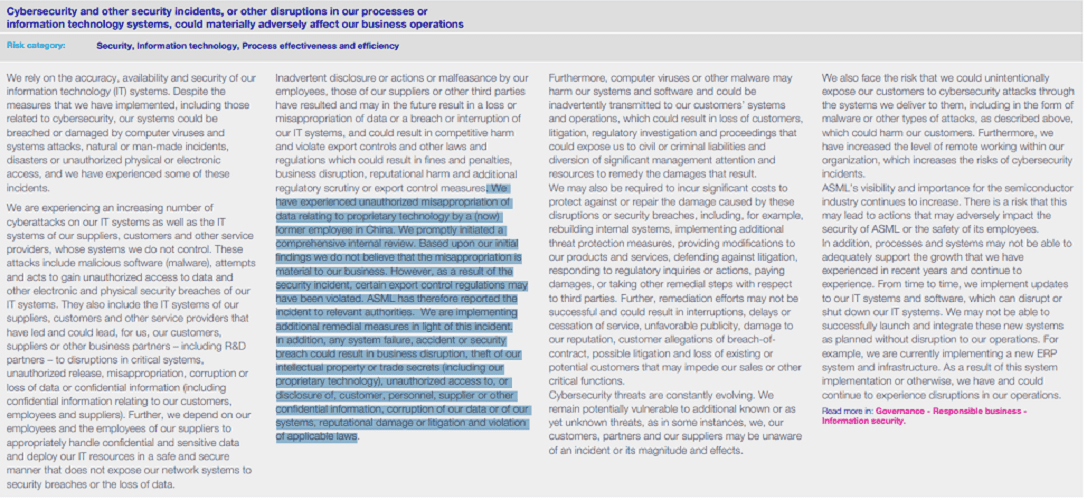 Continued investment in security
ASML further indicated that it continues to invest heavily in protection against cyber attacks and theft of confidential information about its technologies. The company has also previously had to deal with (Chinese) employees stealing sensitive intellectual property.
Sensitive moment
ASML's admission in its annual report comes at a precarious moment. The Netherlands has already imposed an export ban on ASML's EUV technology and machines at the request of the United States. This is because the US fears the technology could also be used to manufacture chips that then end up in Chinese military applications.
The US has recently put pressure on the Netherlands -and also Japan- to further restrict the export of chip machines with older technology. The Netherlands at first did not want to do this, but it was recently announced that the Netherlands and the US reached a deal to also restrict the export of older technology.
Also read: 'Netherlands strengthens chip export restrictions at request of US'