Zscaler recently introduced its Zscaler Resilience solution. The functionality of this solution should extend the resilience and functionality of the existing Zscaler architecture. This using new so-called Security Service Edge (SSE) functionality such as disaster recovery, exclusion of affected data centers and Zscaler Resilience Audit.
With the service announced this week, users and devices will soon be able to stay connected to critical cloud applications at all times. In doing so, the tool should allow companies to recover as quickly as possible from incidents that could affect day-to-day operations and, of course, prevent them.
Zscaler calls its new solution Zscaler Resilience. It is part of its Security Service Edge (SSE) offering. SSE is actually a collection of integrated cloud-based security functionality for secure access to Web sites, SaaS applications and private applications. The functionality includes, for example, ZTNA, a cloud secure web gateway (SWG), a cloud access security broker (CASB) and a Firewall-as-a-service (FWaaS) service.
In the case of Zscaler Resilience, the functionality is primarily based on that of the proprietary cloud security platform Zscaler Zero Trust Exchange. The new solution should help protect during blackouts, brownouts and also infrequent incidents. This involves automatically finding the possible paths to still optimally connect users and devices to the cloud-based applications.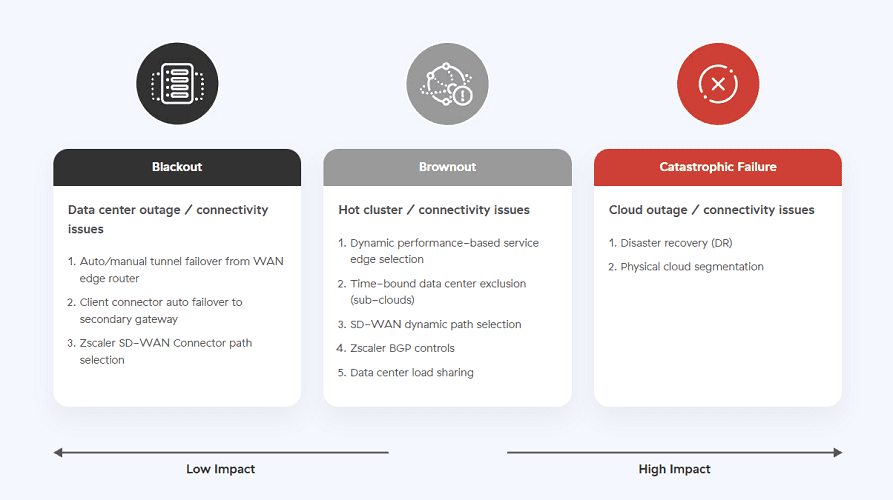 New functionality
More specifically, Zscaler offers four capabilities with the new Zscaler Resilience. First of them is disaster recovery. This allows IT and security teams to access private applications behind the Zscaler cloud environment via a secure bypass, even if they are affected. They can then connect to a Zscaler Private Service Edge in a local data center or in a public cloud environment where the latest security policies are still applied, without disrupting operations. Direct internet access can thus be limited to the most important business applications with local content filtering by Zscaler Client Connector to allow work to continue.

The second functionality offered by the new solution is Dynamic Performance-based Selection. This functionality allows customers to quickly recover from so-called brownout scenarios that degrade performance between end users and (cloud) applications. This involves continuously examining gateways for HTTP latency and autonomously setting up tunnels that seek the optimal path for application traffic.
Data center exclusion and help service
The third functionality that Zscaler Resilience brings is Customer-controlled Data Center Exclusion. This allows companies to set a temporary "exclusion period" for data centers that have connectivity issues. Once these issues are fixed, connections are automatically restored.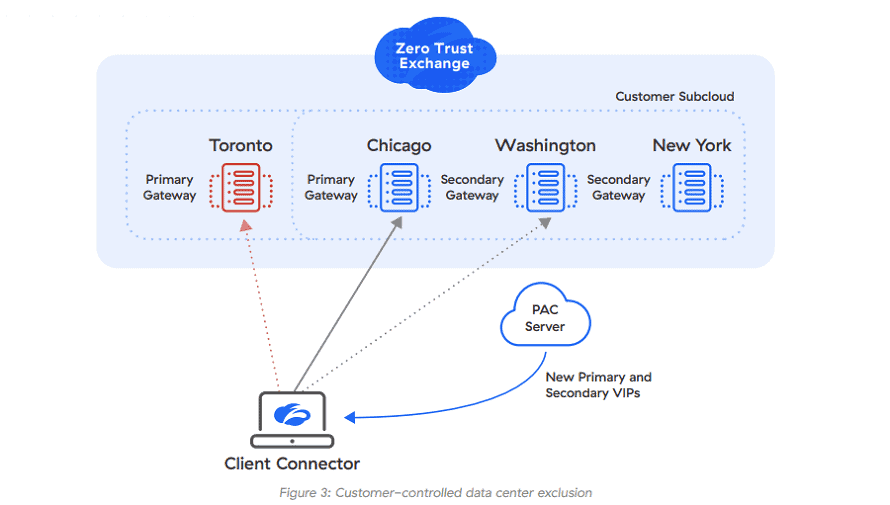 Further added to this functionality is Zscaler Resilience Audit. This is a new personalized service that helps customers set up business continuity plans. Among other things, by discovering possible improvements and preventing potential problems.
Zscaler Resilience is available now.
TIP: Zero trust high on agenda by cloud, potential untapped.