Most recent version of the Samsung Galaxy XCover line is the most expensive yet. Does the Galaxy XCover 6 Pro manage to brush away the downsides of previous generations? And if so, is it worth the extra cost? We tested the device thoroughly.
The title of our review of the Samsung Galaxy XCover 5 reflects how we thought about the entire XCover line of smartphones in the Galaxy stable until now. It was fine if you wanted a phone for a specific task, but it was not always very pleasant to use an XCover for everyday purposes. In addition, Samsung carried two separate lines within the XCover portfolio, at least in the previous generation. There was the aforementioned XCover 5 (and before that the XCover 4), but there was also the XCover Pro.
The XCover 5 was relatively inexpensive, but that was reflected in its components. The XCover Pro had significantly better specs, but also a price tag to match. This while it also failed to convince us in daily use. Where you could pick up the XCover 5 for less than 300 euros, the XCover Pro was priced north of 500 euros. With the XCover 6 Pro, Samsung chose to merge the two lines. Not only in terms of naming conventions, but also in terms of specifications.
We used the Samsung Galaxy XCover 6 Pro as our primary smartphone for a while, to see if it was a good move by Samsung to merge the two lines. The device has been given a suggested retail price by Samsung of 609 euros, including VAT. That's 100 euros more than the XCover Pro a few years ago. What do you get for that investment? We found it out for you.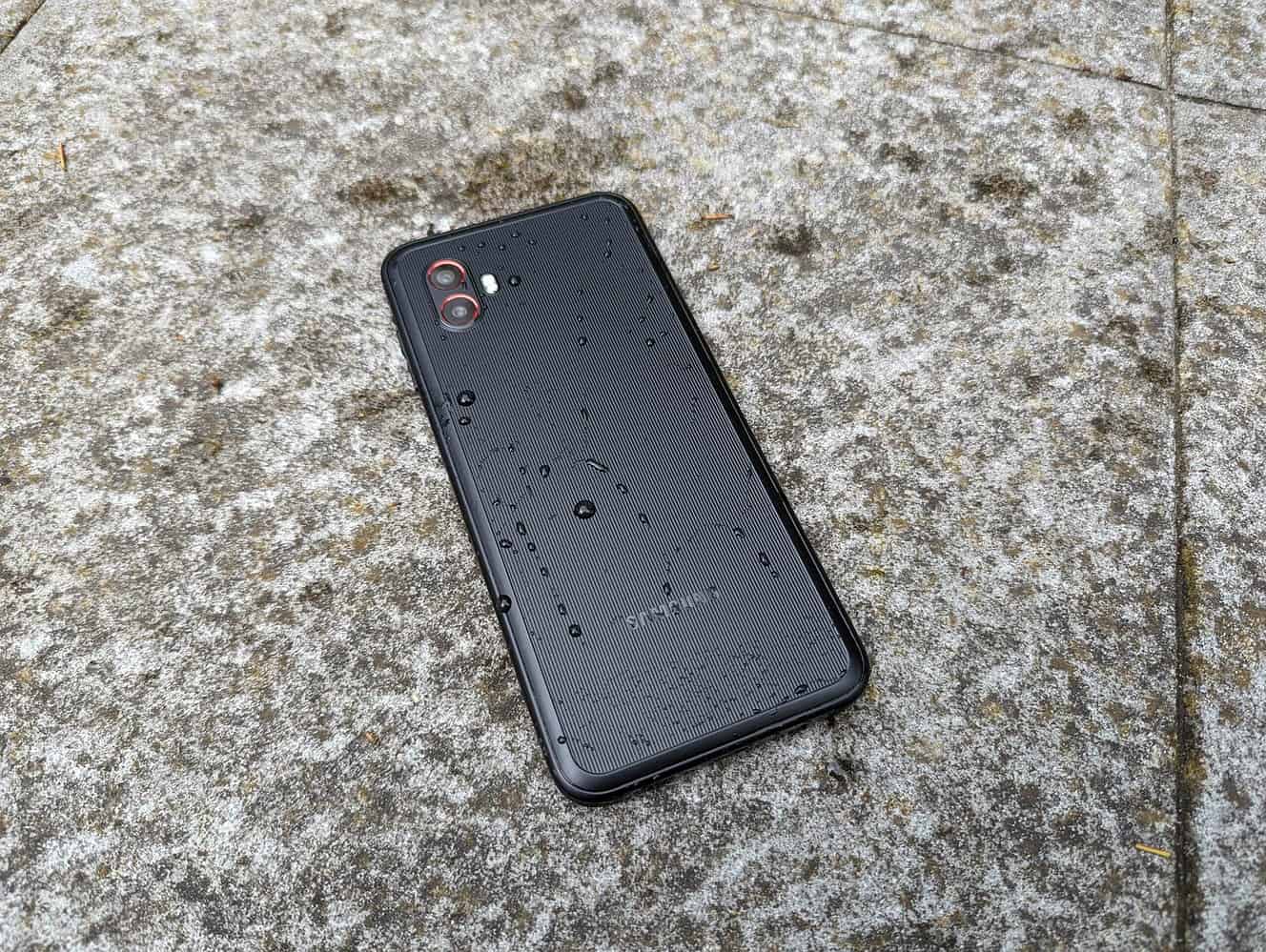 Samsung Galaxy XCover 6 Pro is a large phone
When you take the Samsung Galaxy XCover 6 Pro out of the box, you immediately notice that it is a pretty big device. It has a screen with a diagonal of no less than 6.6 inches. That's the same size as a Samsung Galaxy S23+, to give you an idea. We liked the relatively small size (5.3 inches) of the Galaxy XCover 5 to be honest. Especially if you have to walk around with it all day, for example in ministry. On the other hand, a larger screen opens other doors. It's a little easier to go through lists where you have to check things off, for example. Also, if you have to operate it with gloves on, a larger device is probably more comfortable.
Also read: Review: Samsung S23 flagships flex their muscles
The Galaxy XCover 6 Pro may be big, but it's not difficult to hold in your hand. It is not a clunky large device. For example, it is less than a centimeter thick. The weight is also kept within reason at 235 grams. It has the sturdy edges you expect from a ruggedized device, but these are relatively inconspicuous. Of course, the screen is "inside" the casing. In most non-ruggedized devices, the display is often part of the side. That is, the display curves a little bit around the edges. That's not possible with a device like this, as it would never be able to withstand a drop from any height.
A device like the Samsung Galaxy XCover 6 Pro must first and foremost be able to withstand a drop or other type of impact. However, this does not mean that it has to fall often, of course. Hence, both the edges and the back of the device offer extra grip. This ensures that you can hold it firmly in your hand, even if your hands might be a bit dirty or wet.
Configurable buttons for quick actions
Around the edges of the Samsung Galaxy XCover 6 Pro, we see several buttons. Besides the power button (with built-in fingerprint reader) and the volume buttons, there are also two more buttons on top and on the left. The button on the left is the XCover button, the one on top has no special designation.
The functionality of the two buttons is identical. You can configure them for Push-To-Talk (PTT), for example for Microsoft Teams' Walkie Talkie, but also to initiate other actions. Think of turning the flashlight on and off, as well as quickly opening an application. In camera mode, you can use them both to take a picture. Finally, the power button can also perform multiple functions. By pressing this button twice in a row, you can open the camera app, or open any app quickly. The shortcuts provided by these buttons are very useful in situations where you want or have to launch an application as quickly and efficiently as possible.
In terms of PTT, Samsung made some adjustments to the speakers of the Galaxy XCover 6 Pro. It said it has cranked up the speaker volume. It has done this to make everything as intelligible as possible when using voice applications, for example for PTT. You have to enable this feature yourself, by the way. By default, it is not enabled.
Certifications
A device such as the Samsung Galaxy XCover 6 Pro cannot be without various certifications around ruggedness. Obviously there's an IP rating. The XCover 6 Pro has an IP68 rating. That will suffice for the uses for which the Galaxy XCover 6 Pro is designed. Furthermore, the device meets MIL-STD 810H standards. This collection of tests was developed jointly by the various military components of the United States: Army, Air Force and Navy. The first version dates back to 1962, while the most recent came on the market in 2019. These include tests around shock resistance, temperature, moisture and dust.
120Hz screen
At first glance, the Samsung Galaxy XCover 6 Pro is a pretty elegant ruggedized phone. It is another step forward in this area compared to its predecessors. Internally we can expect another advance as well. Compared to the cheap Galaxy XCover 5 from about three years ago for sure, but also compared to the previous Galaxy XCover Pro.
Samsung has put an LCD panel in the Galaxy XCover 6 Pro. More specifically, this is a PLS panel. This technology is largely similar to IPS, but was developed by Samsung itself. The screen has a resolution of 2408×1080 pixels. Also not insignificant is that this is a panel with a refresh rate of 120 Hz. Especially if you come from a device where this is still 60 Hz, you really notice this very well. It makes for a much smoother user experience.
Samsung's claim is that PLS offers ten percent higher brightness than IPS. On a device you mainly use outdoors like the XCover 6 Pro, that's a nice bonus. Whether it's actually true, we don't know. It's hard for us to verify that. What we do know is that during our testing we didn't feel like we needed higher brightness at any point. It's a fine panel for everyday use in outdoor environments.
Samsung further claims that the panel has received a special treatment that would make it more responsive to wet fingers and to use with gloves on. We tested that briefly and compared it to a Google Pixel 7 Pro. We could not immediately find any differences between the two panels on this aspect. So what you will notice of this in practice remains to be seen. Mind you, the screen generally responds fine to touch in humid conditions and you can generally work on it even with (thin) gloves on.
Gaming chip, Wifi 6E and Dual-SIM
Under the hood is a Qualcomm SM7325 Snapdragon 778G 5G SoC. A chip baked on a 6nm process that has eight cores: four times Cortex-A78 and four times Cortex-A55. With this, Samsung is also moving away from proprietary Exynos chips on this device. Both the Galaxy XCover 5 and Galaxy XCover Pro still used Exynos chips. The four cores clocked at up to 2.4 GHz and four cores clocked at 1.9 GHz of the Snapdragon chip in the Galaxy XCover 6 Pro will undoubtedly be relatively more economical than those in the Exynos chips. After all, those are known to be rather greedy when it comes to power consumption.
It is noteworthy, however, that the Snapdragon 778G 5G is basically an SoC that makes it possible to play mobile games at 120 Hz on phones. Now, of course, having a relatively powerful chip in a device is never a bad thing, but the combination of the XCover 6 Pro and gaming is not entirely clear to us. Perhaps this was the best match with the XCover 6 Pro for other reasons. Either way, this SoC provides smooth operation, something we couldn't say about the combinations in this device's predecessors. At the end of the day, then, this was a good choice by Samsung.
Furthermore, we see that it provides 6 GB of working memory and a storage capacity of 128 GB. This is perfectly adequate for a device in this segment. Samsung also did not skimp on the Wi-Fi in the Galaxy XCover 6 Pro. We see that it features the most modern variant, Wifi 6E. That's always a good thing. There are also a lot of access points available now that support it. Wifi 6E, with the additional 6GHz frequency, thus already has added value in practice. If you want to know exactly how Wifi 6E works, we refer you to our very extensive and thorough article about it from a few years ago.
In terms of wireless communication, it is also worth mentioning that the Samsung Galaxy XCover 6 Pro offers space for two SIM cards. Additionally, it is possible to insert a microSD card to expand the standard storage capacity. Should you want to insert such a card, it is not at the expense of the second SIM card. Samsung gives you the option to do it all.
Swappable battery
Flexibility has traditionally played an important role in Samsung's XCover portfolio. That's no different on the XCover 6 Pro. We already saw that Samsung offers expansion options for storage, a rarity in the market these days. However, Samsung is also sticking with the removable battery for this device. This is an important feature, especially in environments where you use a device continuously and thus risk not making it to the end of the day. You can then simply insert a new, full battery and go back to what you were working on.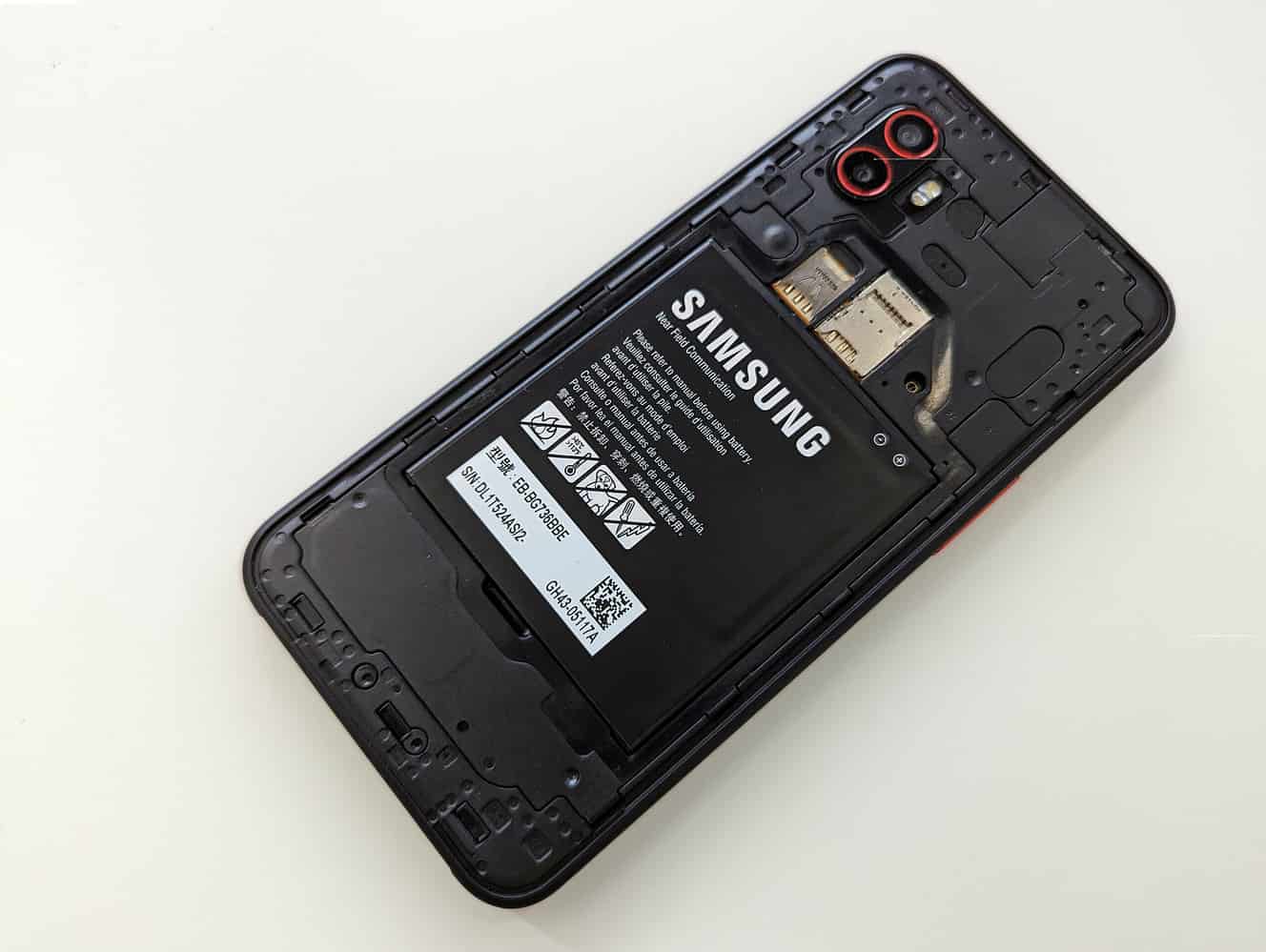 You can, of course, also charge a Samsung Galaxy XCover 6 Pro via the Type-C connector on the bottom. Wireless charging is not available. That in itself makes sense, as it is not very useful on a phone like this. Wireless charging often requires fairly precise placement of the device on the wireless charger. You don't want to spend time on that in work environments.
The battery in the XCover 6 Pro seems identical to the one in the XCover Pro. That is, it has a capacity of 4050 mAh. In addition, battery chargers for the battery in the XCover Pro also work for the battery in the XCover 6 Pro. Especially if you're switching from the XCover Pro to the XCover Pro 6, that's nice to know. You can continue to use your old accessories (and maybe even the batteries itself, although that depends on how good those still are).
The Galaxy XCover 6 Pro charges at a maximum of 15W. That's the same charging power as the Galaxy XCover Pro had. That's not considered to be very fast these days. The latest S23 devices already offer the ability to charge at 45W. The wireless chargers for that line from Samsung itself offer 15W charging power. As far as we are concerned, the XCover 6 Pro could have charged a little faster. On the other hand, of course, there is that removable battery. So you can wonder to what extent this is a problem in practice.
Accessories
While we're on the subject of accessories, we also can't ignore the copper contact pins located on the bottom. You can use these so-called Pogo Pins, in addition to the Type-C connector, to charge the Samsung Galaxy XCover 6 Pro. Of course, you will need a suitable dock or holder for that. An advantage of using these Pogo Pins over the Type-C connector is that no dirt can accumulate in them. This is especially useful in somewhat less clean environments, which is one of the environments where people will use this device. All sorts of junk can easily get into the Type-C connector in those environments.
If you want to completely prevent junk from getting into the USB connector, you can also place the Galaxy XCover 6 Pro in a specially designed case/skin. You can find an example of this here. This is a so-called IntelliSkin. You connect this via the Type-C connector to the XCover 6 Pro. At the bottom of this skin, however, you can only see copper contact points. Not only for charging, but also for transferring data. Of course, this case also comes with a whole assortment of compatible accessories.
Finally, when it comes to accessories, it is also good to mention that the Galaxy XCover 6 Pro supports DeX. This allows you to connect the device to a monitor and get to work on a large screen. You can connect peripherals such as keyboards and mice. The idea is that you can then use a single device to do the work of two separate devices. You don't really create a full-fledged laptop/desktop with this, but you can get by quite well, in our experience. We once managed to work on it just fine for a day when a cable outage left us without internet at the home office and we had to improvise and use 5G to connect to the outside world.
Camera
Samsung has given the camera on the Galaxy XCover 6 Pro an update over its two predecessors. Like the Galaxy XCover Pro, it has two sensors and lenses, one more than the Galaxy XCover 5. The main camera on this latest generation has a 50MP sensor, versus 25MP and 16MP on the XCover Pro and XCover 5, respectively. The second (ultrawide) camera appears to be the same as on the XCover Pro. This one has an 8MP sensor.
Clearly, on a device like the Galaxy XCover 6 Pro, it is not about the best camera performance. However, it is nice if you can use it to take functional photos while working. For users for whom the XCover 6 Pro is also their personal device, it should be able to offer just a little bit more than that in de camera department. As far as we're concerned, the camera on this device is suitable for that second scenario as well. In daylight, it shoots fine photos, although the colors are a bit oversaturated here and there. The latter is no surprise for a Samsung device, by the way. The sharpness is otherwise good, even in less well-lit environments.
We have included some photos below so you can judge for yourself: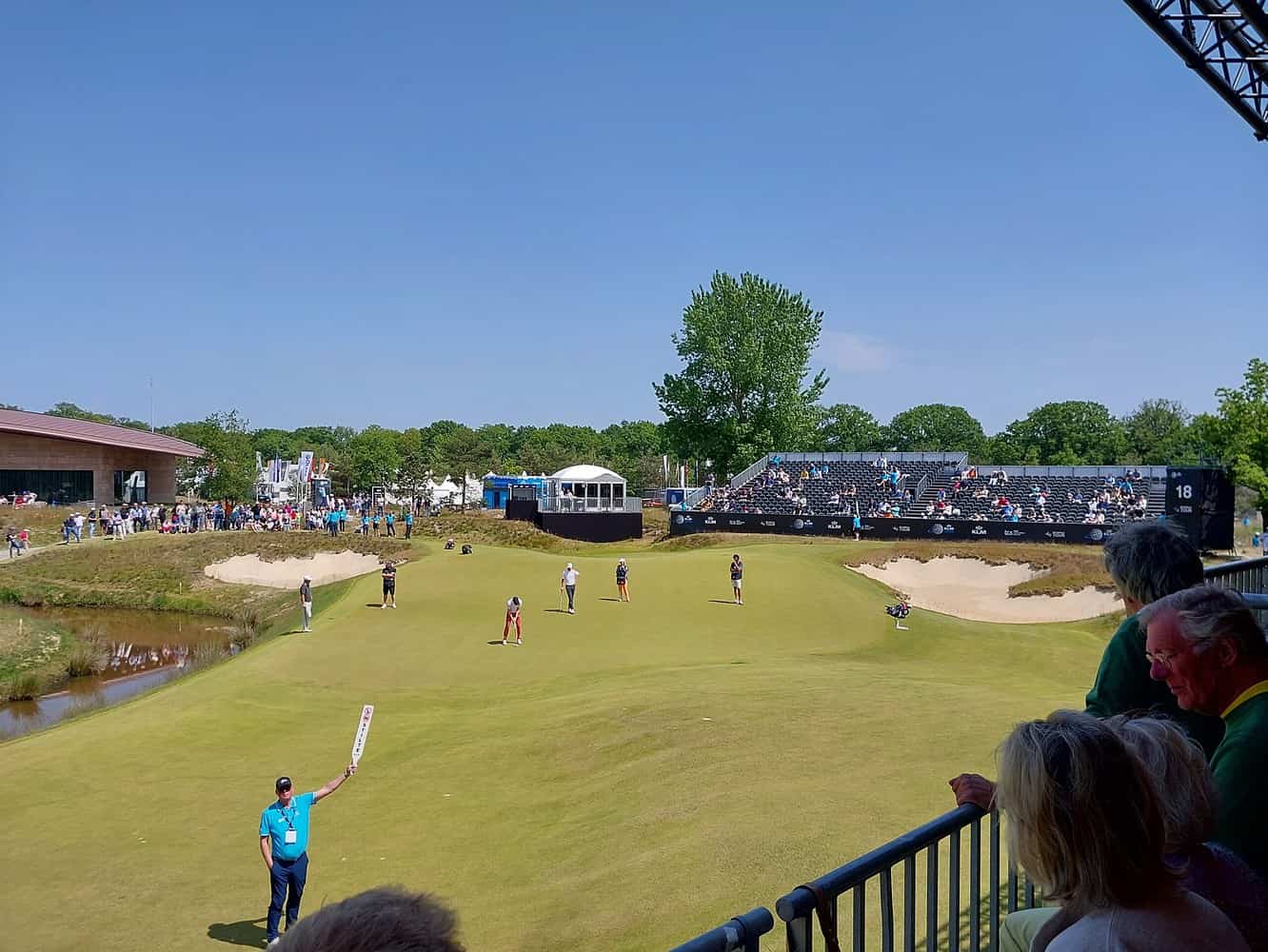 So far, none of this is all that surprising. It is quite common these days to shoot acceptable photos in daylight. Developments in sensors and lenses for smartphones have gone very fast. You really don't need a top-of-the-line smartphone anymore to be able to take nice pictures. Also, no one expects the Galaxy XCover 6 Pro to match the Galaxy S23 Ultra in camera performance.
Whereas in daylight it's generally all perfectly usable these days, cheaper/older smartphone cameras often falter when ambient light decreases. However, the Galaxy XCover 6 Pro does just fine in this regard as well. Below you can see two photos we took in the dark with this smartphone.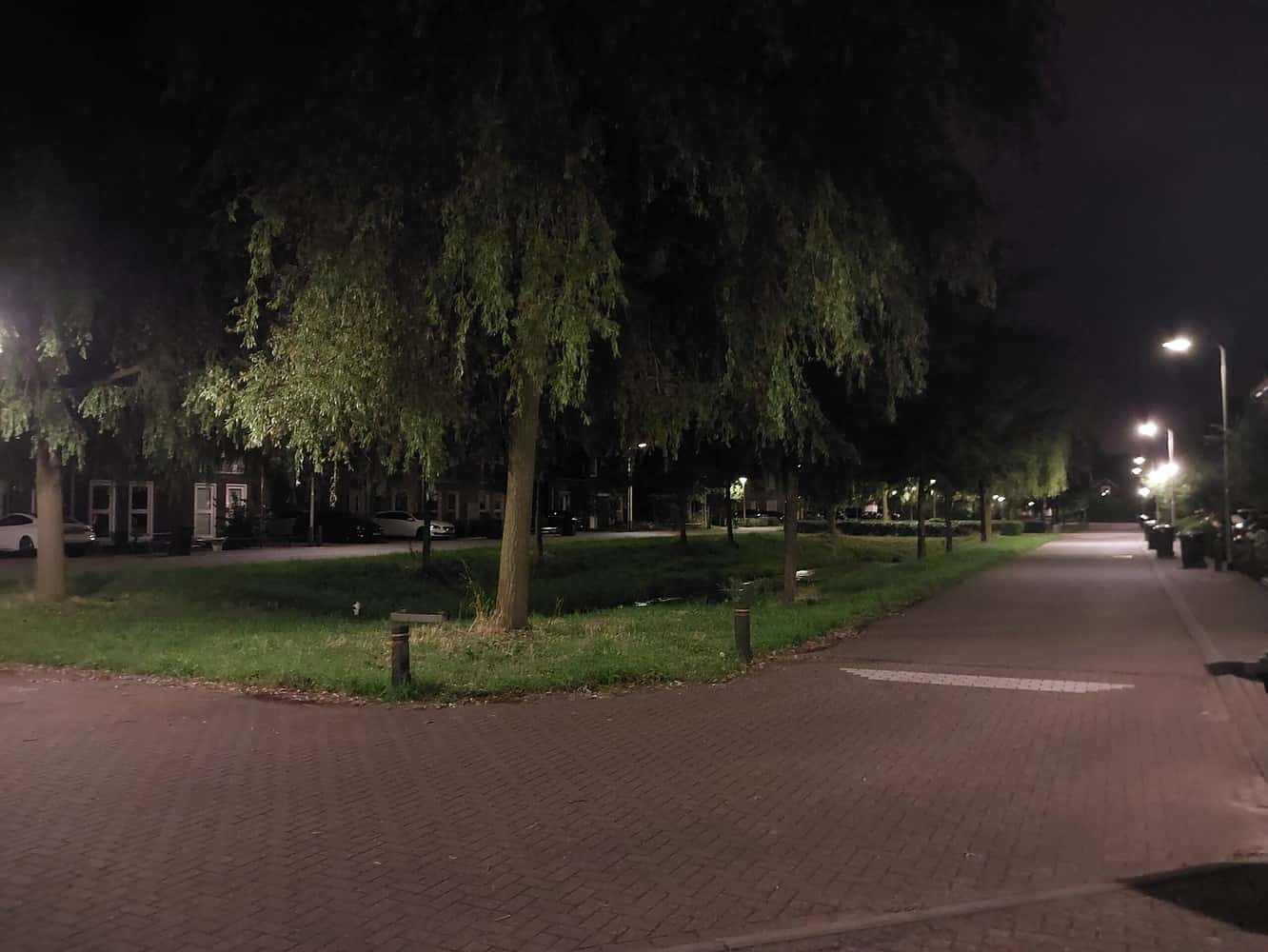 To illustrate, we post the same photos again below, but taken with the Google Pixel 7 Pro. The saturation is clearly different (more realistic especially), but they are not otherwise vastly better. This while the Pixel 7 Pro is known as a device with an excellent camera. The Galaxy XCover 6 Pro's photos are definitely usable, in our opinion.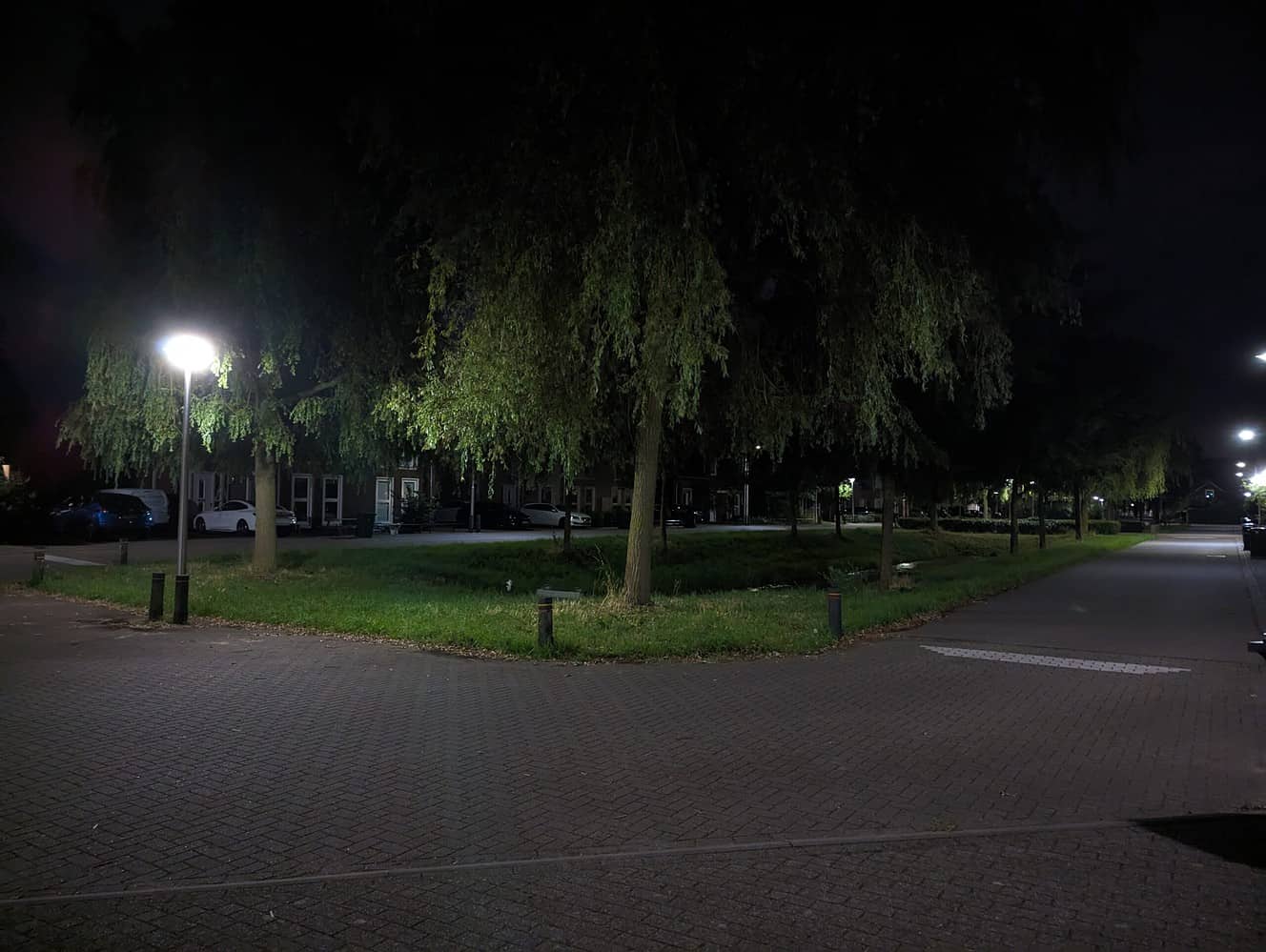 Enterprise Edition
As we are used to from Samsung in this segment, there is a so-called Enterprise Edition available of the Galaxy XCover 6 Pro. This means that the device receives the latest security patches for four years. An update to Android 13 has already been rolled out in the meantime. In addition, Samsung gives the guarantee in terms of consistency within the organization. Devices with this label are guaranteed to be available for purchase two years after launch. So you can rest assured during that time that you can scale up without having to look at other models.
In addition to relatively long support, the Enterprise Edition label gives you the option of using Knox Suite for one year for free. Knox Suite is a bundle of four Knox solutions: Knox Manage, Knox Platform for Enterprise, Knox Mobile Enrollment and Knox E-FOTA. These are the main Knox solutions, which you can more easily purchase together this way, is the idea.
Our experiences
Our experiences with the Samsung Galaxy XCover 6 Pro are generally positive. Samsung managed to eliminate the downsides of the previous generations. Especially in terms of software, it was not always good. The interface faltered quite often. This is no longer an issue. The facial recognition still does not work well, but that is actually true of this feature on almost all smartphones, with the exception of the iPhones. Compared to the XCover 5, fortunately, you now have access to the fingerprint reader. That works very well. If you are wearing gloves, this may not be of much use to you, but in other situations it is an excellent alternative.
The battery life of the Samsung Galaxy XCover 6 Pro is acceptable, but not very good. This is something Samsung could and perhaps should work on for the next generation. It puts the same battery as the one in the XCover Pro into a larger device with more powerful hardware. Then you can expect some concessions in terms of battery life. Mind you, the battery life is not bad, but we would recommend buying a couple of extra batteries if employees need to use the devices intensively. Perhaps that's another reason Samsung didn't put a larger battery in here. After all, you can easily swap it out. Samsung can sell more batteries this way. But that may be a bit of a cynical view of the matter.
Finally, there is the size. This is a pretty big device. That doesn't make it equally suitable for all environments, but the same was true of the much smaller Galaxy XCover 5. For some occupations, where there need only be a few software buttons on a screen, so to speak, a smaller device will work more comfortably. However, if you need to check off a large inventory list or something similar, a larger screen will be more pleasant.
So it will depend on the specific use whether the Galaxy XCover 6 Pro is too big or just the right size. In any case, Samsung has done its best to make even this large model as manageable as possible. It's not a clunky big device. In fact, for a ruggedized device it's still quite refined. In addition, the configurable buttons are nicely scattered around the device. So you can always reach one of them.
Conclusion
For this conclusion, we also recalled our conclusion from the review on the Samsung Galaxy XCover 5. Where we said then that it was objectively not a very good smartphone, that is no longer the case with the Samsung Galaxy XCover 6 Pro. For general use, this is also objectively a good device. Only the battery life could have been a little better as far as we are concerned.
For the target group Samsung is aiming the Galaxy XCover 6 Pro at, the following aspects are interesting:
It is a ruggedized device so it can take a beating. This extends the lifespan and makes the depreciation of the device more interesting;
It is a fully functional and full-fledged smartphone, with some clever hardware features aimed at use in demanding environments;
The device has a replaceable battery. In business environments where you really don't want downtime from your mobile devices, this is definitely a plus;
The Enterprise Edition label means you can keep the Galaxy XCover 6 Pro in use for a long time. You get security updates for longer than devices that do not have such a label. In addition, you can get started with the Knox Suite if you wish.
Finally, there's the price. At 609 euros, including VAT, the recommended retail price is higher than it has been so far for an XCover model. Compared to the 509 euros for the XCover Pro from a few years ago, that 100 euros extra brings a fair amount of benefits. We think this extra price is certainly justifiable. Comparisons with the Galaxy XCover 5 don't make a lot of sense, because that really was/is an entry-level device. Samsung still sells that device on its own website, so that is also still an option.
All in all, the Samsung Galaxy XCover 6 Pro is highly recommended for organizations looking for a ruggedized device that can also hold up well as a smartphone for general use in work environments. This makes it the first in this line that we rate as such. The XCover line has (finally) come of age.