If you're looking for a 4K monitor via USB-C, you're spoilt for choice. The competition is increasing, which means that monitor manufacturers have to perform better and better. The LG 27UL850 is supposed to be a refreshment of the previous model, but largely retains the same functionality.
A year and a half ago we tested the LG 27UK850 extensively in our editorial board. As the type number of the LG 27UL850 (499 euro incl. VAT) suggests, it is a direct successor. When you put both models next to each other, you don't see any difference. Also, in terms of connectivity and functionality, there is hardly any difference. Did LG just put a new label on an existing model?
LG delivers the 27-inch monitor with a sleek aluminium base that is adjustable in height, can pivot and swivel. The monitor is VESA compatible, so you can mount a fixed monitor arm.
USB-C connectivity
When we tested its predecessor a year and a half ago, USB-C was still a rare asset. Today, we see more and more models with USB-C connectivity, which makes the LG 27UL850 less special. Maybe that's why LG puts this model on the market with a price of 100 euros less than its predecessor.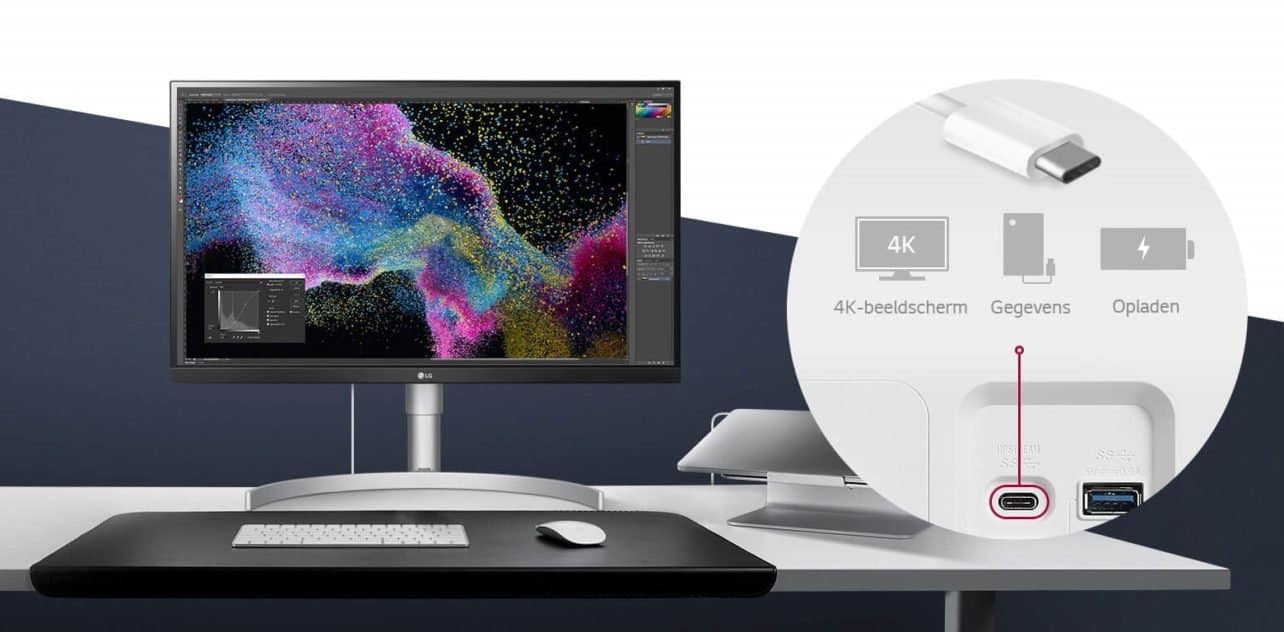 The USB-C connector follows the USB-C USB 3.1 standard and does not have Thunderbolt 3. In short, the monitor supports DisplayPort over USB-C, which means that any computer, smartphone or tablet that has USB-C can use the monitor. Laptops with a USB-C Thunderbolt 3 connector are always USB-C USB 3.1 compatible. The other way around is not always the case.
The LG 27UL850 provides a total of 60 watts of charging capacity via USB-C, which is enough to charge most laptops as you use them. With this, the monitor manufacturer is recovering from the limited charging capacity (40 watts) of the LG 27UK670, which we tested at the end of last year. On average, 40 watts is too little to charge a laptop when you use it intensively. 60 watts gives a lot more margin.
The USB-C connection provides a total of 60 watts, which is enough to charge most laptops.
Only workstations that require a higher wattage to power strong hardware require a stronger charger of 100 watts or more. As a result, they require a separate power adapter when running heavy workloads on them.
Test results
Like its predecessor, the LG 27UL850 delivers a 4K image with HDR compatibility. The display is certified for VESA DisplayHDR 400, which means it must be able to deliver at least 400 cd/m² of brightness. In our tests, we achieved peak brightness levels of up to 431 cd/m², which is high enough for a solid HDR experience. The higher the brightness, the stronger the HDR experience. For example, the much more expensive LG 34WK95U reaches 600 cd/m², but we also see a rising trend in the price tag of the monitor.
In our test procedure, we measure contrast of 848:1 in the standard setting with a brightness of 431 cd/m² and an sRGB range of 98 percent. For DCI-P3 or Adobe RGB, you can better look at a professional monitor; the LG 27UL850 achieves only 72 percent and 75 percent of the colour range, respectively.
The white balance at the default setting is at a DeltaE value of 3.8. All DeltaE values below 2 are excellent and barely noticeable to the naked eye. A score of 3.8 means that the monitor was not optimally adjusted at the factory. The standard colour temperature of 7,102 Kelvin is also slightly too high, resulting in an image that is too cool. 6,500 Kelvin is the standard.
The monitor performs well for daily work and occasional photo and video editing.
When looking at colours, we get a better DeltaE value of 2.9. Green (102%) is almost perfect, while blue (107.5%) is set a little too high and red (90%) a little too low. Nevertheless, the monitor presents excellent colour results for daily work and sporadic photo and video editing.
REC709 setting and calibration
The REC709 setting in the monitor performs slightly less satisfactorily, with a lower contrast ratio of 813:1 and a higher white balance error (DeltaE of 5.2). The colour balance scores as well as the basic setting with a DeltaE of 2.9, with especially a large error deviation of the blue colour (110%) compared to red (93.5%) and green (95%).
The standard brightness in the REC709 setting is 198 cd/m², resulting in a better black value, with just 0.244 cd/m² compared to 0.508 cd/m² in the more bright standard setting.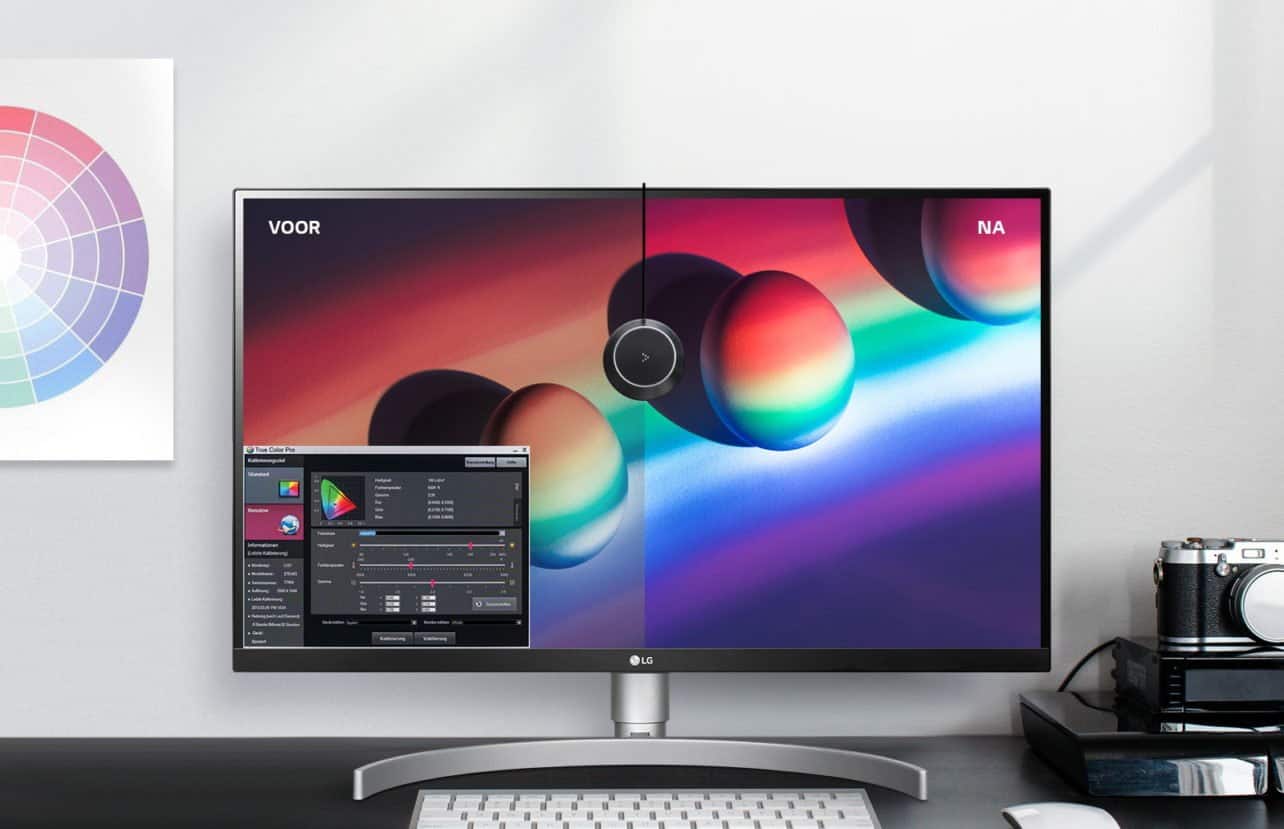 LG supplies its own True Color Pro software with the monitor. With this you can, if you have a light meter, calibrate the monitor much more precisely towards perfection. Because this monitor is not specifically aimed at a professional audience, we only took this into account to a limited extent. A short first test allows us to achieve a DeltaE value of 1.9 within the colour spectrum.
Additional software
In addition to the True Color Pro software, LG also supplies OnScreen Control. This gives you the possibility to arrange the screen the way you want. Then, all you have to do is drag and drop in the windows to fill the different screen sections. The software gives enough flexibility, but some windows (e.g. Chromium Edge) are not recognised, so you have to scale them manually.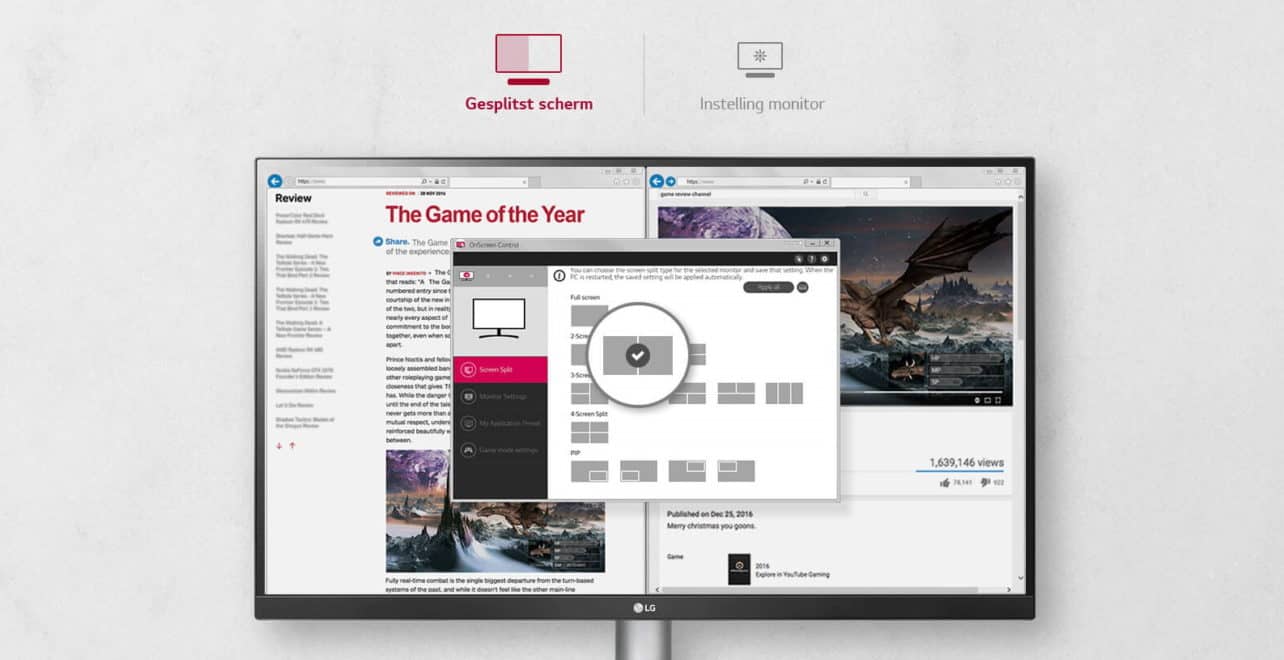 A nice bonus: the software can automatically open three applications in the desired mode when the PC or Mac boots up. In our case, Chrome opens on the left, Word centrally and Outlook on the right. The software does its job, but we would appreciate it if LG would modernise it a bit and make it more efficient. Now it seems as if it's a small bonus the company spends little attention to, while the potential is very large. Install it and play with it. If you don't like it, you can still remove it.
On the back of the LG 27UL850, there is room for 2x HDMI 2.0, 1x DisplayPort 1.4, 1x USB-C USB 3.1, 2x USB 3.0 and 1x headphone jack. The classic USB 3.0 ports are only usable when using the USB-C connection to your laptop or desktop. This way, the monitor functions as a docking station and all you have to do is connect the USB-C cable to your computer. Useful for those who are allergic to cluttering cables on their desk or for flex-workstations within companies.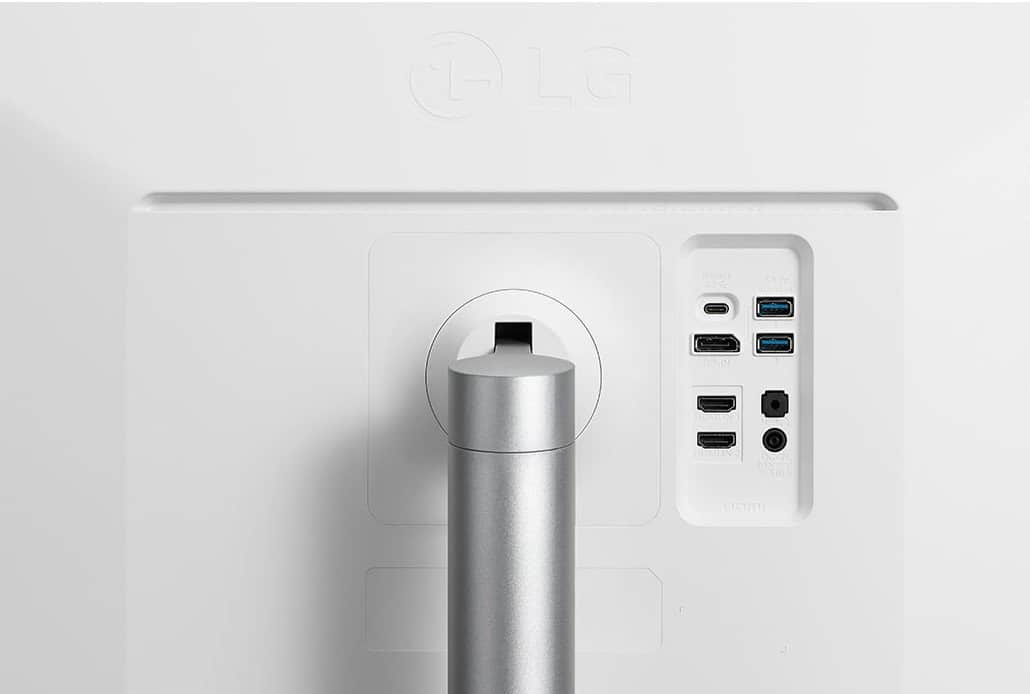 Old model, new number
When compared to its predecessor, the LG 27UL850 is simply the same monitor with a new type number. In terms of connectivity and functionality, both monitors score identically; only in terms of screen quality does the latest model score slightly better, thanks to a lower DeltaE value.
We were fans of its predecessor at the editorial board a year and a half ago. The current LG 27UL850 still scores excellently, but LG should not be resting on their laurels. The competition is lurking around the corner and almost every manufacturer today offers 4K, HDR and USB-C in one monitor. Nevertheless, we still warmly recommend the LG 27UL850 because the price tag is a bit cheaper than its predecessor, but next year LG will have to step up their game.
8
USB-C flexibility
Simple controls
Height-adjustable
Good colour settings
White balance could be improved
No rotation
No cable management