At the last Dreamforce event, Salesforce made some announcements again. The most important one was the presentation of Salesforce Customer 360, a new Salesforce product that will be available to most customers for free and will completely change the way we work with Salesforce. It wasn't presented by Salesforce, but you have to see through the marketing bubble.
People who are familiar with Salesforce know or have probably heard of Dreamforce, the annual Salesforce event in San Francisco. Everything about this event is more extreme and bigger than what happens at other IT conferences. With over 170,000 participants, this is the largest IT event of a single company. It's all very over-the-top and when you get there to gather Salesforce's really valuable information, you have to ignore a lot of fringe issues first. Founder and CEO Marc Benioff's predilection for Hawaii has gone badly wrong, making him talk more about Aloha and Hawaii than about the company itself. We think that's a shame, because it clouds the image of Salesforce enormously and what the company is actually doing. However, our Dutch sobriety ensures that we can also extract the really relevant information from it.
Salesforce Customer 360 makes everything different
In the introduction and title of this article, we already mentioned great change, because that's what Salesforce Customer 360 will bring. Salesforce presented it as a simple but complete (360 degree) overview of all customer information. For the first time, Salesforce brings together all information from the Sales, Service, Commerce and Marketing Cloud in a clear and concise manner. All products are professionally linked by Salesforce, so you can see all Salesforce information together in one overview. With the acquisition of Mulesoft (6.5 billion dollars), however, the company goes a few steps further.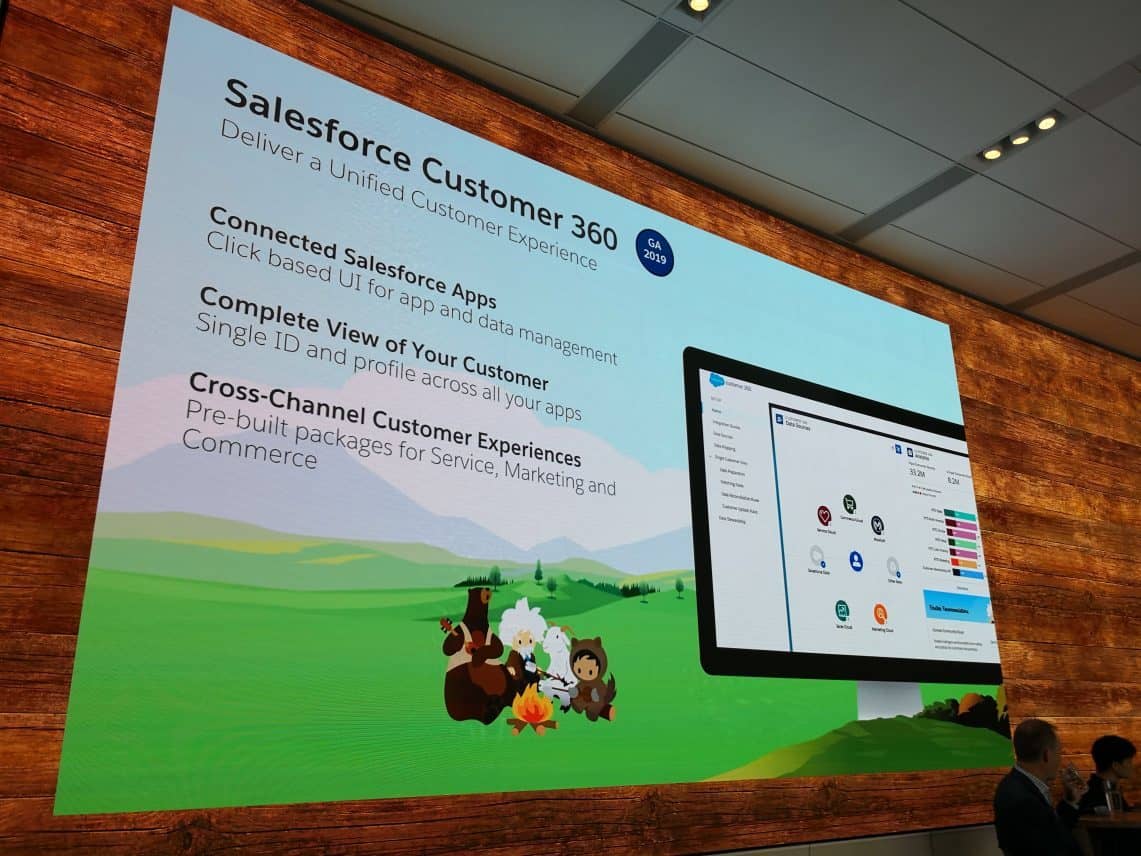 Mulesoft is an integration platform. It is a service that can connect all kinds of different (mainly) SaaS applications on a core level by supporting all the APIs of these services. An API (Application Programming Interface) is a method to access, read or modify data in the background from a software solution. Mulesoft can connect many applications to each other and process the data. As a result, it can also be added to Salesforce Customer 360. The customer overview is, therefore, not limited to Salesforce data only. A company can also, without logging in elsewhere, immediately see where any packages have been sent, how far the repair of a product is with an external party, whether the mechanic is already in the vicinity, what reviews the customer has left on Facebook or Twitter, what customer contacts there have been, and so on.
Salesforce offers the possibility to combine all customer information from Salesforce, but also external data, in one control panel. That sounds very simple, but it's not. And it is certainly not business as usual for many companies. Everyone sometimes calls a customer service department and then has to wait for 10 minutes because information has to be collected. This is the reality of today; there are several systems with data which the customer service employee has to check. Salesforce will now bring this together, which will lead to extreme time savings regarding customer contacts.
Salesforce's challenge was great, and the acquisition of Mulesoft was a logical one
If you've developed different SaaS solutions in recent years, you might expect it to be a piece of cake to exchange data between these products and link them together. This isn't the case for Salesforce, because the company actually only developed the Sales Cloud itself. The rest was bought through acquisitions, then adapted it and renamed it a Salesforce product. The core of all these products is completely different, which makes it very difficult to link them together. Especially since they are enterprise products, in which billions of records of data are stored. An error rate of 0.1 percent is still too high.
The enormous challenge of connecting all Salesforce products has undoubtedly led to the acquisition of Mulesoft. The challenges and setbacks of integrating the company's own products were already a huge challenge. It is logical to look for a good solution for the integration with third-party platforms. If there is one party that has all these integrations on the shelf and supports many an API for a 100 percent, then a takeover is suddenly obvious. Of course, it's a lot of money, but it's not an amount that Salesforce can't afford to miss. After all, in the CRM market, the company is still in control.
What major changes do we have to anticipate?
Salesforce Customer 360 will be introduced in the second half of 2019, even before the next Dreamforce event. Although the exact terms and conditions are not yet known, we assume that it will be available to all Salesforce customers free of charge as part of their subscription. Salesforce wants everyone to work with it, as it is the future of Salesforce.
Salesforce now presents Customer 360 mainly as a complete overview of all customer information. The really big change lies in the fact that everyone will soon be working with Salesforce differently. After all, it is much more than a total overview. Salesforce already showed that in addition to the 360 degree overview, small actions could also be carried out: adjusting an order, for example, e.g. where the color or size of an ordered pair of trousers or T-shirt has to be adjusted (without having to log in to another external system).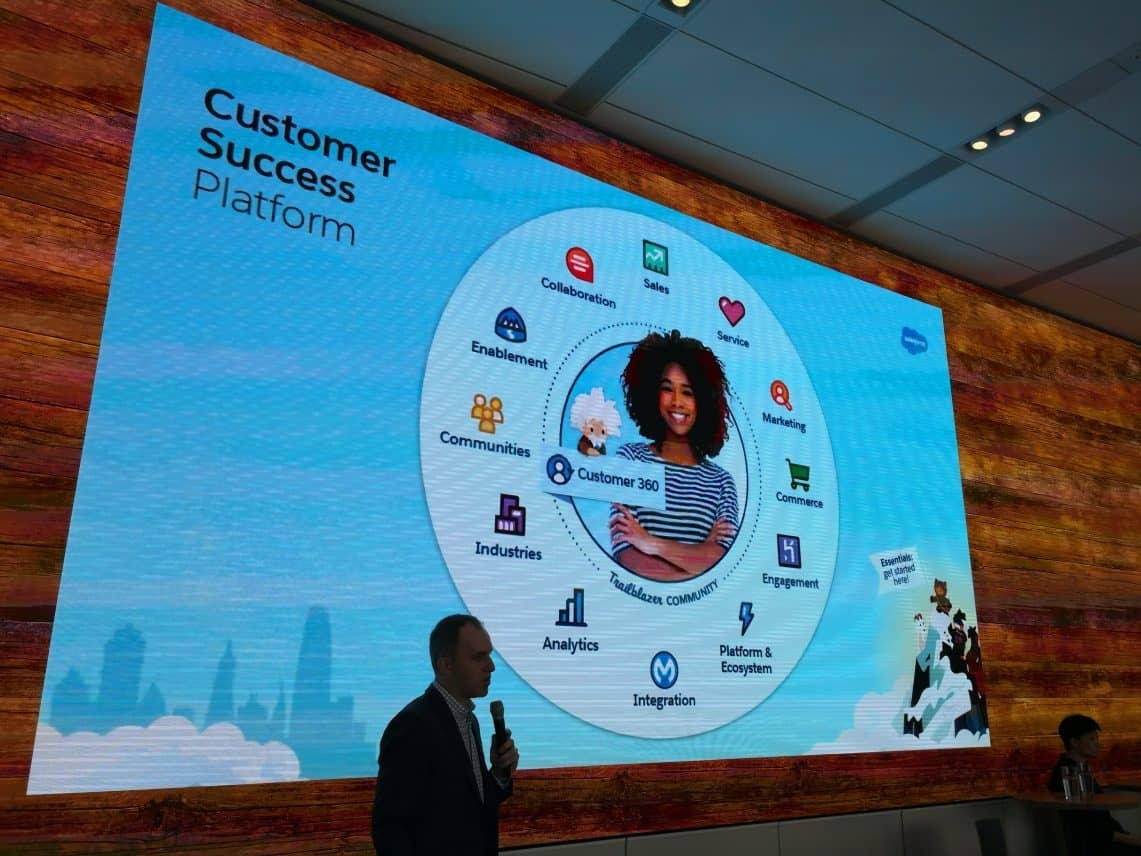 That's where the future of Salesforce and Salesforce Customer 360 lies. It will not only be small actions, soon almost all communication with Salesforce will take place via the Customer 360 portal. In our conversations with Salesforce, this became clear fairly quickly. Some questions were answered, others were avoided with a smile, but most of all, there was confirmation. We assume that in the future, companies will do everything through Salesforce Customer 360. Not only will they have access to customer data, but they will also enter, modify, schedule mechanics and even issue orders to third parties with whom a company cooperates. The integration of external services through Mulesoft will not stop at reading data. It will also add and modify data down to the smallest details.
"We are waiting for Salesforce Customer 360 apps, plugins or extensions"
After the introduction of Salesforce Customer 360, a new Dreamforce event will follow. One of the most important topics will again be Customer 360. We assume that Salesforce will be talking about the possibility to develop apps, plug-ins or extensions for Customer 360. These will then work within the Salesforce Customer 360 platform and will add features to the Customer 360 portal. Perhaps in the form of a tab, window or just a block on existing pages. Among other things, this will make it possible to control external systems from the Salesforce Customer 360 portal. The company or customer service will then be able to schedule the repair directly from one portal. Or, a service technician can adjust the technical information required for installation on-site, directly through Customer 360.
Ultimately, everything comes together in a single portal that works quickly, clearly and intuitively. That is the vision behind Customer 360. Salesforce only needs some time to realize this. However, it is clear that Salesforce wants to be the pivot in the entire process around the customer. In the future it will become clear how broad and extensive Salesforce offering will be, we will have to wait until Dreamforce 2019 to know.
What are the consequences?
It is also always good to consider what such a new strategy means for current products. In principle, this should not affect existing applications built on the Salesforce platform. At least not in the short term. Salesforce chooses to bring everything together uniformly, in a new portal that runs on top of all existing services. It has not made any major structural changes to its existing products. As a result, all customized applications will continue to work as usual, and the data they contain will also end up in Salesforce Customer 360.
Salesforce is following the trend that more standardization is needed to be able to innovate the business faster. Tailor-made construction of your entire enterprise stack (infrastructure and applications) is a thing of the past.
All in all, the introduction of Salesforce Customer 360 is a major change. Without any direct impact or consequences for existing customers with self-developed applications. However, these companies will not escape the benefits of Customer 360 either. They too will adapt their existing workflows to make more effective use of them. We are very curious to see how far Salesforce will have come during Dreamforce 2019.