SAP has kicked off 2021 with major updates to its enterprise resource planning (ERP) software S/4HANA. The German ERP giant is launching RISE with SAP, which it describes as 'business transformation as a service'. This complete package should give companies the means to modernise their business processes.
SAP has been providing companies with the S/4HANA ERP package for several years. Many companies have already opted for this software, but there is still a group that runs the on-premises implementation ECC. Successor S/4HANA is, however, a more modern choice, in which the management of business processes is done as much as possible according to contemporary market standards. S/4HANA can run on your own server or in the cloud. In the cloud version, you enjoy benefits such as better performance, lower hardware costs and fast updates.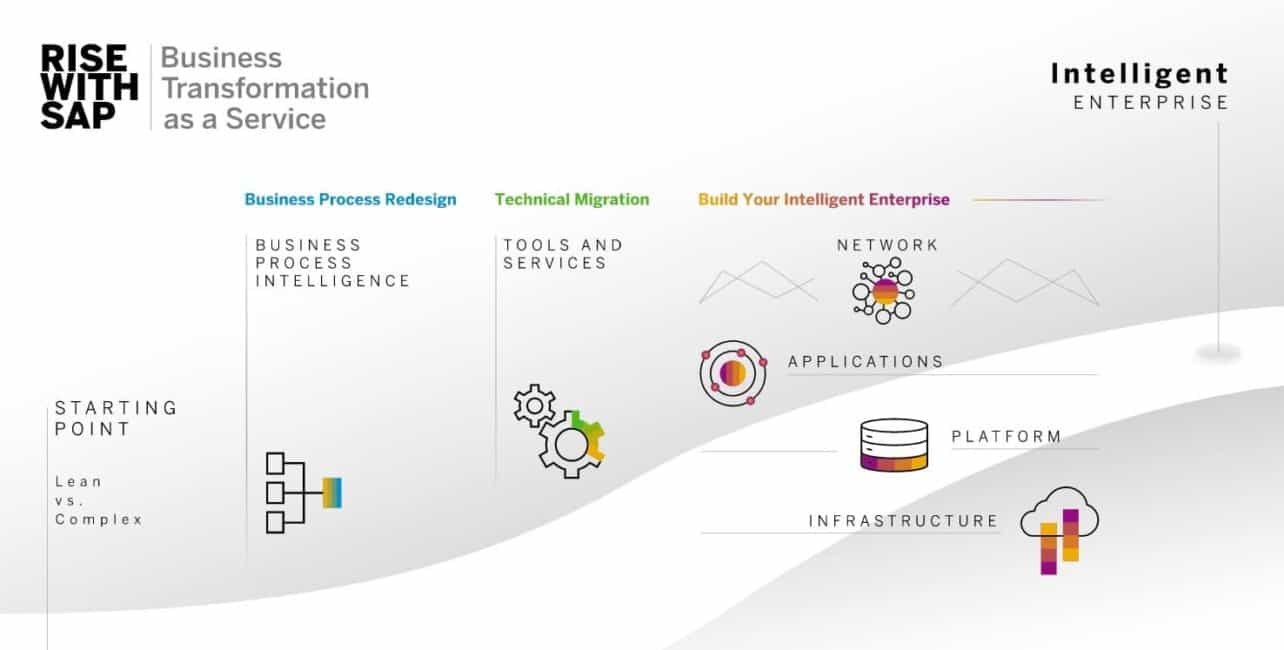 To better market S/4HANA, SAP occasionally releases substantial modifications and enhancements. According to the ERP giant, its new RISE with SAP offering is designed to give companies the means to prepare for the future by redesigning business processes and migrating them to a modular software landscape. We spoke about it with S/4HANA COO Sven Denecken.
Tip: What does SAP's Intelligent Enterprise mean?
Based on the cloud
RISE with SAP consists of a large number of components. However, S/4HANA Cloud is at the core of the package. Companies who opt for RISE with SAP are therefore consciously purchasing ERP as SaaS, too. If you prefer to run ERP on-premise or in a private cloud, for instance, due to strong compliance or customisation considerations, it is a better choice to modernise your ERP system differently.
According to SAP, the ERP environment from the business transformation as a service package brings the benefits of the cloud, plus a bit of process optimisation. S/4HANA Cloud operates according to a Fit-to-Standard principle, whereby an ERP package is aligned with strong standards from different industries. Processes in a company are then analysed and adapted to these standards. This means that business methods and procedures sometimes need to be overhauled to optimise processes substantially. As an organisation, you must be aware that opting for RISE with SAP will often also mean a change in business culture.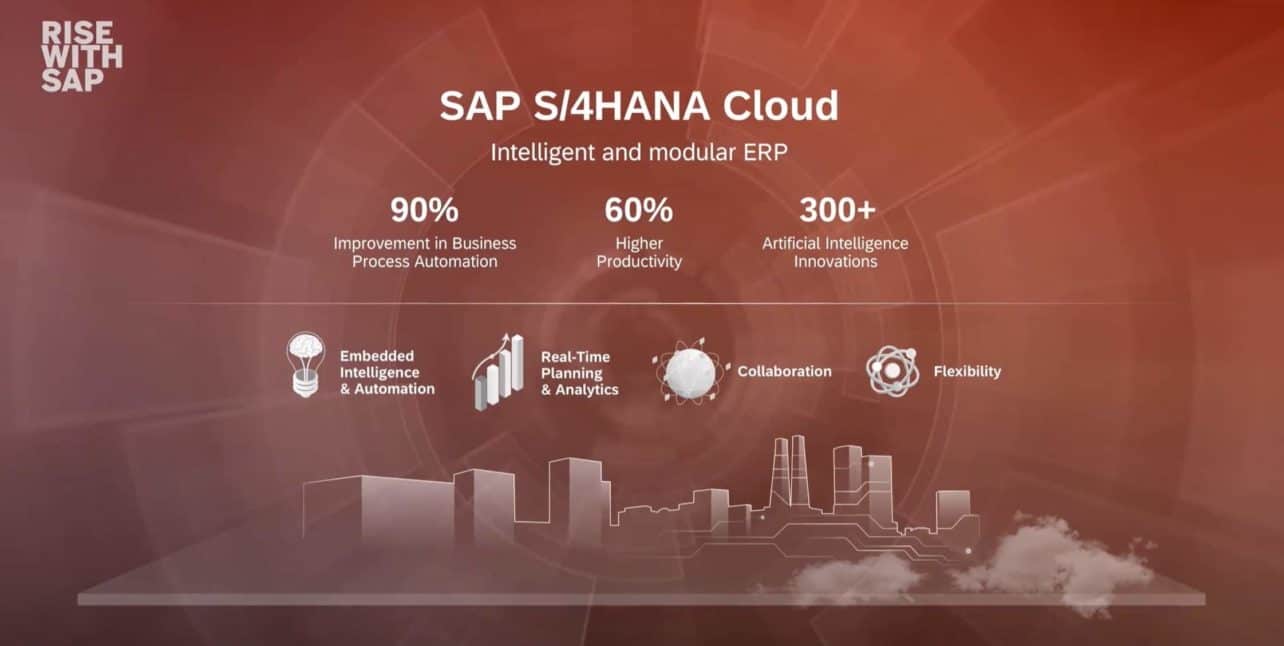 However, the ERP vendor and its partners already have considerable experience with S/4HANA Cloud. As part of RISE with SAP, architects will therefore help to standardise in the public cloud or hybrid cloud. This should speed up the implementation and add value to the standard processes. Automation with the aid of artificial intelligence (AI) and robotic process automation (RPA) can help achieve this process optimisation.
Tip: Does a standardized ERP system even exist?
Several options are offered for running the workloads: SAP data centres or the cloud infrastructure of a hyperscaler. In the latter case, there are partnerships with Microsoft Azure, AWS, Google Cloud, IBM Cloud and Alibaba Cloud. SAP states that choosing any cloud infrastructure can save up to 20 percent total cost of ownership (TCO). Cloud infrastructure also promises improved system availability (SLA of up to 99.9 percent) and strong security standards, including support for disaster recovery capabilities and security standards from specific regions.
Tip: Google Cloud is the best choice for SAP S/4HANA as a point solution
Process intelligence boost
SAP also wants to convince customers with additional possibilities in process intelligence/process mining. That's why Business Process Intelligence is part of the RISE with SAP package as well. The idea behind this is to gain more insights and a consistent view of data generated by processes. All business processes create an enormous amount of information, but it is hard to gain a consistent view without process intelligence and process mining. However, these analytics technologies are specifically designed for this purpose so that you can find out exactly how the process works and discover optimisation opportunities.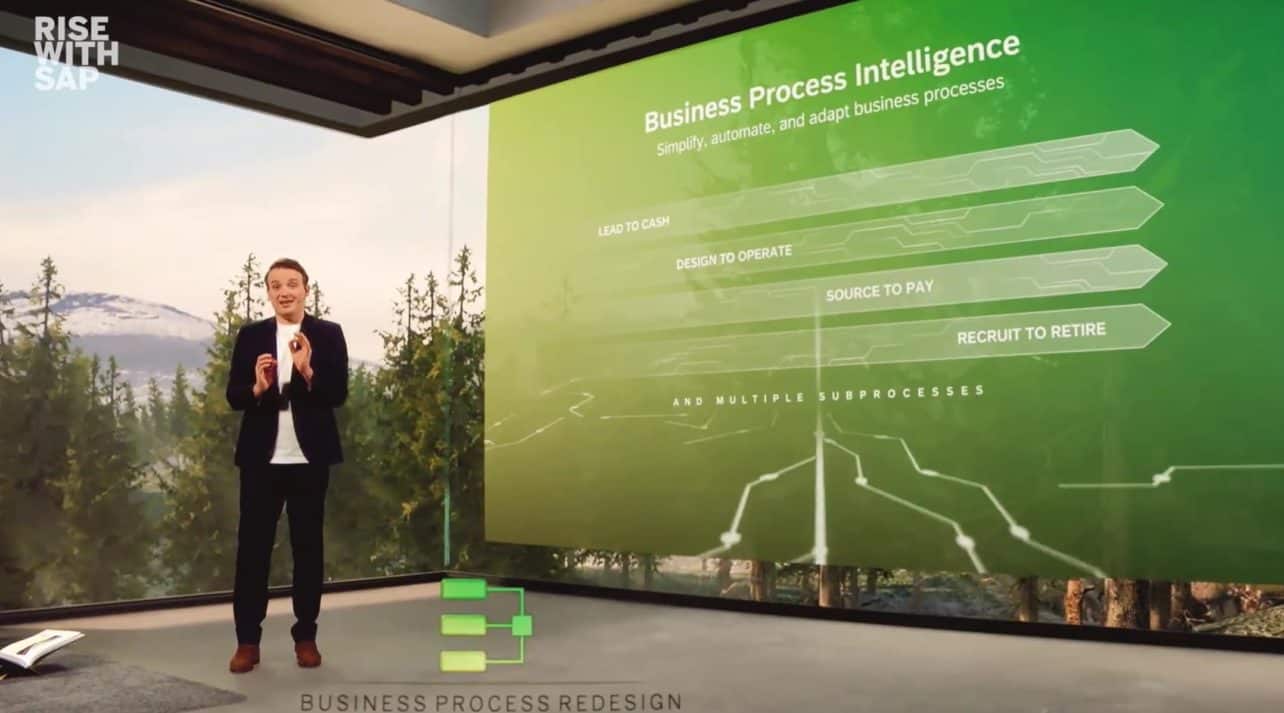 The software vendor says that in the RISE with SAP package, process intelligence can fall back on best practices and data from more than 20,000 customers. Based on the insights you create, you can analyse them and benchmark them against industry standards. Recommendations allow you to optimise processes further and embrace new ways of doing things. To encourage the optimisation steps, links are made to SAP's workflow, RPA and AI services.
According to SAP, process intelligence is now increasingly proving its value. That is why it has decided to acquire a major player in this field: Signavio. This vendor already has a large number of connectors and integrations with the SAP ecosystem, which will make it easier to integrate into SAP's existing process intelligence service after the acquisition is completed (expected first quarter of 2021). Companies already using process mining, such as the tools from market leader Celonis, which also has extensive SAP expertise, can continue to use their existing familiar software. Freedom of choice in this area should continue to be encouraged and supported.
Tip: SAP confirms acquisition of Berlin-based BPA company Signavio
The road to an 'Intelligent Enterprise'
To facilitate in making the business transformation successful, the package also uses the Business Technology Platform. This platform brings together as many technologies and services as possible on one architecture, thus creating uniformity. If you use other software solutions from SAP in addition to S/4HANA, then the Business Technology Platform ensures a uniform data model and business processes that work better together. To connect non-SAP data to this platform, thousands of APIs are available to integrate with on-premise installations and third-party software. Also, the Business Technology Platform connection offers benefits in the areas of analytics and AI.
RISE with SAP also relies on the SAP business network. Millions of companies are connected to this network, also aiding in connecting your business to other companies. This is useful when you need to respond to changes in your supply chain, for example. From the business network, you can select manufacturers who offer delivery guarantees, but things like production standards as well. The business network promises to provide a good basis for responding to changing market conditions.
Tip: SAP HANA wants to lay the hybrid data foundation for enterprises
The various components of RISE with SAP ultimately help companies on their way to what SAP calls an 'Intelligent Enterprise'. According to SAP, those enterprises makes leaps and bounds in profitability, resilience and sustainability with the help of technology. Ultimately, the best way to decide whether you want to become an Intelligent Enterprise is to work with a consultant/integrator, using RISE with SAP. In any case, with this package, the ERP giant has provided a new option that can make the move to S/4HANA Cloud more attractive.