"IFS Cloud is not made up of multiple solutions, it is a single solution."
The quote above comes from Darren Roos, CEO of IFS. He made this statement in a session during IFS Unleashed. This event, formerly known as World Conference, took place two weeks ago in Miami. You can see the event's name change as yet another example of the fundamental changes IFS has gone through over the past four or five years.
However, the biggest change took place about a year and a half ago, with the launch of IFS Cloud. That is now the product IFS sells, nothing else. In Roos' words, "We only sell cloud. Ours, which runs in Microsoft Azure, but we can also run an instance of it elsewhere." This statement, coupled with the one in the introduction clearly indicates IFS' position in the market. There are obviously distinctions between different modules within IFS Cloud (ERP, FSM, EAM, HCM, CRM), but that's basically not what IFS is going to market with.
TIP: A year and a half ago, we wrote a comprehensive story about IFS Cloud. You can read that here .
Christian Pedersen, the CPO of IFS, says more or less the same thing in conversation with us: "People are not looking for acronyms, they are looking for solutions to their problems." For IFS, this observation means that it enters the conversation with (potential) customers in a different way. And thus also that the platform must be set up accordingly. At the end of the day, IFS Cloud must deliver exactly what each customer needs. In doing so, it doesn't matter what acronyms are needed.
Strong focus remains
The market approach of IFS that we outlined above, which basically takes IFS Cloud as a starting point for conversations with customers, not ERP, CRM, HCM, FSM or EAM, is certainly not a marketing pitch according to the gentlemen from IFS themselves. IFS can actually deliver this. In part, this is because of the strong focus the company has long had on a total of six sectors. These are the Service Industries, Energy Utilities & Resources, Telecoms, Aerospace & Defense, Manufacturing, Construction & Engineering. By focusing on these industries, IFS can verticalize very strongly. That is, it can specialize very deeply in the world of its customers.
This strong focus isn't going to change in the foreseeable future either, Roos points out when asked. "Other industries such as financial services and healthcare may at first glance have a lot of overlap with what we do now, but in practice this is not the case," he indicates. This is because it's not just about the software that IFS can provide. You also have to integrate this solution into the heterogeneous software landscape of customers in those industries. And that's where it goes wrong. That's completely different software from the software current customers are using. As a result, IFS cannot deliver the aforementioned deep knowledge and integration that it can deliver in the industries it currently focuses on.
Mind you, Roos does not rule out the possibility that IFS will someday look broader, but at this point simply does not know when that will be. "We hit $1 billion in revenue this year and expect to hit $2 billion by 2025. Are we not going to look at broadening until 5 billion, I don't know," he frankly admits. However, he does assume it will happen.
TIP: The concept of Moment of Service plays a very important role in IFS' strategy and philosophy. You can read exactly what IFS means by this in this article we wrote earlier this year.
FSM and EAM as a starting point
If you look at the industries we listed above, one thing immediately stands out. Almost all of them are industries that have a lot of machines and equipment under their control that also need to be maintained. While IFS may have traditionally been known primarily as an ERP vendor, that is clearly no longer the case. In fact, field service management and enterprise asset management are an excellent fit for those industries as well. And IFS is the clear No. 1 in that area, according to Roos. So the goal is to become the default supplier in that area, he points out.
This does not mean, by the way, that they will no longer provide ERP, HCM, CRM and other solutions from its portfolio to customers. There are still customers who want to buy that. However, this is not where the main innovation will be. IFS and Roos have always been very honest about where they stand in these areas: "Some customers want solid, but not necessarily leading solutions in those areas. In cases like that, we can provide that on top of it." They see some SAP ECC customers making the move to IFS, for example, but this will never be the strategic focus.
No roaring, but useful announcements
IFS may have FSM and EAM as its foundation and thus focus primarily on that in terms of innovation, this does not mean the company will come up with huge announcements. That's a point Pedersen makes several times. "We don't want to be a player that sells an AI or ML platform," he gives as an example. "We want to focus on actual needs from customers' business with the updates to the platform." He is convinced that IFS does not need any roaring announcements because they can actually deliver with their new platform. He himself calls this the composable approach within IFS Cloud. This approach allows them to demonstrate the value of the platform very quickly, without having to shout very loudly.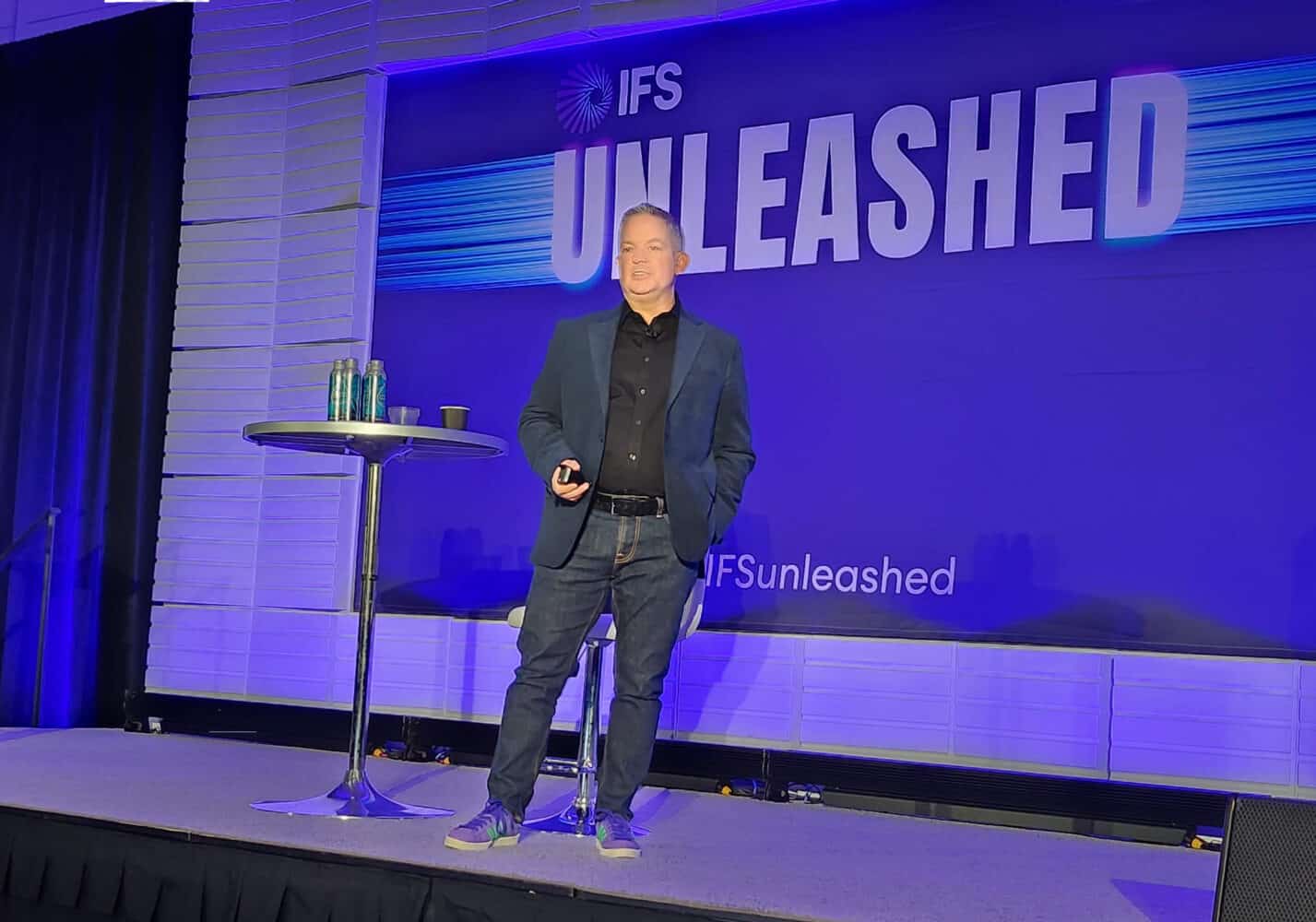 Looking specifically at what's in the 22R2 update to IFS Cloud announced during IFS Unleashed, we see several examples of the incremental way IFS is extending the platform. For example, there is support for lidar measurements. This means that, among other things, you can use the new iPhone 14 to take measurements, for example of damages. This provides just another bit of speed and thus productivity. The addition of ePaper deployment also allows organizations to automate more. Once you pull a replacement product from inventory in your ERP after a damage, the system immediately sends a notification to the ePaper display in the warehouse. It is then immediately clear that this has been reserved.
Connecting even more
In a live demo on stage during IFS Unleashed, Bas de Vos, VP at IFS responsible for IFS Labs further demonstrates how IFS envisions the connected factory. The idea is to connect as many parts as possible through the IFS Cloud platform. That way you can better plan and optimize workflows, but you can also integrate machines in real time and predict their performance. Then you also know when something needs to be replaced.
Not only is it possible to send orders made in a web shop directly to the machines in the factory, but you can also do Asset Performance Management. The latter is a hugely important part of Enterprise Asset Management, De Vos points out. At the end of the day, this is a major optimization step. It collects data, predicts behavior based on analyses on that data, optimizes maintenance and thus provides benefits for the company as a whole.
However, connecting parts together is not just about machines and systems. In fact, De Vos is talking about yet another strategic investment for IFS, in Intelligent Knowledge Base Search. This is no ordinary knowledge base, but one that combines data from its own machines and systems with data from outside. Specifically, this means that you can include manuals, for example, in a search. You can also add your own observations in plain language to filter the search results. Then you can use the NLP-enabled search function to ask a question about how to solve a specific issue. The result will point you to the exact page in the manual where you can find the solution. That is the ideal scenario that De Vos showed during a live demo on stage. Especially for people working in the field, Intelligent Knowledge Base Search should be a valuable addition.
It's just the start, more to come
It is clear that IFS has a clear vision and hardly deviates from it. It doesn't seem to be hurting the company either. Software sales continue to grow, up 26 percent year-on-year. 47 percent of all bookings come from new customers. These new customers obviously are all IFS Cloud customers. After all, that's the only product IFS sells. Roos also expects that the bulk of existing customers who are still on IFS Apps 10 or earlier will eventually switch over as well.
We have also noticed that IFS is signing up bigger and bigger names as customers. We talked about this with Roos in a previous interview. That was almost a year ago to the day. Back then he indicated that these wins were (small) parts of the environment of those large customers. That's the reality nowadays, there are very few organizations left that are wall-to-wall SAP, for example. In FSM in particular, IFS has a strong position, as we mentioned above. This year, however, the message is slightly different, at least to our ears. More big names now seem to be opting for other components of IFS Cloud as well. This is the logical consequence of IFS' strongly industry-specific solution, Roos said. Which takes us back to the central theme of IFS Unleashed this year. That is that IFS Cloud is designed to be a platform that combines best-of-breed with best-of-suite for customers.