Webex has been around for years and is the standard conferencing tool in many enterprise organizations. The focus on Cisco Webex has been significantly less for a number of years, but the tool is completely back on the radar. Cisco competes with parties like Slack, Teams and Hangouts like never before. Is the company not swimming against the current?
Cisco is trying to put Webex back on the map, after the product has received less attention in recent years. One of the consequences of this is that new solutions have taken away a lot of Cisco's market share. Think of a conferencing tool like Zoom, which has grown enormously in a relatively short period of time. New collaboration tools like Slack, Microsoft Teams and Google Hangouts are also excellent alternatives to Webex.
If we look at Webex today, it's all about Cisco Webex Meetings and Cisco Webex Teams, formerly Spark (meetings, chatting, calling, etc). During Cisco Live we also worked with Webex Teams for a few days to communicate with the people at Cisco. Similarities compared to apps like Teams and Slack are abundant. One area in which Cisco does have a head start are the IP phones that fully integrate with Webex. If we look at conferencing systems, we see that Logitech and Poly now also offer solutions that can be used with any collaboration tool. The distinctiveness of Cisco Webex Teams is, all in all, very limited compared to the competition.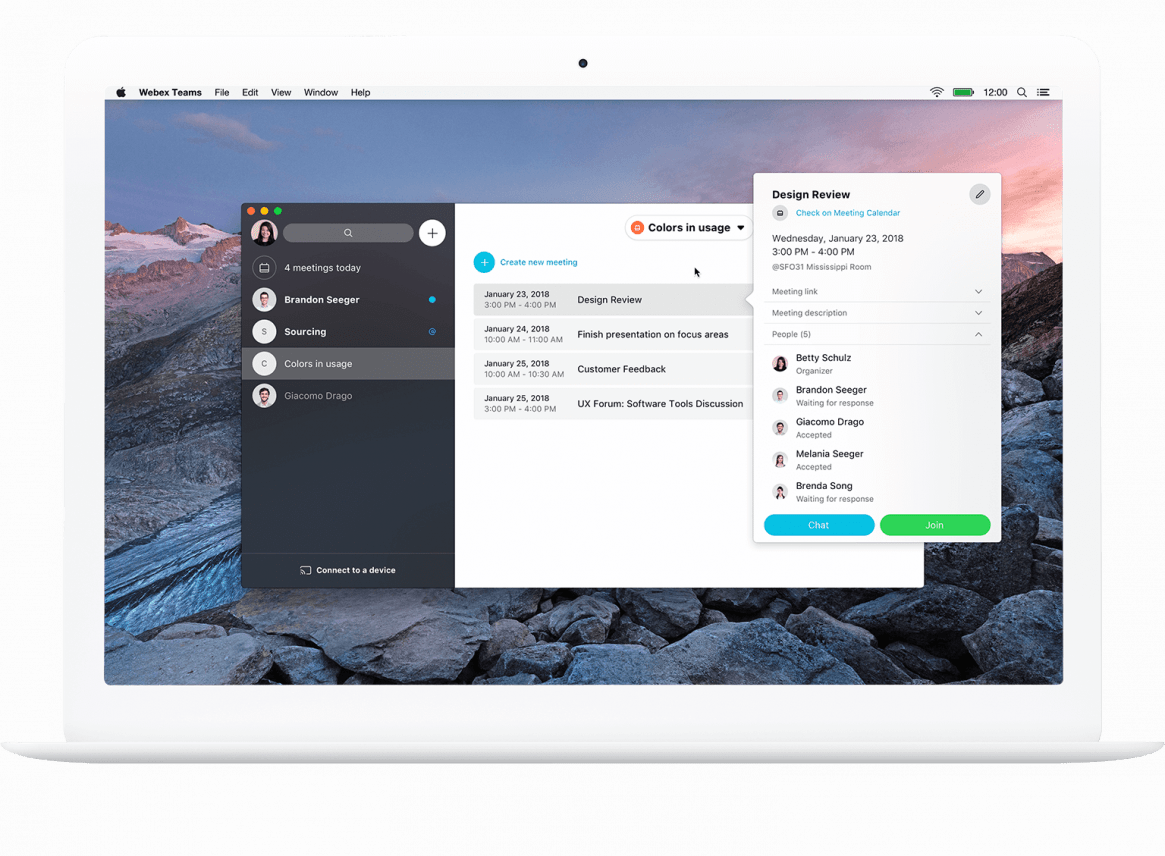 In that respect, Cisco is fighting an uphill battle. If we forget about videoconferencing for a moment, the competition regarding collaboration apps takes place mainly between Slack and Microsoft Teams. At first, Slack had a clear advantage, but Microsoft is closing the gap quickly. If Cisco wants to get involved in this, the company will have to distinguish its services, improve and come up with a unique proposition. That, however, is what we are still missing.
No doubt there are companies that would spend huge amounts of money to use Cisco Webex Teams. If such a company happens to use Office 365 or Microsoft 365, however, we think Webex Teams is a waste of money, as Microsoft Teams is included in those subscriptions. For Webex Teams you pay more per user than for a complete Office 365 subscription per user (!).
Webex is, on some points, more advanced than the competition
It is clear that we are not yet very hopeful about Cisco Webex. That doesn't mean that the product is bad. It's a very good product, it even provides features that its competition doesn't have. For example, in videoconference meetings it is possible to use facial recognition, so that the name of the person can be seen under his or her face. If you have a group discussion in which four or five people can be seen on the video, it is very useful to be able to see the name of each person. Especially in large companies, you don't always know all your colleagues or you could be dealing with large teams of a client or partner. Cisco also uses software-based noise cancelling to filter out sounds like a barking dog or a crying baby.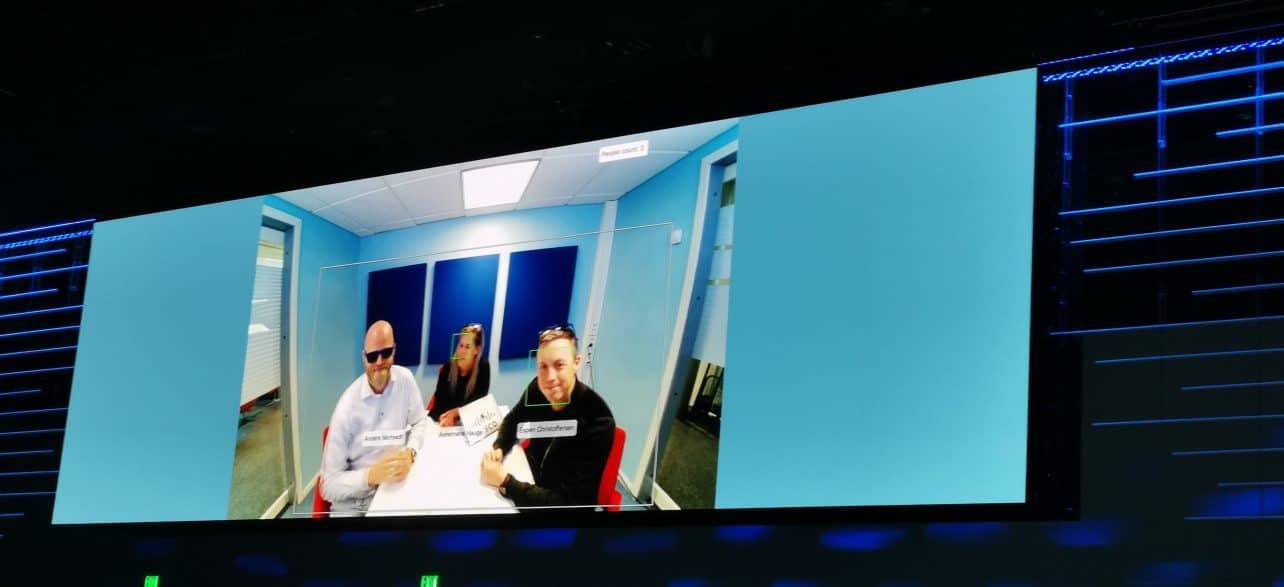 Cisco also adds People Insights to Webex, which is the most talked-about feature. People Insights is perhaps the biggest reason to choose Webex. The feature is a result of the acquisition of ACCompany. This company has been working for years on a system that builds profiles of people based on public information. In total, People Insights includes more than 300 million profiles. This does not include name, address or contact details, but business information that matters. A description of what a person does, what his or her position is, a photo, a short CV and in which articles online this person is mentioned. Information about the employer can also be viewed immediately, for example recent quarterly figures. It is a business profile that has been built using algorithms that have been tinkered with for years. It is also possible to see certain contact details, but this requires links with Office 365 or Salesforce, which is where the contact details are obtained.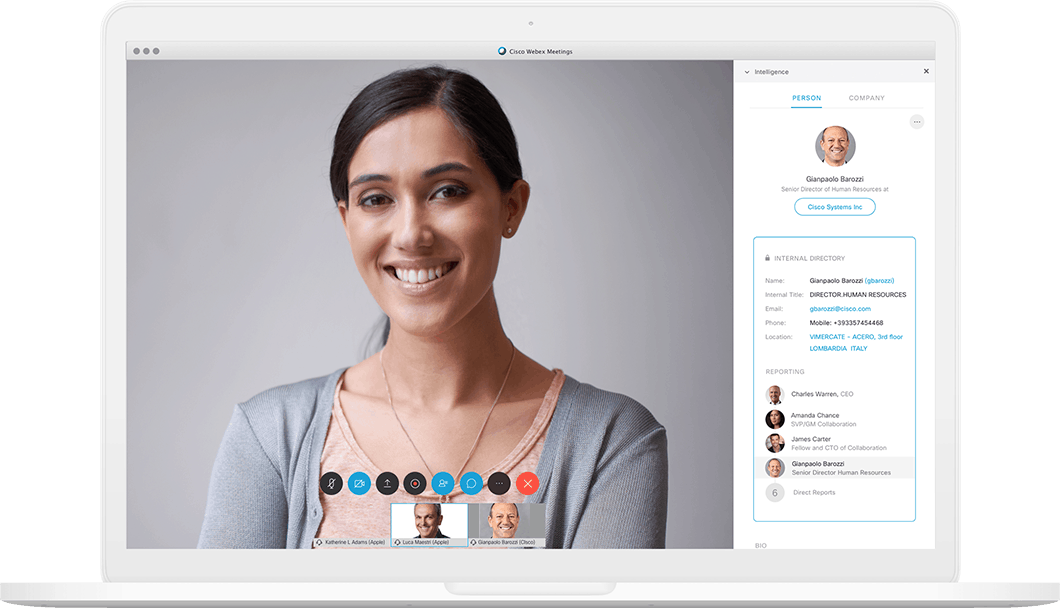 Amy Chang, responsible for the collaboration products of Cisco and founder of ACCompany, said that collecting data is not that difficult. The first 70 percent of the data can be collected by anyone. Things that are challenging are, for example, separating people with the same name and automatically determining which information is relevant. Ultimately, the company spent years developing algorithms for this, the last few percent of which took the most time. According to Chang, the database can now boast an accuracy of about 95 to 96 percent. It is also much more extensive than, for example, a standard LinkedIn profile.
In practice, this means that when you have a video conference with a customer or a partner, you can immediately access all his or her data. You have all the relevant background information about the person and the company at hand. You can also use People Insights as a separate application to prepare yourself for a call, meeting or interview. Although this is a very useful application and feature, it is difficult to assess whether the entire use of Webex is justified compared to Slack or Microsoft Teams, for example.
We do think that features like facial recognition and noise cancelling are quickly copied by the competition. Microsoft could, for example, easily copy these features – they won't wait with AI and machine learning solutions in Azure. People Insights is a bit more difficult, although Microsoft, as the owner of LinkedIn, could provide a basic profile. Furthermore, it is relatively easy to acquire information about companies.
Cisco has to act fast with Webex
Cisco could have chosen to simply sell Webex and focus on their network activities, where the company is best known for in the end. It didn't, however. The company even invested heavily in Webex, which means that they now really need to get on with the development of the service. In addition, their proposition must take a stronger stand, because companies are now mainly looking at Microsoft Teams and Slack. Webex will have to add itself to that list. The application of Webex Teams works very well and is user-friendly, but that's not the problem. Perhaps Cisco needs to market a little more aggressively for WebEx Teams and, compete more sharply regarding pricing. In that case, more companies will undoubtedly consider Webex Teams.
We asked Chang what the next steps would be, for example if she considered developing a unified workspace. From her answer it soon became clear that this is not on the agenda. In the end, Webex collaboration is all about communication. Cisco doesn't really dare to think outside of that box yet. However, she did stress that Webex needs to become more context aware. If the software knows where the user is, for example in which meeting room, it can automatically switch to this room using AI. In any case, she promised a few more Webex announcements in the next year. To conclude, Cisco is not going to sit still, but showing a little more guts would help.