The oil tanker has changed course. A fitting description for Commvault. We've been following the company closely for several years, and while seeing potential, the company never reached its full potential. With last year's introduction of Commvault Metallic, the oil tanker started to turn. Today, the course is truly different.
Commvault is old school. The company has been around since 1988 and has become one of the largest vendors in backups. By making sure your data is safely stored elsewhere if something should go wrong. Due to the large increase in cyber attacks, this has become increasingly important over the past twenty years. Commvault has finally succeeded in leveraging the fact that they are old school.
Commvault has been broadly working on the same product for the past 20 years. Today, this product is known as Commvault Complete. The software solution essentially allows any kind of backup or restore, facilitating detailed configuration in every step of the backup process. Commvault's customer base includes large enterprise organizations that backup and restore entire data centres and other complex infrastructures. Commvault even has customers who use the software to deploy completely new software-based infrastructures or standard VMs for customers.
With that said, we've simultaneously stumbled upon the disadvantage of Commvault Complete. It is suitable for companies that want to configure every step and detail in the process. Companies with very specific requirements, eager to be able to turn at all the knobs. In general, these are very large enterprise organizations, not SMBs. Meanwhile, most companies are leaning more and more towards simplicity: solutions that work out-of-the-box, requiring minimal effort. Commvault has been facing this situation for a long time, seemingly unable to crack the puzzle. That is, until the introduction of Metallic.
Metallic is the best of both worlds
Several competitors have passed Commvault in recent years. These competitors were able to offer simple solutions. In other words: reliables backup solutions with minimal configuration. Commvault tried to counter the latter with Complete, but that product is simply not suitable for that purpose.
With Metallic, Commvault gained an answer to its competition. Metallic is a new cloud-based product that can take all backups off your hands with a few simple actions. Metallic offers simplicity with a modern subscription model and no hidden costs. In addition, Metallic supports both cloud and on-premises infrastructure, as well as various SaaS applications such as Microsoft 365 and Salesforce.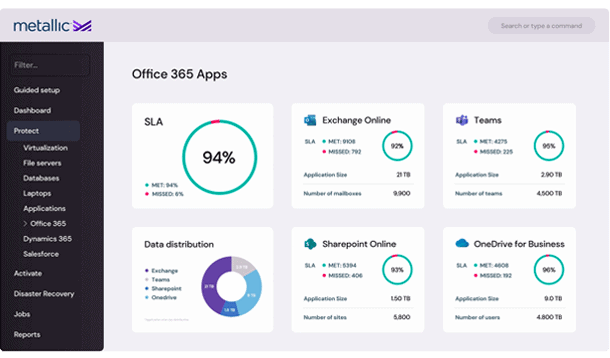 As such, Metallic is a truly modern offering. Meanwhile, under the hood and out of sight of customers, Metallic uses advanced Commvault technologies, developed over the last 20 years. So while Metallic is a new proposition, it leverages advanced technologies resulting from years of development. You don't redevelop an algorithm to apply deduplication. Likewise, Commvault doesn't reinvent what it already has.
Commvault has a lot of advanced technology for backing up and restoring data. Developers can reuse many of these technologies. Naturally, the tech has to be tweaked here and there, but the algorithms remain the same. Because Metallic uses all of Commvault's intellectual property, it is a very mature and stable solution. This makes Metallic the best of both worlds for many companies: advanced backup technology with a simple interface.
Metallic is growing tremendously, demand for support and features will increase
Metallic was introduced in Europe in October 2020. In the past year, it has experienced tremendous growth. We discussed the subject with Bart Tournier (Sales Director Benelux) and Donny Navarrete (Metallic Cloud Sales Leader). They revealed that, in the past year, half of all Metallic customers were new to Commvault. The other half consists of existing customers. As far as they are concerned, 50 percent in new business is unprecedented. It shows a great demand for simple yet comprehensive backup solutions.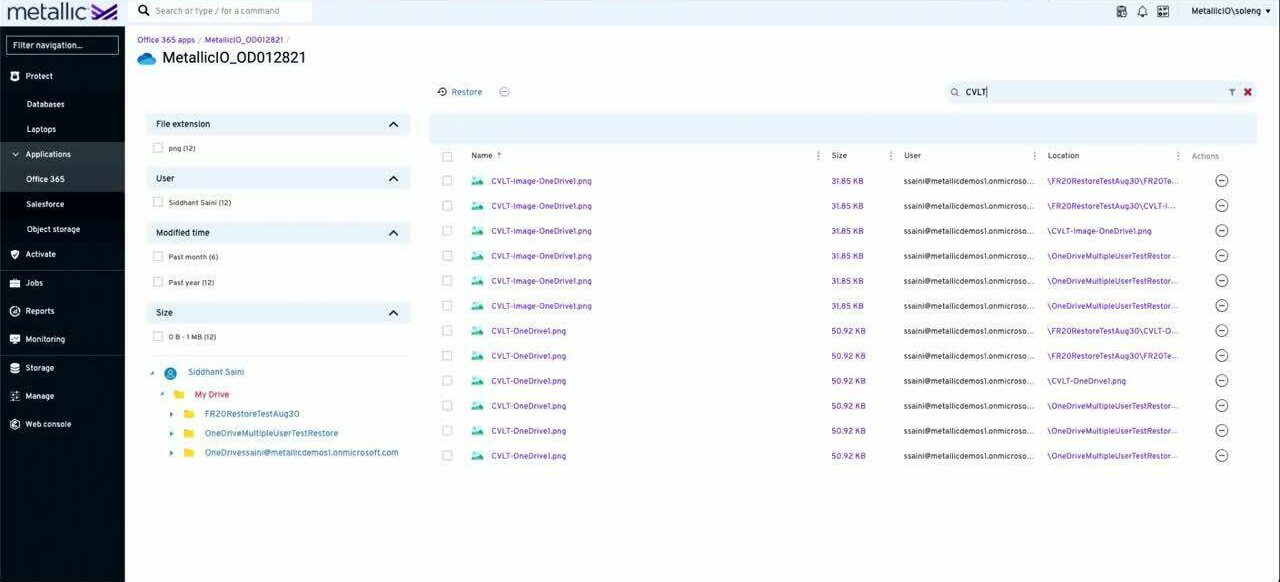 Therefore, Tournier states that he expects Commvault to be able to grow Metallic substantially in the coming year as well. The demand for Metallic is still increasing. Furthermore, both men are positive about the further development of Metallic. Support for Microsoft Dynamics was recently added, Microsoft's ERP solution. Microsoft Dynamics is making great strides in the business world; Microsoft recently announced that sales of Dynamics have increased by 48 percent. Navarrete says that many customers sign up for backups of Microsoft 365 (Office, Outlook, OneDrive) and Salesforce. According to him, many companies remain unaware of Microsoft 365's limited retention time and the fact that you have to arrange your own backups for Microsoft 365.
Metallic has been available in the United States for about two years. In Europe, for one year, and since very recently, in Asia and the Pacific as well. This allows Commvault to continue to grow globally, giving greater priority to the further development of the product. Although Metallic can already make backups of, for example, AWS, Azure and VMware infrastructure, it still lacks support for Google Cloud, Nutanix, Oracle Cloud and IBM Cloud infrastructure. In time, it will have to start supporting these platforms as well. Many companies have a multi-cloud strategy that goes beyond Azure and AWS.
Navarrete says this is true, adding that he cannot say if and when certain extensions will be introduced. However, he can confirm that Commvault has an agent that can be deployed to almost any infrastructure if necessary, allowing universal backupping. Nevertheless, Navarette admits that many companies would rather see it done without an agent. As such, Commvault has a few more steps to take with Metallic in the coming years.
When touching upon the topic of Kubernetes, it appears the company is further along. Backing up containers can be done through Azure Kubernetes Service (AKS), Amazon Elastic Kubernetes Services (EKS), RedHat OpenShift and VMware Tanzu. Also, all CNCF-certified Kubernetes distributions should be supported. Google Anthos should, among others, be compatible.
Metallic works on-premises
Navarrete further emphasizes that, even though Metallic is a cloud product, there's support for on-premises as well. Companies using Hyper-V or VMware in their own data centres can leverage Metallic. In addition, companies can choose different storage locations for their backups. Commvault has its own Metallic Cloud Storage running on Azure, which is an option as a backup location. It also offers Amazon S3 and Azure Storage. Moreover, companies can choose to land backups in an on-premises environment. For example, through Commvault Distributed Storage, NetApp E-Series, Dell EMC Isilon, Pure Storage FlashArray, HPE Primera, Nimble or 3PAR and many others. This may be more convenient from a compliance or cost perspective.
Metallic becomes a white-label solution for MSPs
Due too the simplicity and high demand for Metallic, many MSPs are interested in Metallic as well. Commvault provides MSPs with a special edition that allows the offering of Metallic as a white label solution. In other words: MSPs can now sell Metallic backup solutions under their own name. MSPs can also set their own prices and offer the environment in their own corporate identity.
The latter will undoubtedly lead to even greater adoption of Metallic. Tournier mentions that there are MSPs that save costs purely by using Metallic to backup data to the cloud. Metallic is as simple as it is competitively priced. Tournier says that Metallic is an excellent alternative for MSPs: if its cloud storage alone is cost-efficient, imagine the savings possible when using Metallic to replace a proprietary backup platform.
Metallic Security IQ provides insight into user activity
Following up on the white label offering, Commvault recently presented Metallic Security IQ. This is a complementary addition that gives companies complete visibility into activities within Metallic. To detect behavourial anomalies, all user activity within Metallic is logged and made transparent. If users suddenly start deleting files en masse, Security IQ can alert an administrator. The solution can also detect ransomware activity at an early stage. Ultimately, Security IQ entails a security tool that's all about keeping your backup data insightful and secure.
Commvault is once again sailing on a favourable course
To cite the oil tanker once more: Commvault is sailing a new course. A course more suited for today's IT, in which everything must be faster and simpler. The voyage of using existing advanced technology to create a new, fast and simple but powerful product has been particularly successful. It remains to be seen whether Commvault can maintain this course and how competitors will respond.