A conferencing camera, a laptop dock and a flex workspace management solution: the connection between Logitech's announcements today is not immediately obvious – but appearances can be deceptive.
The mutual logic between Logitech's various B2B solutions is not always obvious in the respective introductions. In recent years, for example, we saw a new connection method for wireless peripherals with Bolt. There were also the "for Business" versions of existing B2C products. In doing so, the distinction from that consumer version was not always clear. There was also a series of solutions for video conferencing, including wireless earphones with accompanying Logi Tune software, an Options+ for the peripherals that was in endless beta, and Logi Sync for remote management of the various products. A common thread was difficult to discern at times.
With the passage of time and successive new products and services, coherence and the underlying strategy become clearer. Perhaps in part due to advancing insight at Logitech, but we also hear between the lines that there is indeed a long-term vision. Today's announcements fill gaps in the portfolio. In addition, they further bring together the various components of the now very extensive ecosystem.
What is Logitech announcing?
Before we get into that, first the news. The Swiss tech company is in fact annoncing two products and a service today. The products are respectively the Logitech Rally Bar Huddle and the Logitech Dock Flex, the service is Logitech Desk Booking.
Logitech Rally Bar Huddle
The Rally Bar Huddle is an even smaller version of the Rally camera system. That line already consisted of the Rally camera, the Rally Bar and the Rally Bar Mini. The Rally Bar Huddle appears to be the successor to the 2017 Meetup Camera. Whereas that compact speaker bar-with-camera still featured an optical pan-tilt-zoom camera, the Rally Bar Huddle trades that technology for a higher-resolution sensor with eletronic PTZ. This features a highly visible contrast privacy shutter. This slides in front of the lens when the device is inactive. This is to eliminate concerns about ubiquitous cameras.
The combination of a 4K sensor and a lens with a 120-degree viewing angle should make the Huddle suitable for small meeting rooms, with up to 6 attendees. In doing so, it features the same video functionality as the Rally Bar Mini. These include things like AI Group View, Autoframing and – with an update after it comes out – Grid View and AI Camera Zone. The latter feature allows you to define the area within which the camera records people and, for example, dynamically zooms in on them. It should prevent passersby behind glass walls or framed heads from being mistakenly in the center of the picture.
The device features the cable management typical of Rally products. This should prevent users from accidentally unplugging cables. Logitech supplies the camera with a mount that can be used in three positions. You can place it on a desktop, above a monitor and on the wall.
In terms of audio, the Huddle features the same 6 built-in microphones as the Rally Bar Mini. These have a range of about 6 meters. The AI noise reduction and echo cancellation of the more expensive model are also present. For sound reproduction, the device features a powerful speaker – twice louder than the Meetup's, according to its makers.
You can pair the more expensive Rally Bar Mini with two monitors. Expansion with additional microphones is possible. This allows the Rally Bar Mini to serve a larger room with more attendees. The magnetic colorful faceplate, allows you to adapt it to the environment. Logitech itself is going to provide three color fronts, in addition to a variant that can withstand harsh cleaning agents aar also announced that it will collaborate with third-party companies, specializing in office design.
The Rally Bar Huddle has yet to be certified by its well-known partners – Microsoft and Zoom. A process that Logitech expects to complete upon introduction in July 2023.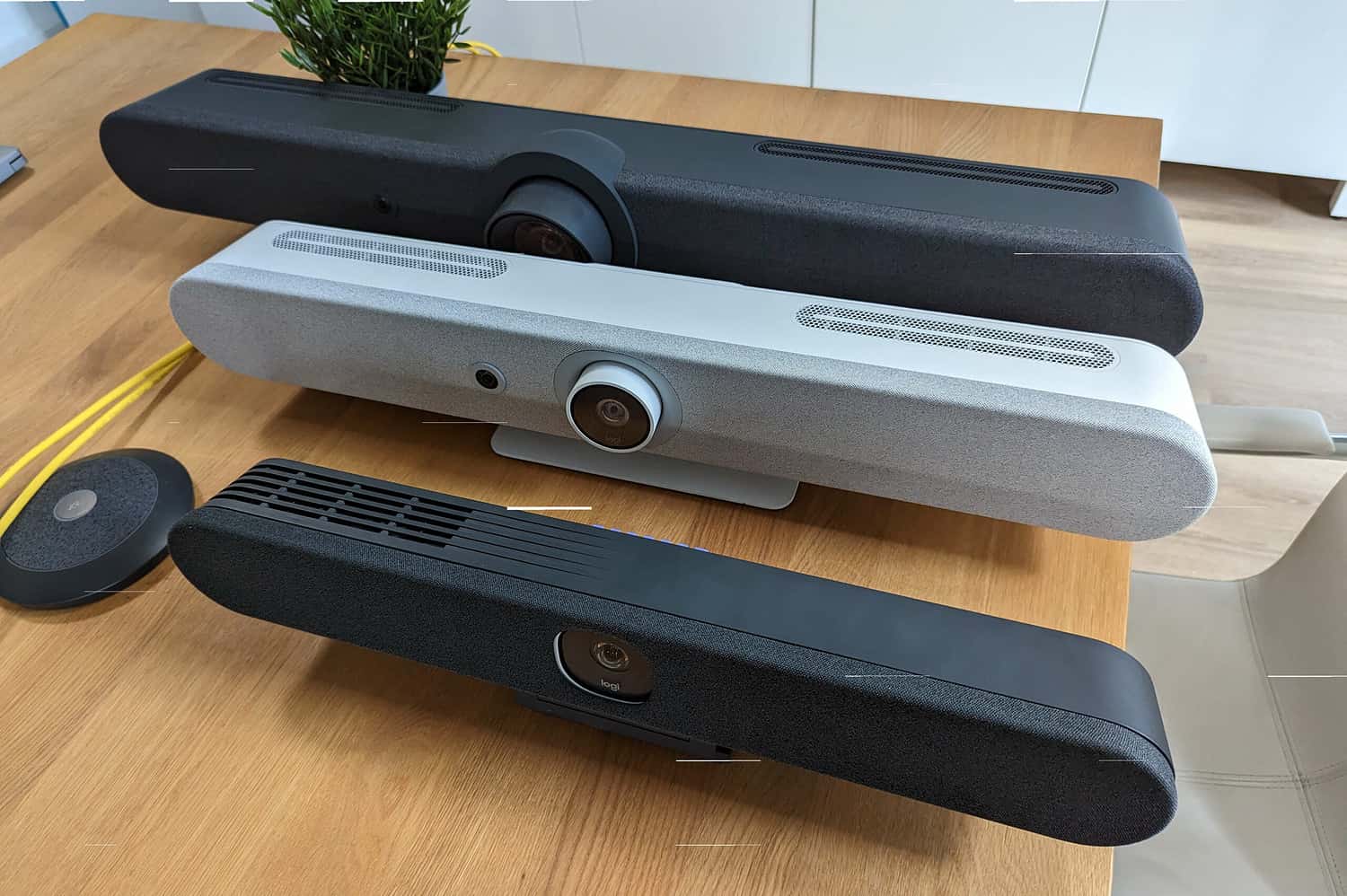 Logitech Dock Flex
In September 2021, Logitech introduced its first docking solution. The Logi Dock didn't impress us all that much. We didn't understand why it was important. It was relatively expensive and had a combination of features (speakers, speakerphone, microphone array, USB-C dock with power delivery) and a hefty price. As it turns out, Logitech had another dock in development at the same time, the now-announced Dock Flex.
This is a very different type of solution, though there are similarities. Logitech wants the Dock Flex to be a central hub for flex workstations. To that end, it features a built-in 8-inch display and a strict separation between "user facing" and "IT facing" connections. That screen serves to display the user's calendar. In addition, it is possible to create a personal photo album. You can also use it to start video meetings. The device cannot be seen separately from the simultaneously announced app and workplace management service.
Like the Logi Dock, the Dock Flex is capable of charging a connected laptop with up to 100 watts. The device has two screen ports, an Ethernet port and both front and rear USB ports. For the user, three are accessible on the front (two USB-C and one USB-A). The Dock Flex features similar cable management as the Rally Bar systems. This means that connected cables should stay safely and securely in place via conductors and strain relief. Unlike the Logi Dock, the Dock Flex does not have built-in audio. That makes sense; most flex workstations do not lend themselves to communication purposes.
Logitech Desk Booking
The Dock Flex also works with a new booking system from Logitech. That will soon be part of the Logi Tune and Sync apps. With the former, users can, among other things, see occupancy for each day of the week and thus decide on which day to book a flex space. They can also alert colleagues that they will be physically present in the office. Employers can include floor plans and routes to flex spots in the app.
In addition to Logitech's own booking system, the Dock Flex will also integrate with solutions from Microsoft (Teams) and Zoom (Workspace). Logitech's own system is platform agnostic and intended for companies that use multiple systems in parallel and/or have BYOD policies.
To manage the booking system and flex workstations, Logitech is expanding its Sync application. This partly free, partly paid suite allows IT administrators to read and update an increasing number of Logitech devices remotely. Through this application, they can see which workstations are free and which are not. In addition, you can specify very granularly how you would like to book spots in the schedule: for how long, how long in advance, those kinds of questio. When using Logitech hardware like the Dock Flex, policies can be used to set which ports are active for which types of users.
What is interesting about the combination with Dock Flex is the authentication – that is, approval of use and activation of the dock. This takes place at the app level. To this end, the Dock reads out the booking made in the Logi Tune (or Zoom Workspace) installation on the user's device. If there is a match, the workspace activates. If not, dock, screen and any other peripherals remain inactive. This combination gives administrators more insight into workstation usage than has previously been possible with existing solutions, Logitech said.
The correlation: more insight, better management – and more connection to the post-Covid reality
Which brings us back to the introduction: how do these product and service introductions relate to each other? In hybrid work environments where small teams work across multiple locations, there is more need for multiple, small-scale videoconferencing systems than large systems in conference rooms. The Huddle is (still) a lot more accessiblethan the larger Rally Bars. Logitech therefore hopes to sell several per company. Any room of any size may have a Huddle on the wall, or so the credo seems to be.
The Logi Dock Flex and Logitech Desk Booking, meanwhile, show the red line. The Tune application, started as a tool to configure headset and webcam, becomes the central place where the user controls everything concerning their own workstation – including booking it. We even heard hints that integration of this with local configuration package Options+ could be a dot on the horizon. On the management side, Logi Sync gains similar depth.
In addition to remote management of numerous individual products and managing meeting rooms and desks, flex spaces become a third category that IT administrators should be able to gather data and insight from. With that data, they can tell a reasoned story to the C-suite about the usefulness and necessity of (numbers of) flex workstations. It also accurately maps whether a workstation was reserved, whether that reservation was utilized and how long it was active.
Logitech Desk Booking combined with the Dock Flex provides insight into when and how much need there is for workstations. You can also see here when there are peak and off-peak moments. You can manage this. Data can also be collected at the level of the individual employee, although Logitech emphasizes that privacy was central to the development of Desk Booking. It's even possible to place a reservation anonymously. We wouldn't be surprised if that option could be skillfully dismissed with a policy. IT administrators (and managers) can see if organizations actually use the devices. And also what it does for employers who want to prevent staff from hanging out behind a screen for too long instead of going out to customers can even set up flex spots to automatically close after an hour of use.
At the same time, flex stations equipped with appropriate hardware – such as the Dock Flex – should provide insight into the condition of the equipment present. More and more Logitech equipment was already manageable in Sync, and soon this will apply to the entire workstation. Dock, webcam, keyboard and mouse – management can see whether all of them are working or need maintenance. This real-time telemetry can probably count on interest from administrators who no longer have to wait for a call that a battery is dead or a headset refuses service due to a missing firmware update.
For end users, or employees, the social aspect of Logitech's announced solution is probably appealing: going to the office is something many prefer to do when there are some like-minded colleagues around. They can get a quick insight into both via Tune, and then book a meeting room or flex spot and let colleagues know about it. Or not, of course. The ability to pick a quiet moment may be more likely to be appreciated by the more introverted employee.
Pricing and availability
Loigitech Desk Booking comes in a free and a paid version. Anyway, this application is fully functional free until July 2024. As such, that is an open beta period. After that, the free functionality will be limited to making reservations; notifications, floor plans, telemetry and data will become premium features. Organizations that opt for Logitech hardware such as the Dock Flex will also receive the fully functional Desk Booking application in the process, although at the time of writing it was not clear if there was a cost model associated with that as well. Desk Booking can be requested immediately through the Sync management portal.
The Logi Dock Flex will have a suggested retail price of $849 and is expected in the fall of 2023. The Rally Bar Huddle will cost 1999 euros and will go on sale from July 2023. The various AI features such as Grid View and Speaker View should become available in the fall.
Also read: Should you want to follow Logitech's consumer-focused updates in addition to its business products, you can visit TechFi (in Dutch, unfortunately) in a week's time to be informed about them.