The current corona crisis made it clear we need to adapt quickly in order to participate in a new society. A large part of the population suddenly worked from home, while businesses had to rush to find new ways to generate revenue. This also includes the prospect of a long-term society with social distancing, for which your company may still be looking for solutions. It is clear that the changes vary per industry. We recently attended a Salesforce event to discover how the disruption is affecting different sectors and companies.
Salesforce recently organised the Leading Through Change virtual series, where customers spoke about how they were making adjustments in a short space of time to deal with today's realities in a variety of ways. During the event, they were assisted by experts from Salesforce, with a specialisation in a particular industry. In this way, they outlined what the corona measures meant from a practical point of view for specific companies. This allows participants to learn from each other and come up with ideas they haven't thought of yet.
There were quite a few big names involved in the event, including Kone. This elevator and escalator vendor indicated that the current situation came as a surprise, but that the business operations were initially designed for external disruption. After all, the company has been around for more than 100 years, is active across the globe and has customers with specific demands, which made the organisation accustomed to many external factors. The ability to adapt, however, is not without challenges. Almost everyone works from home, which requires investment in order to set up these workplaces with collaboration tools and equipment. Every company witnessed this shift during the event. Apps such as Microsoft Teams, Zoom and Slack become more relevant to allow staff to communicate with each other. And employees can also become more productive when using a good monitor, mouse and keyboard instead of just a laptop.
Tip: The future of customer service and experience
After the general start of the day, people zoomed in on specific industries, to take a good look at the situations the sectors are facing.
Manufacturing: keeping the supply chain up and running by bringing employees and IT tools together
The manufacturing sector has traditionally been susceptible to external disruption, and the corona crisis is hitting the industry particularly hard. A lot of production work has to be done on location, working from home is not an option for many employees. In addition, economic stagnation means that there is less demand for products. Companies in this industry are looking for answers to all kinds of questions: how can I get my employees to work safely, and how can I make sure that there is enough revenue? According to Salesforce, these are questions that are initially part of the crisis management phase, in which you solve problems in the short term and return to work. Then there's a phase of reforms, in when the new standard is fleshed out with new collaboration methods and observing potential crisis opportunities.
At UPM, they are active in the manufacturing industry and everything needed to remain operational as much as possible in order to supply paper to their customers. As a result, at an early stage, the company decided to set up workgroups to go through the transition phases. These teams would approach the shift based on their own expertise. For example, the IT team was tasked with creating a virtual environment for as many employees as possible. This led to the accelerated adoption of collaboration tools, in this case, Microsoft Teams, but also the continued use of VPN tools for secure connections. UPM, therefore, saw an accelerated adoption of IT, in a sector that already uses quite a lot of IT solutions.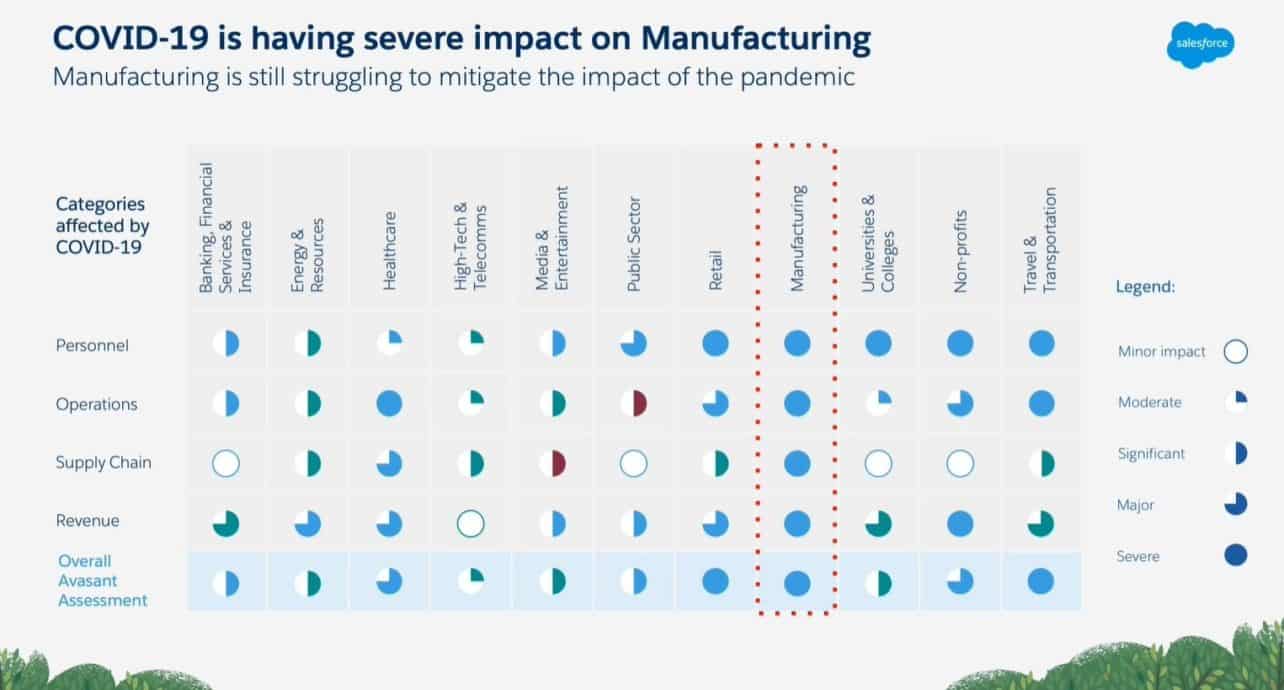 Retail: online seems to become even more relevant
Although physical retail did not come to a complete standstill in the Netherlands, adjustments had to be made quickly. Many shops were shifting to online retail, and there is even talk of consumers incorporating even more online shopping into their purchasing behaviour in the future. This is supported by the boost that online retail made in Asia during the outbreak of the SARS virus, where online brands such as JD.com and Alibaba became popular after those epidemics.
The Dutch company Omoda also indicates that it sees opportunities in selling its products through digital channels. For the company, the personal aspect is a vital part of selling shoes, but this aspect disappeared during the first weeks of the corona crisis due to the limited number of customers in the physical stores. That's why the shop decided to turn a service in development into an online shopping assistant. Through a video conversation, customers can now receive advice about shoes. In this way, customers gain personal experience, and more turnover is achieved compared to the first phase of the corona crisis.
Consumer goods: responding to needs through innovation
The changes that have taken place in the consumer sector are perhaps the most visible. At the beginning of the pandemic, there were empty shelves in the supermarket, restaurants are still closed, and certain products can only be picked up to order. Consumer behaviour has changed dramatically in a short period of time. Money is spent more on essential goods and services instead of non-essential luxury products, and more is bought online. As a company in the consumer sector, it is therefore important to remain relevant and innovative.
The Dutch company FrieslandCampina also noticed this change in consumer behaviour. The milk supplier is active in a sector that continues to operate under the motto 'cows keep giving milk, people keep drinking milk'. To support these values, the brand must remain visible, but it is also essential to continue to spread information. FrieslandCampina, therefore, is using other channels to reach consumers. The consumer is at home on the couch with his smartphone or tablet and probably looking at social media. To find the consumer, the brand is opting for a sharper focus on platforms such as Facebook and Instagram.
Financial services: customer experience as a possible growth factor
For the financial sector, a personal approach is also essential, as it increases customer confidence and therefore, experience. The Danish bank Arbejdernes Landsbank elaborated on the subject. Within a week the company shifted from working at offices to working almost exclusively from home. The bank was able to make the switch relatively quickly because of its cloud services, so it was less dependent on on-premise infrastructure.
Arbejdernes Landsbank has maintained approximately the same growth figures during the corona crisis as before. In its own words, this is due to the intensive focus on customer experience. A few years ago, the bank launched an initiative in which every branch and every department had to think of ways to improve the customer experience, something they now believe they can reap the benefits of. Even during the corona crisis, that experience should be leading. While consolations become less personal when they take place virtually, learning to understand customers' financial situation in the new standard is still appreciated. If work is cancelled or a relocation takes place, and the bank involves itself in this, the customer will appreciate this in many instances.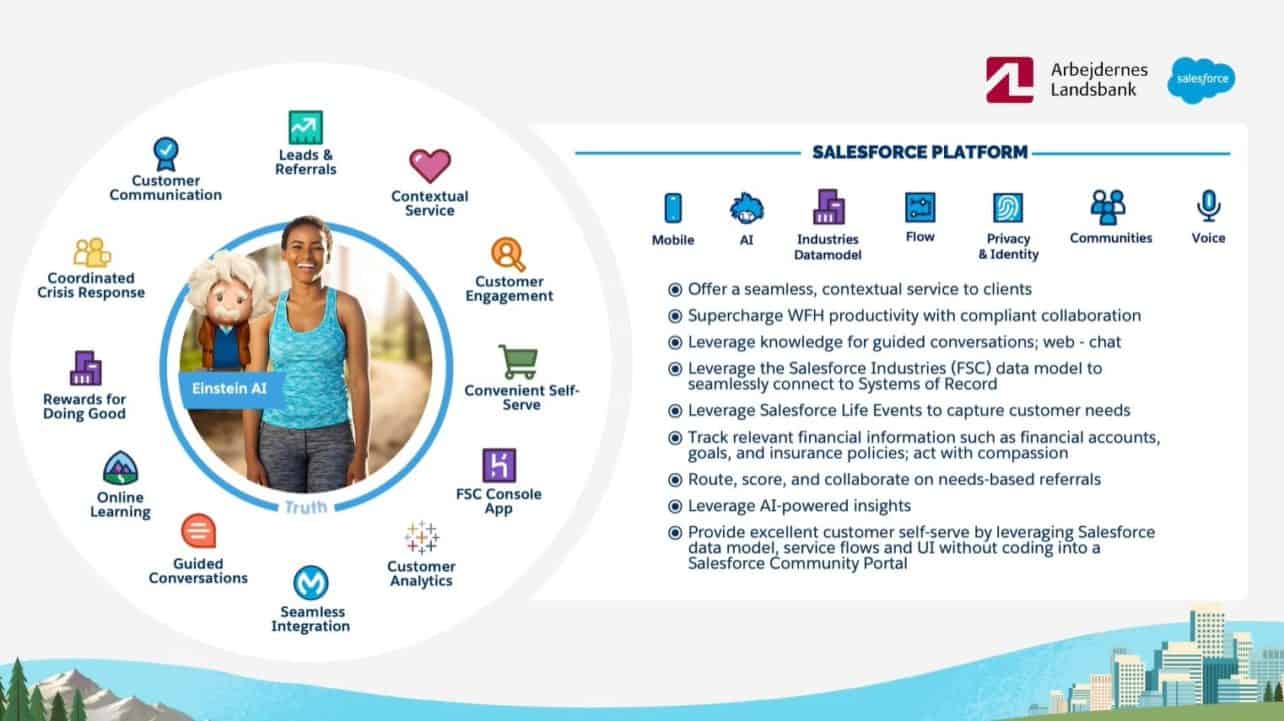 Transport & logistics: functioning in difficult times
Finally, the transport and logistics sector was also addressed during the event. These companies face many restrictions, because of closed borders and the demand for products that are decreasing or increasing among other things. Companies in this sector have a particular focus on the health and safety of employees, as they are the ones supplying the products to the right destination. This is the only way to keep the company running. On the other hand, transparency towards customers is also essential, so that they stay up-to-date on the delivery status of their product. Ultimately, it is also important to anticipate what will happen over the long term. This means preparing for a different demand for products, being more prepared for future disruptions and possibly introducing new business models.
Learn from each other
Salesforce has already completed two virtual conference days filled with customer stories: how will customers continue to do business in this corona time and in the new normal? Learning from each other can be very valuable. The sessions can all be viewed via the Salesforce website.