Microsoft has extended its Microsoft CoPilot AI functionality to Microsoft 365. This allows productivity tools to also take advantage of ChatGPT capabilities.
Recently, Microsoft launched the CoPilot program that brings generative AI functionality, such as from the ChatGPT tool and the GPT-3.5 AI model, to more solutions. Initially only for the ERP and CRM solutions within Dynamics 365, but now also for its productivity suite Microsoft 365.
Functionality
For this CoPilot integration, the tech giant is using OpenAI's latest GPT-4 AI model. The technology is integrated directly into Word, Excel, PowerPoint, Outlook and Microsoft Teams.
Users can use this functionality to ask questions and employ the AI to write draft versions of documents, create presentations, edit emails and summarize meetings, for example. They can generate this content completely automatically, with the AI functionality using input from their own business emails, files, meetings and/or other business data.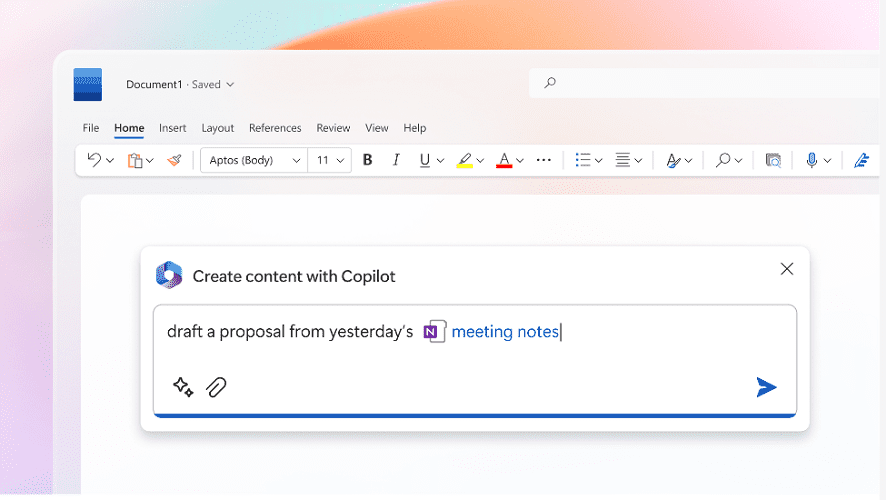 However, Microsoft does warn users that the automatically generated content is not yet perfect and reliable and needs attention for improvement. Via a "Try Again" button, the functionality can be asked to adjust the presented result. It can also be asked to add missing information. The AI technology then uses this to improve the content and learn from it.
In addition to the AI functionality in existing business productivity applications, Microsoft is also introducing a new tool for this purpose; Business Chat. This tool is an AI-based digital research assistant in Microsoft Teams. Users can ask the chatbot questions, after which it retrieves information from various sources. This information is arranged by the digital assistant and presented in a clear and coherent manner, including citations.
Microsoft CoPilot for Microsoft 365 is now in very limited testing and will soon be available in a larger preview.
Ecosystem
According to Microsoft, the integration of CoPilot AI functionality into the productivity suite is part of the CoPilot System ecosystem. This should integrate the Microsoft 365 applications, CoPilot AI functionality and the large amount of business data in Microsoft Graph. To this end, CoPilot AI acts as an NLP tool for asking questions and getting answers, as well as a tool for accessing the data graph and "mining" this data as a research assistant.
Other AI initiatives for productivity tools
Microsoft is not the only tech giant in the process of introducing generative AI technology into its productivity tools. Recently, Google also announced Google Workspace is adding a lot of new AI functionality.
Also read: Microsoft adds ChatGPT functionality to Dynamics 365