G Suite users will have access to the new confidential email sending mode from next month. This mode will be enabled by default, unless the administrator decides otherwise.
Google rolls out the confidential mode for sending e-mails via Gmail to G Suite. The feature will be available from June 25th and will be enabled by default when you create a new mail. Disabling is done manually, but the administrator can also decide not to enable the confidential mode by default.
Strong security
The mode came into being last year with the consumer version of Gmail, while beta users of G Suite have been able to use it since the beginning of March. The mode allows you to send mails with extra security.
For example, it is an option to have the content of the mail expire after a certain time. The receiver will then no longer be able to access it after its expiration date. You can also make sure that the text cannot be copied or that someone cannot just forward the mail. It is even an option to require a recipient to verify himself by means of an SMS code. If the mode is not enabled, you can activate it by clicking on the padlock at the bottom left of the screen during the creation of an email.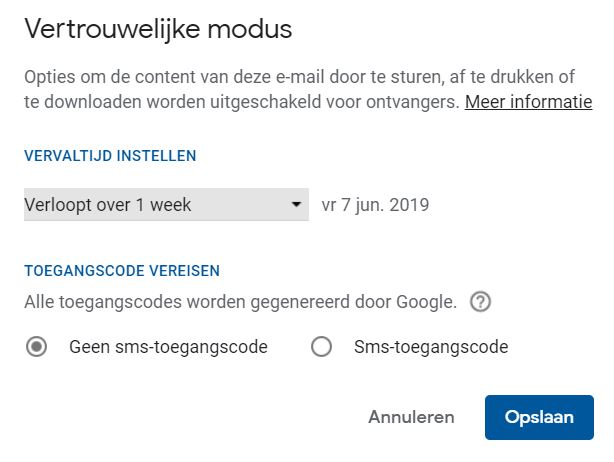 The mode works well with other Gmail users but is also compatible with other mail platforms. In that case, the recipient will receive a link to open the message behind it. For external communications that are not strictly confidential, the mode cannot be called very user-friendly. Switching off the standard therefore seems like a good idea.
Related: Gmail is working on an email scheduling feature
This news article was automatically translated from Dutch to give Techzine.eu a head start. All news articles after September 1, 2019 are written in native English and NOT translated. All our background stories are written in native English as well. For more information read our launch article.