On Computex, HP has updated two EliteBook x360 models and the Elite x2. Furthermore, the PC manufacturer has proposed two more monitors with an integrated camera, but it is the Mini-in-One 24 monitor that steals the show. You can slide a small desktop PC into this monitor so that it becomes an All-In-One (AIO).
HP is renewing a large part of its business portfolio on Computex. The Elite x2, EliteBook x360 1030 (13.3 inches) and EliteBook x360 1040 (14 inches) will be upgraded from the Elite series. All three models can configure the latest version of Sure View, HP's integrated privacy screen. The biggest innovation there is the maximum brightness of 1,000 nits on the Full HD touch version. Some uncertainty is the refresh rate of the screen. Sure View Gen2 has a 120 Hz screen, something that is nowhere confirmed for Sure View Gen3.
The appearance and number of connections of both EliteBook models do not change. The EliteBook x360 1040 G6 has a battery that according to HP should last up to 24 hours if you choose the Low Power Panel (Full HD, 400 nits maximum brightness). Both the EliteBook x360 1030 G4 and the 1040 G6 get a new keyboard that should be twice as quiet as its predecessor. Both models also enjoy Wifi 6 compatibility.
Elite X2 G4
The HP Elite X2 G4 can be configured for the first time with a privacy screen like the EliteBook models above. The design doesn't change compared to the G3 version, but HP adds two new cases. From now on there is the Leather Folio with which you give the Elite X2 G4 the same look as the HP Spectre Folio. There is also a Business Detachable that converts the HP Elite x2 G4 into a laptop.
The HP Elite X2 G4 is equipped with the latest generation HP active stylus (HP Rechargeable Active Pen G3). 15 seconds of loading is enough to write 1.5 hours and 100 percent of loading is done in 30 minutes. The biggest innovation, however, is the minimum pressure before the pen responds. The G1-version still needed 20 grams of pressure while the G3 reacts from 5 grams. The Elite X2 G4 comes with Wifi 6 and, like the previous EliteBook models, offers 4G LTE as an option.
All new aircraft will be equipped with Sure Sense. This is a new security technology that uses AI and deep learning. According to HP, this provides phenomenal detection that even the latest AI-driven antivirus solutions cannot match. The detection would take place on the laptop itself and would be effective even without connection to the cloud.
EliteDisplay
HP also adds two new EliteDisplay models to its lineup with integrated USB-C docking capabilities. The E223d (22 inches) and E273d (27 inc) both have USB-C (Alt Mode) on board and support a payload of up to 65 watts. At the back is a USB hub, RJ-45, HD pop-up web camera and DisplayLink via a USB-A connection.
Together with EliteDisplay E223d and EliteDisplay E273d HP launches two USB-C docking stations. Both the HP USB-C Dock G5 and USB-C/A Universal Dock G2 support DisplayPort, HDMI or USB-C and are dual 4K compatible or three times Full HD. The USB-A variant supports DisplayLink.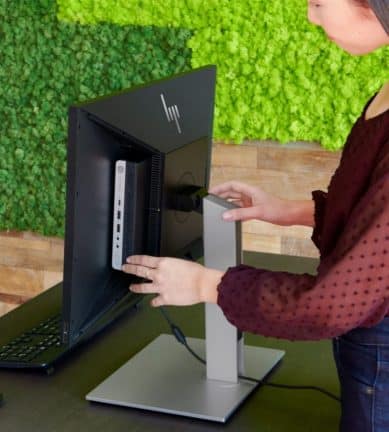 Finally, there is the HP Mini-In-One 24 Display: a modular screen with a hole at the back into which you can slide an HP Desktop Mini. The display is compatible with 35 watts and 65 watts HP ProDesk and EliteDesk Desktop Mini G5 models configured with an optional USB-C with Power Delivery connection.
As soon as the PC is in, you can click the two side panels back in place to make it look like you have an integrated AIO. Only drawback: in order to reach the side connectors of the mini-PC, you have to remove the panel at the back each time.
We have not yet received any local prices or availability of the above devices. As soon as we get it, we'll update this article.
Related: HP packs feather-light workstations and new Elitebooks into one
This news article was automatically translated from Dutch to give Techzine.eu a head start. All news articles after September 1, 2019 are written in native English and NOT translated. All our background stories are written in native English as well. For more information read our launch article.