LG is launching five new ultrawide monitors focused on productivity. The new portfolio runs from 29 inches to 45 inches and should offer an alternative to dual screen desks.
LG expands its screen line up with five new monitors focused on productivity and multitasking. At the top of the line-up is the 49 inch UltraWide Dual QHD monitor (49WL95C). That screen sees and LG as a full-fledged replacement for two 27 inch QHD screens. The 49WL95C has a 32:9 aspect ratio with a resolution of 5,120 x 1,440 pixels, good for 108 ppi. The display supports 99 percent of the sRGB color spectrum and features HDR10.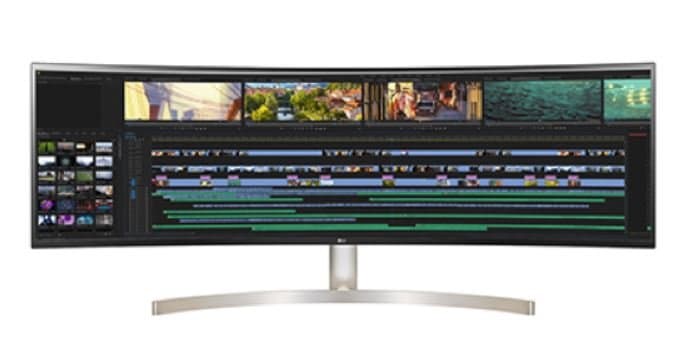 The fact that the device offers an alternative to two screens can be taken quite literally. The 49WL95C can handle inputs from two different sources and can place them next to each other. Connect your mouse and keyboard via the screen, and the built-in controller allows you to quickly switch between controlling the two sources. The 85 watt USB-C port also allows simultaneous connection and charging of hardware. The monitor will cost 1,499 euros and was first announced at CES.
21:9 monitors
LG also introduces four more classic 21:9 displays. The 34WL850 and 34WL85C have a resolution of 3,440 x 1,440 pixels and a screen diagonal of 32 inches. The 34WL850 is the most high-end model with HDR support and a slightly higher brightness than its brother. The screens cost 949 euros and 649 euros respectively.
Finally, the 34WL500 and 29WL500 measure 34 inches and 29 inches. They both have a more modest resolution of 2,560 x 1,080 pixels. The largest display costs 349 euro, the smaller one goes over the counter for 229 euro. The entire range will be available in the course of next month.
Related: LG 24CK550W introduces thin client in enterprise monitor
This news article was automatically translated from Dutch to give Techzine.eu a head start. All news articles after September 1, 2019 are written in native English and NOT translated. All our background stories are written in native English as well. For more information read our launch article.