Lenovo announced two new mini-desktops with AMD CPUs. These are the ThinkCentre M75N Nano and the ThinkCentre M75n IoT Nano.
The new ThinkCentre M75n Nano comes with either a Ryzen 3 Pro 3300U or a Ryzen Pro 3500U, both with four cores. In addition, the 3500U also has support for Simultaneous Multithreading (SMT). These new Pro variants of AMD are focused on business use and offer new, improved security features.
The M75N Nano comes with 8GB of DDR4-2400 memory that is unmodifiable because the memory is soldered on. However, the mini-desktop has two M2-slots for mounting SSDs and an m2 connector for wifi radio. The desktop also supports wifi 5.
The Thinkcentre M75n has two type-A usb 3.1 gen 2 connectors and two type-A usb 2.0 connectors. In addition, the mini-desktop has two type-C USB 3.1 gen 2 connectors, one of which supports Displayport alt mode.
The mini-desktop has dimensions of 179x88x22 mm, and the lightest version weighs 505 grams. The M75n comes with Windows 10 Home or Pro but is also certified for Ubuntu and Red Hat. The mini-desktop also has an Intel version called the M90n, and according to tech website Liliputing, the new AMD version receives the same recommended retail price as the Intel version starting at 649 euros.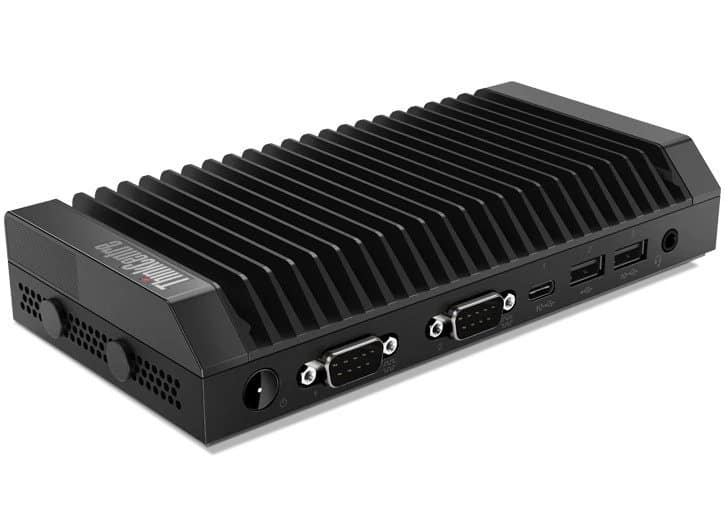 ThinkCentre IoT PC
The ThinkCentre M75n IoT Nano does not have fans but does have an AMD Athlon Silver 3050e CPU with two cores and four threads and a turbo frequency of up to 2.8 GHz. In addition, the PC has up to 4GB of ddr4 memory. This model is mainly intended for IoT applications such as retail and manufacturing. The IoT PC also has two serial ports, and according to Liliputing, the M75n IoT has a starting price of 329 dollars (292 euros). The official European recommended retail price is still unknown.