The very curvy HD monitor is coming soon to European resellers.
The S34A650 is Samsung's new 34-inch curved monitor. It is what is known as an UWQHD monitor – which stands for Ultra Wide Quad High Definition. UltraWide monitors provide an immersive experience which some users demand for such things as design and gaming.
The standard practice for these widescreen models currently is to include a curve, and here Samsung is delivering. The S34A650 boasts a steep 1000R curve that's designed to draw users into the experience. Such curved screens could also improve viewing comfort, according to some reports.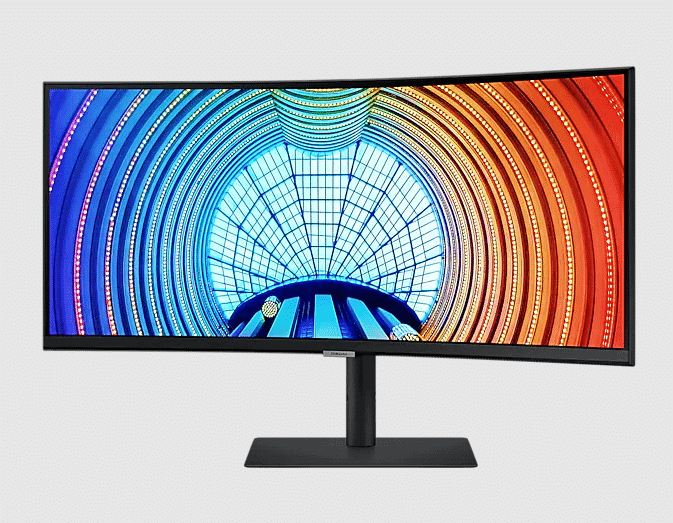 A sleek business grade monitor
The monitor sports a sleek, business-like design, with a square appearance and a brushed-textured dark matte plastic bottom bezel. There is a grey-coloured center section with a black Samsung logo. The top and side bezels are dual-stage, and there is a slim panel border that's flush with the rest of the screen. Samsubng also added a thin hard plastic outer component.
The OSD (On Screen Display) is controlled by a joystick that faces downwards and is located beneath the central brand logo.
The VA panel has a 21:9 aspect ratio, a 3,440 x 1,440 native resolution and a 1000R curvature. Additionally, Samsung claims that the monitor can reach 100 Hz and that it has a 4,000:1 contrast ratio. The company asserts that S34A650 has a 10-bit colour depth and AMD FreeSync support, too.
Plenty of connectivity options
Samsung has also equipped the S34A650 with plenty of ports. According to the datasheet, Samsung has included an HDMI 2.0 port, a DisplayPort 1.2 connection and an Ethernet port. Additionally, there are three USB 3.0 Type-A ports and a USB Type-C connection that supports up to 90 W USB Power Delivery.
Samsung has only launched the S34A650 in Vietnam so far. Indications are that Samsung plans to release the monitor in other markets, including Europe, in the near future. .
It is unclear how much the S34A650 will cost in Vietnam, though. Likewise, we will not know the monitor's price in the EU or the US until Samsung formally unveils it.
The S34A650 also goes by the name LS34A650 in some regions.