The Lenovo Data Center Group is launching a series of new IoT-related products and collaborations at the Mobile World Congress in Barcelona. These show that Lenovo is going in with a stretched leg and wants to play a significant role in the IoT market.
During the MWC, the company announced a small edge server, which is not intended for a regular data centre. In addition, it comes up with a number of partnerships.
ThinkSystem SE350
The ThinkSystem SE350 is Lenovo's first purpose-built edge server. This edge server is not intended to be placed in a traditional data centre, but should be located at the location where data is generated. In this way, Lenovo can reduce security, delay, bandwidth and downtime issues.
It is therefore a small device. The ThinkSystem SE350 measures only 4.5 by 20.6 by 37.8 centimetres. The device can easily be mounted on a wall, placed on top of another server or installed in a rack. The server runs on an Intel Xeon-D processor with 256 gigabytes of working memory and 16TB of SSD storage capacity. There are many options for connectivity, including connection via Ethernet, wifi and LTE.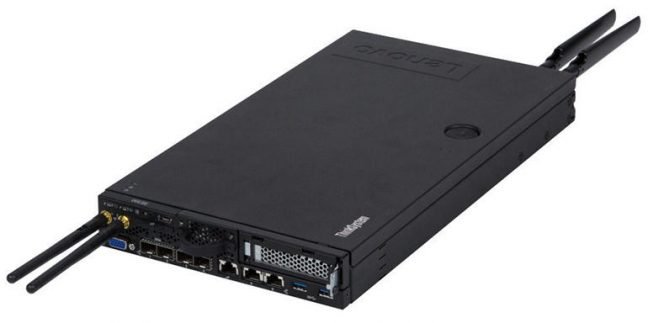 Because security is very important, the ThinkSystem includes SE350 encrypted storage and physical security features have been added. Think of mechanisms that are aimed at detecting possible burglary attempts. The server, which will be launched this summer, also supports zero-touch roll-out.
IoT collaborations
Lenovo continues to work with a number of companies to increase its IoT footprint. During the MWC, the company announced these partnerships:
Pivot3: works with Lenovo on applications for the smart city;
Scale Computing: Together with Lenovo, we want to help retail customers roll out mini datacenters to network locations themselves;
VMware: will expand its Project Dimension to a software-defined data center and does so through a hyper-converged appliance-as-a-service;
Orange: will work with Lenovo to develop hardware based on the Intel Rack Scale Design.
This news article was automatically translated from Dutch to give Techzine.eu a head start. All news articles after September 1, 2019 are written in native English and NOT translated. All our background stories are written in native English as well. For more information read our launch article.