Equinix is partnering with VMware to provide a bare-metal solution for VMware Cloud. The option is attractive for customers looking to deploy applications with higher performance and cost savings.
The partnership amounts to a combination of Equinix Metal's bare metal-as-a-service with VMware's cloud platform. The result is a distributed cloud service that allows companies to deploy applications with higher performance and cost savings.
The joint VMware Cloud on Equinix Metal service lets customers deploy an existing VMware cloud environment on so-called distributed metro locations. This should offer more performance for key applications in edge environments, in part due to the low latency of Equinix's bare-metal solution.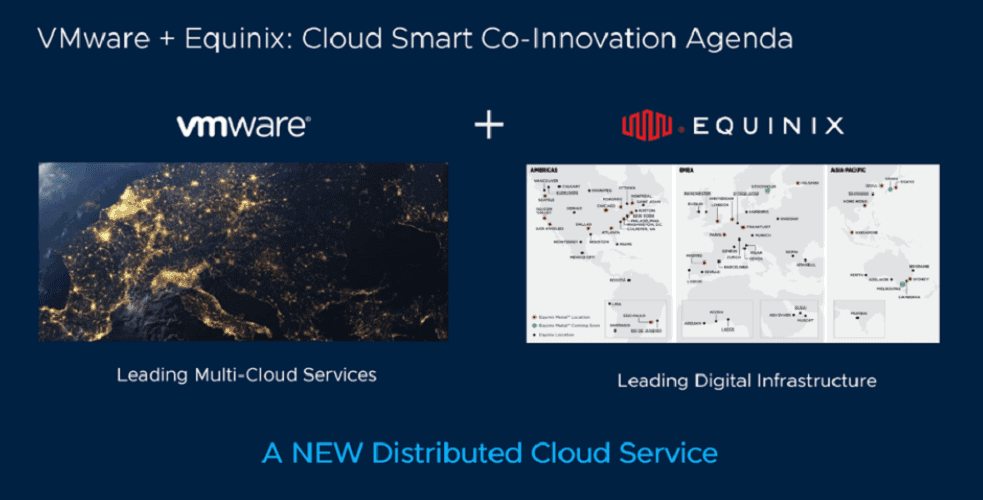 Benefits
According to the organizations, running VMware's software-based stack on Equinix's bare-metal infrastructure has several benefits. Companies gain access to all of VMware's virtualization and cloud solutions while taking advantage of Equinix's customizable server environment. The datacenter provider offers 240+ datacenters in more than 70 of the largest global metropolitan regions.
Applications
Equinix and VMware have several applications in mind for their joint service, including smart cities, video analytics, game development, real-time financial transactions, point-of-sale, IoT and AI workload processing.
To use VMware Cloud on Equinix Metal, customers must first subscribe to VMware Cloud. Customers also have to rent the bare metal-as-a-service capacity from Equinix.
Under the hood
VMware Cloud on Equinix Metal consists of bare-metal servers running on the latest Intel Ice Lake or AMD EPYC processors. In addition, the servers have four 25 Gbps NICs that prevent failures while supporting data-intensive workloads.
In addition, the solution uses Equinix Fabric, a software-based interconnect environment that connects workloads in public clouds through interconnect offerings like Azure ExpressRoute, AWS Direct Connect and Google Cloud Interconnect.
Equinix's interconnect solution offers high-performance, low-latency private connections over a Layer 2 network. Transfering data through private connections is generally safer than the public Internet.