Dell Technologies makes its Dell EMC PowerProtect Cyber Recovery anti-ransomware service available via AWS. Thereby, AWS customers gain access to an 'air-gapped' cyber vault in which they can protect their most critical data from ransomware.
By making the Dell EMC PowerProtect Cyber Recovery service available in the AWS public cloud, the tech giant wants to help customers protect essential data in hybrid and public cloud environments. A solution to the modern problem of increasingly frequent, worldwide ransomware attacks.
Features
The service provides end users with multiple layers of security via AWS, allowing them to carry out their operations after the event of a ransomware attack. It migrates data from potential attack surfaces to a location inaccessible to hackers. In other words: an 'air-gap'.
The latter location is inaccessible on all fronts, both online and physically. Data is transported to a figurative vault, guaranteeing a high level of security. The migration process is automated.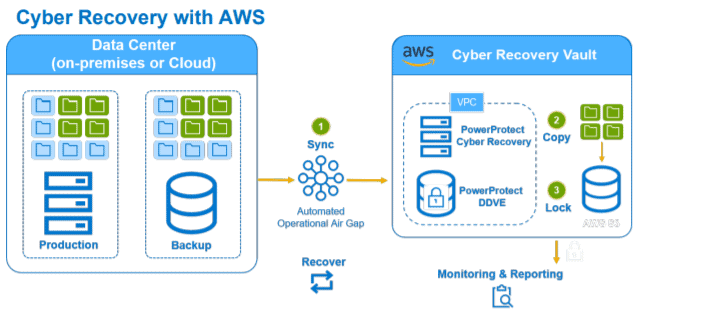 Secure access
When customers — for example, in the case of a recovery operation after a ransomware attack — want to access this air gap or offline environment, they have to provide separate security and multi-factor authentication data. The secure digital vault ensures that management interfaces cannot be used for access, inherently promoting safety.
The Dell EMC PowerProtect Cyber Recovery for AWS service is available in the AWS Marketplace immediately.