Functionality
When we start at the foot, we can report that the height of the monitor can be adjusted by fourteen centimetres and that it rotates about fifteen degrees to the left and to the right. In addition, the screen can be tilted so that any incoming light from the light fittings or windows can be avoided. The base has a wide recess to guide a large bunch of cables through. This is not a superfluous function, as the Philips Brilliance 499P9H sports a large arsenal of connections.
We see HDMI, USB-C and DisplayPort twice. The monitor has a built-in KVM switch so that several PCs can be connected to this monitor at the same time. In addition, the monitor has a built-in USB-hub with 1x upstream and 3x downstream USB 3.0 ports. One of them is a USB port with fast-charging, a headphone connection and a network connection. Finally, we are pleased that the manufacturer has chosen to include the AC adapter in the housing.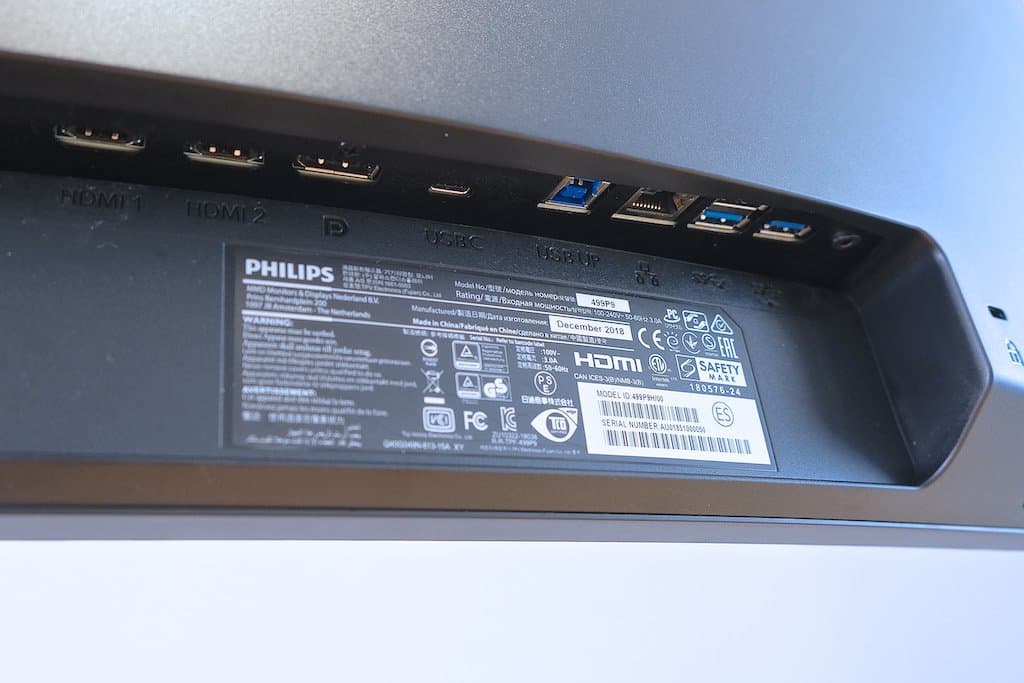 Webcam
The Philips Brilliance 499P9H has a built-in webcam that is invisible in the housing to push away. This quickly saves a few euros for a webcam cover. With a simple press of a button, it will raise the head again and can be tilted 90 degrees forward. This advanced webcam is suitable for Windows Hello face recognition so that you are logged in in no time.
The menu of this Brilliance 499P9H is the same as the menu of the previously reviewed Brilliance 241B monitor. From this menu, you can easily enable the Smartimage function, select the desired input and adjust the screen settings. Again, we do not complain about the many setting options, but the navigation through the menu does not excel in intuitive use. Now, the average user does not have to browse through this menu every now and then, but if you strive for an optimal image setting, the fingers can get tangled up sometimes.
Table of contents