In 2012, Dell introduced the first XPS 13, and since then the laptop has been regarded as one of the best ultrabooks. The compact and powerful Windows laptop is a direct counterpart to the Apple MacBook Pro 13 Inch and now it's time for a new iteration. Techzine finds out if the Dell XPS 13 2020 lives up to its expectations.
The model we tested is the Dell XPS 13 9300 with 1TB storage, 16GB RAM, a 10th generation Intel Core i7 processor and a 4K touchscreen. Dell does not offer these exact specs for business users, but you can pick a similar configuration with 32GB RAM and 2TB storage. That model costs roughly 2000 euros, depending on special offers, which is very well-specced for the price. The base model with a Core i5 processor, 8GB RAM, 512GB storage and a Full HD display costs around 1200 euros.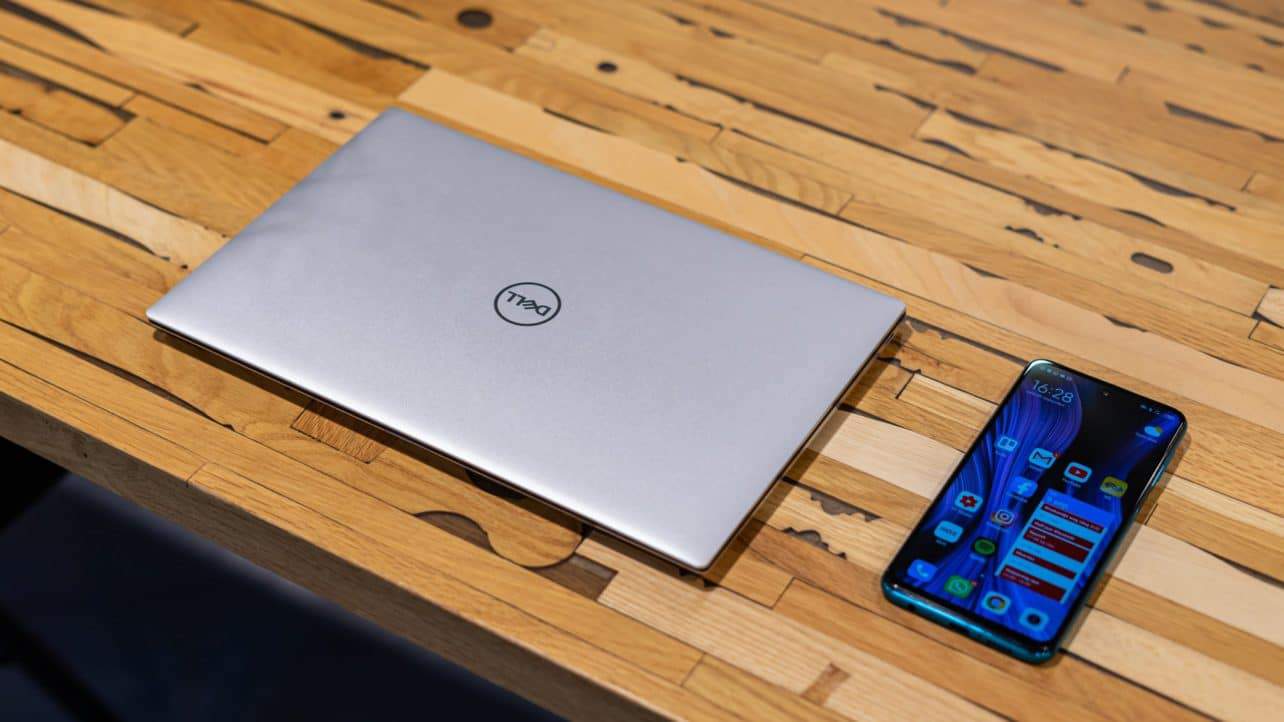 For that money, you get an ultrabook that's almost perfect on paper. The XPS 13 combines an extremely compact housing with a relatively large keyboard and trackpad. The specifications are good, and the feature set is extraordinarily complete. Despite its tiny display bezels, the XPS 13 has full Windows Hello face recognition and a fingerprint scanner. The battery isn't bad either, and on paper, we can't find any real drawbacks.
Impressive design
The new Dell XPS 13 is one of the smallest 13-inch laptops we have ever seen. Dell has made it 6 percent thinner than its predecessor, and the bezels have also become narrower. Impressive, as Dell had already done a very good job of that in previous models.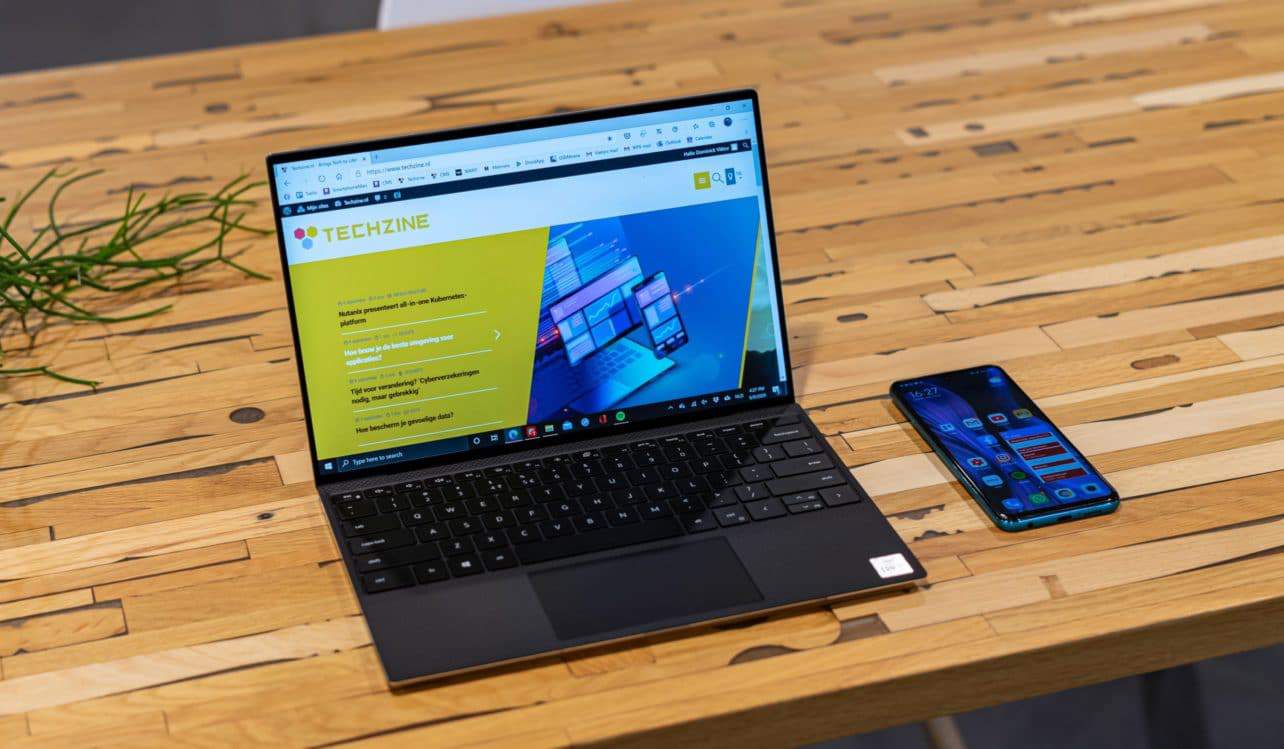 A major problem from previous XPS models has been solved: the webcam now fits neatly above the screen instead of below it. Now your colleagues aren't looking up your nose anymore during a Teams meeting. Speaking of Team meetings, the Dell XPS 13's image and sound quality are more than adequate. However, they are not its strongest points. The speakers of the device sound excellent, though. The laptop produces a remarkably full and spacious sound. The only downside we found is that it lacks a little on the low-end of the sound spectrum.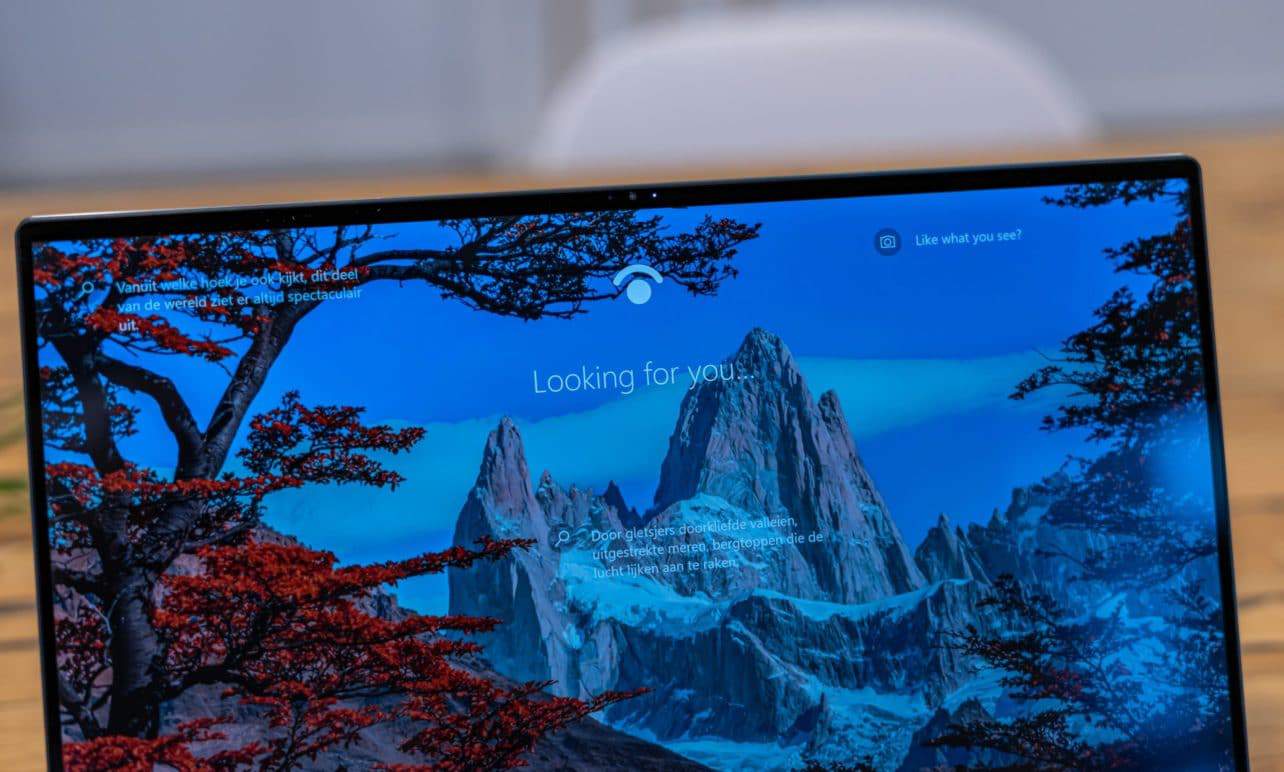 In addition to the webcam, Dell also installed two infrared sensors for full Windows Hello integration. This provides an easy and safe way to unlock the laptop.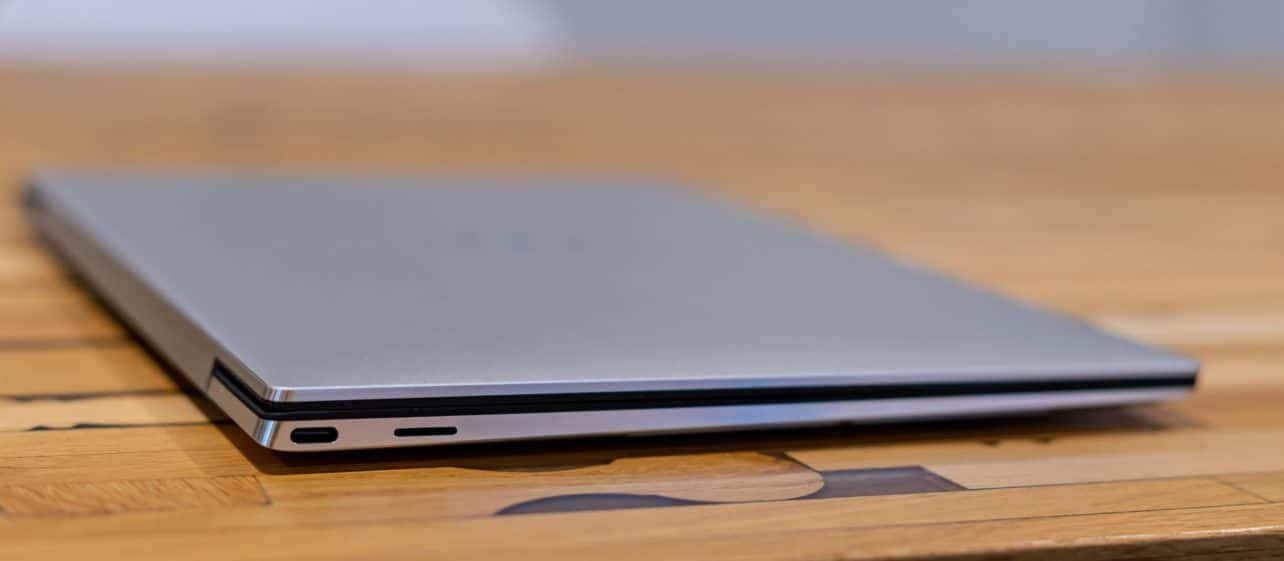 The build quality of the XPS 13 is excellent. The device is sturdy and feels luxurious thanks to its aluminium housing. The inside is made of carbon fibre in the grey version or glass fibre in the white one. We aren't a big fan of this look, but it does feel very nice to the touch. It is soft and stiff and provides good support for your palms.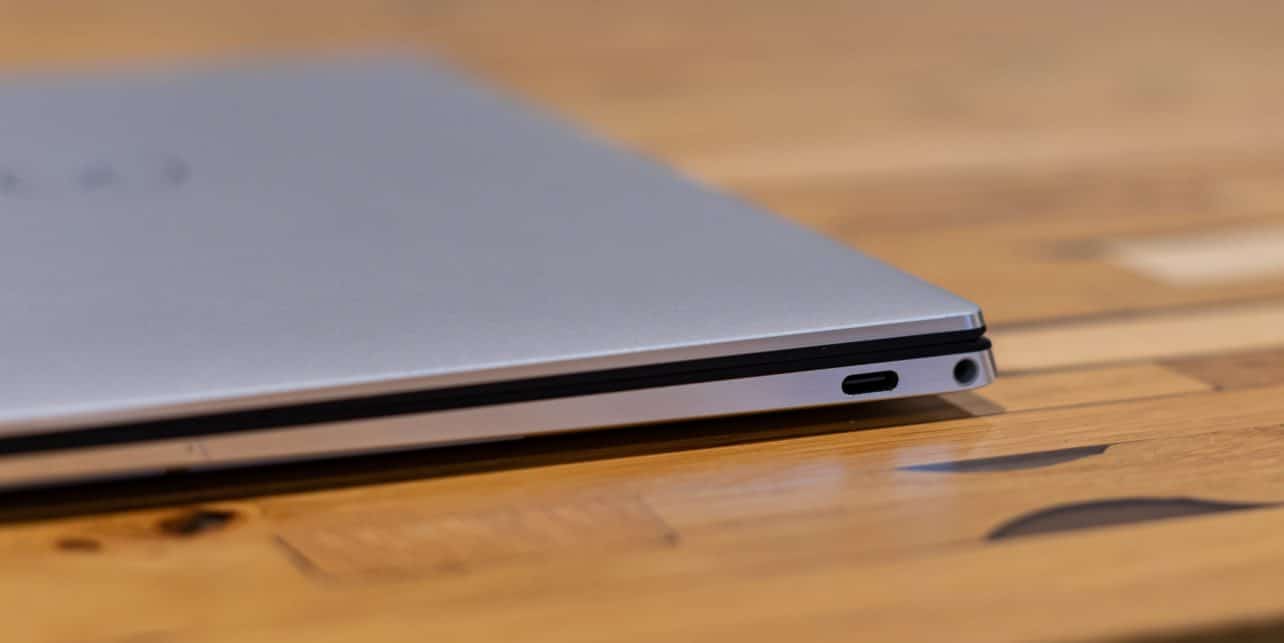 Dell has equipped the XPS 13 with two Thunderbolt 3-compatible USB-C ports, a 3.5mm audio jack and a Micro SD memory card slot. We would have liked to have a USB-A port and perhaps one or two additional USB-C ports, but we understand that the laptop's size makes this difficult. We do like that Dell has found space for a memory card slot. This makes exchanging data between, for example, a camera or smartphone a lot easier.
Much space for keyboard and trackpad
Although the Dell XPS 13 is one of the smallest 13-inch laptops, it has plenty of room for a good keyboard and trackpad. The keyboard spans the full width of the laptop and has fairly large keys. The key travel is also surprisingly good and the keys provide plenty of feedback. Compared to its main competitor, the MacBook Pro 13″, we like the keyboard on the XPS 13 better, even though the Dell is more compact.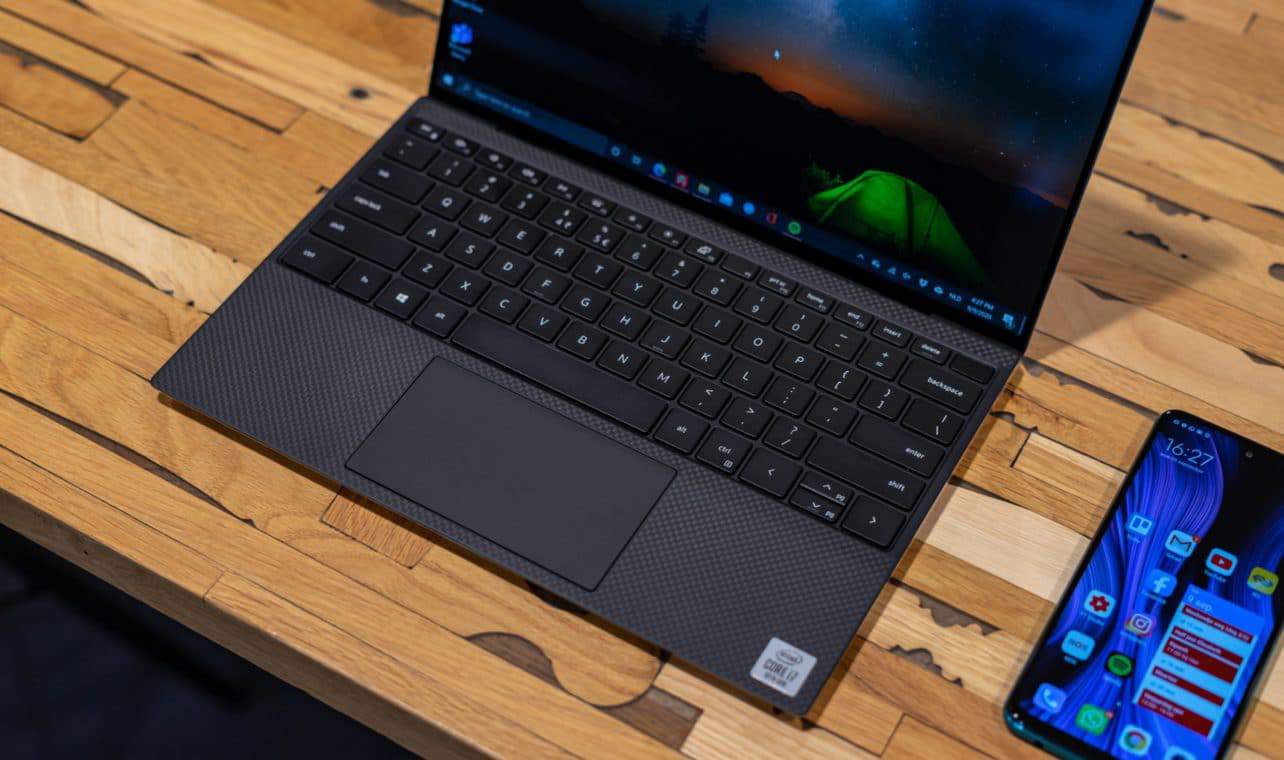 The trackpad is sensitive, supports multitouch gestures and can be physically pressed down. Although not as smooth and nice to use as the MacBook Pro's trackpad, it comes pretty close. A good performance for a Windows laptop, especially one of this size.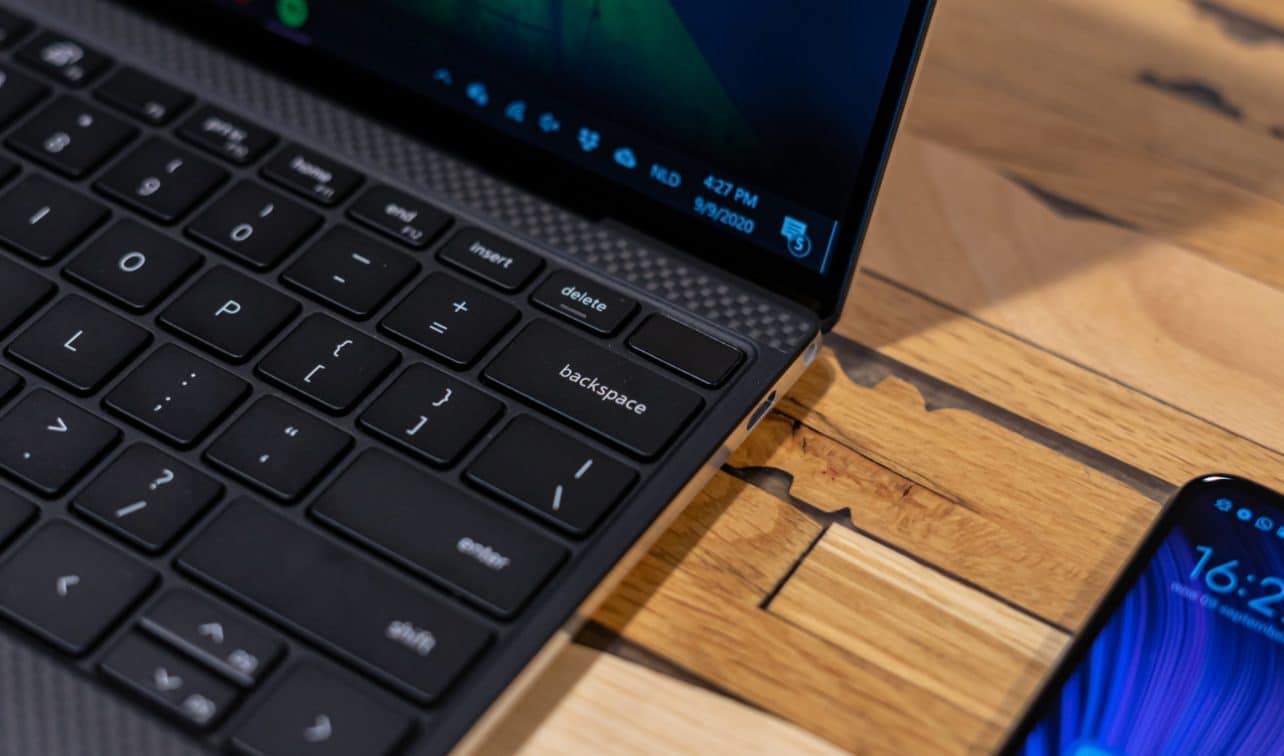 The power button is in the top right corner of the keyboard. This button also has a built-in fingerprint scanner. It's great that Dell lets you choose between facial recognition and the fingerprint scanner, especially for people who like to do some work on the train. After all, facial recognition doesn't work when you're wearing a mask, and those will probably be required in many public spaces for the forseeable future.
Beautiful display
You can choose between two different displays for the Dell XPS 13: a Full HD display and a 4K one. The displays are 13.4-inch in size and have a 16:10 aspect ratio, making them slightly taller than the display in the older Dell XPS 13. This extra height is useful for most productivity tasks, and we welcome it. The Full HD screen is not a touchscreen, but the 4K panel is.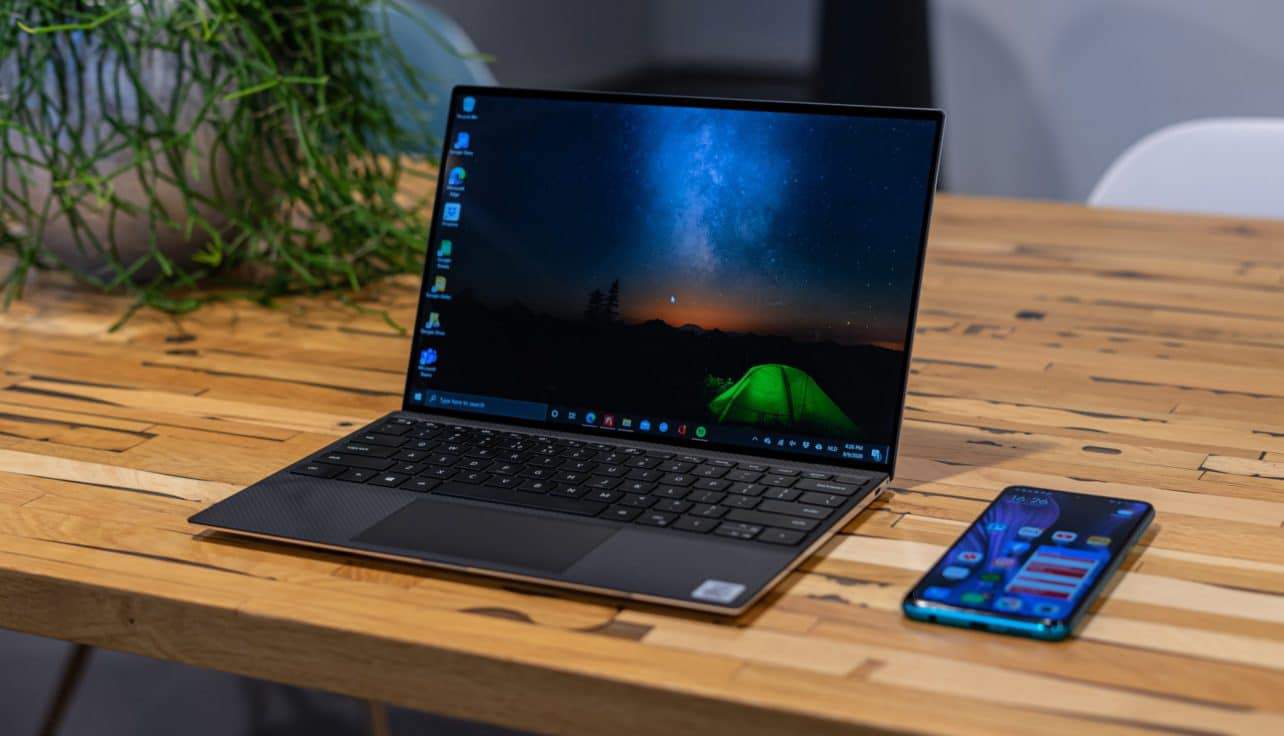 The model we tested has the 4K touchscreen, and it looks great. The screen looks sharp, has good white balance and colours are displayed beautifully. The brightness is excellent, the contrast is high, and the colours are vivid. The image quality does not match the OLED panel that Dell put in the XPS 15 last year, but it is excellent for an IPS LCD display. Both the 4K panel and the Full HD panel support Dolby Vision HDR and can display 100 percent of the sRGB colour space. The Dell XPS 13 can display 90 percent of the DCI P3 colour space.
Great performance despite size
In terms of CPU, there are some excellent options for the Dell XPS 13. The laptop uses 10th generation Intel Core processors and can be configured with a Core i5 or Core i7. Unfortunately, it is not possible to configure the XPS 13 with a separate graphics card, so you will have to make do with the integrated Intel UHD Graphics (Core i5) or Intel Iris Plus Graphics (Core i7) GPUs. That Iris Plus graphics card will be more than sufficient for most users and people who need more graphics power can get the 15-inch model. The lack of a separate GPU is therefore not a real problem to us.
Dell seems to have done a better job on temperature management with this XPS 13 than with previous XPS models. Although we still don't think the placement of the ventilation grille at the bottom is ideal, the laptop appears to keep cool, at least for now. We haven't noticed any throttling, and the laptop isn't very noisy either. Although with our XPS 15 from 2019, throttling issues only really started after six months. It remains to be seen how well the new XPS 13 keeps up, but at least it fairs better than last year's XPS 15 for now.
The Dell XPS 13 battery has a capacity of 52Wh. With this, the laptop only just doesn't make it to the end of a full workday. If you perform more demanding tasks on your laptop, you will run out of battery after about 4 hours. We tested the 4K version; Dell claims that the battery life of the Full HD model is approximately 30 percent better. All in all, the battery life of the XPS 13 is sufficient for a small laptop.
Windows with useful extras
Dell has added a number of features to Windows for the XPS 13, some of which are quite useful. For example, Dell Power Manager allows you to customise battery management to suit your laptop use. For example, you can choose not to completely charge it when you're mainly using it plugged in to decrease battery wear. Dell Mobile Connect is also useful, allowing you to wirelessly connect your smartphone to the laptop to see notifications, handle calls and transfer files. You can even mirror your phone's screen on XPS 13.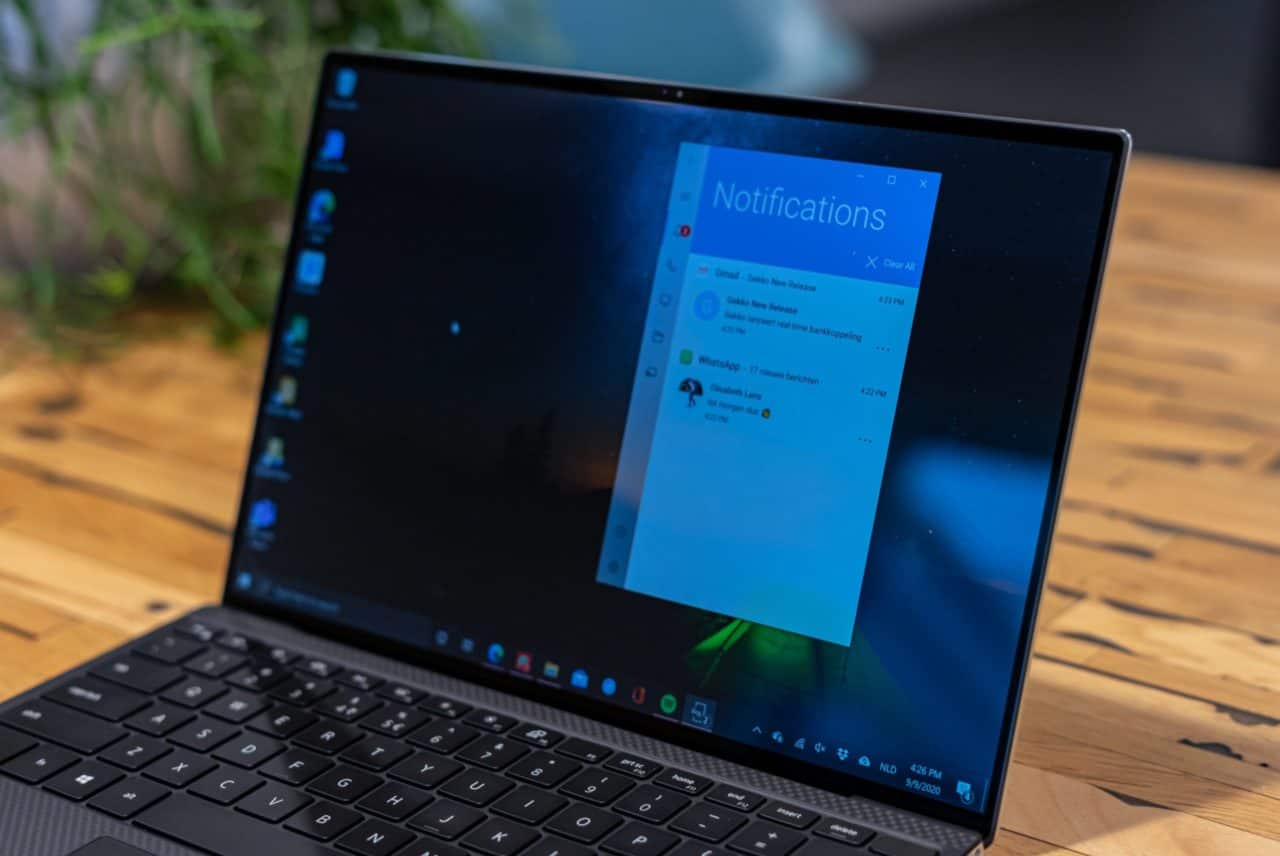 Dell has also added some extras for business users. For example, IT administrators can encrypt the XPS 13 via Dell Data Protection. Dell Client Command Suite helps IT departments manage devices and install new software remotely.
Unfortunately, there is also a downside to the story: the drivers for the Killer network card sometimes run into problems. For example, we read stories of laptops that do not properly enter standby mode when the lid is closed. We haven't encountered this problem on this XPS 13 yet, but with our XPS 15 we did. It can be solved, but small things like this can cause annoyances and negatively affect the laptop's user experience.
Conclusion
It is mainly small problems such as those mentioned above that keep the Dell XPS 13 from perfection. Some possible software problems and overheating issues haven't appeared yet, but our experience with the XPS 15 and worrying stories on the internet makes us a little afraid they might pop up sometime later.
If you're willing to take that risk, the Dell XPS 13 may be the perfect small Windows laptop. It's lightning-fast, has a beautiful display and is incredibly compact. Aditionally, the XPS 13 offers full Windows Hello support, Dell has crammed a comfortable keyboard in it, and the trackpad and connectivity don't disappoint either. Things like the battery, webcam quality and sound quality for video calls are not optimal, but all are more than sufficient.
Moreover, the starting price of around 1200 euros is not that bad at all for everything this Dell XPS 13 has to offer. We highly recommend this laptop to anyone looking for an advanced and compact Windows ultrabook.
9
Gorgeous design
Beautiful display
Windows Hello
Nice keyboard
Possible issues with software and heat