Field service management is about managing and directing employees who are on the road or at customer sites. They are in the field. By nature, field service involves a reactive and quick approach. An IT system is often used for support. Yet it remains difficult to take support to the next level and give the customer the best experience. What can you do to set up field service correctly?
Many companies know that the best tools should be used for all stakeholders within the field service area. Employees who do coordination need a holistic view of what is happening in the field. They need to be able to respond to contingencies.
On the other hand, you have mobile workers. This group gets a complete view of the customer through a mobile app. They also keep the customer informed about the status of their service request. Instead of information such as "the service provider will appear between one o'clock and five o'clock," there is a live view of what time the service provider is expected.
Challenge in field service
In an ideal world, all experiences and points are connected within field service. Yet field service is a tricky part to set up. To provide the best experience, all backend processes need to be connected. Therefore, it is wise not to approach field service management (FSM) as a stand-alone component. In fact, it is part of every customer touchpoint. It starts with sales, followed by things like maintenance and support.
Suppose a technical person is with the customer. He or she, in order to improve the machine, may be faced with the situation of proposing an improved contract. It would be a hindrance if the company is then set up as separate islands and the customer has to be directed to sales.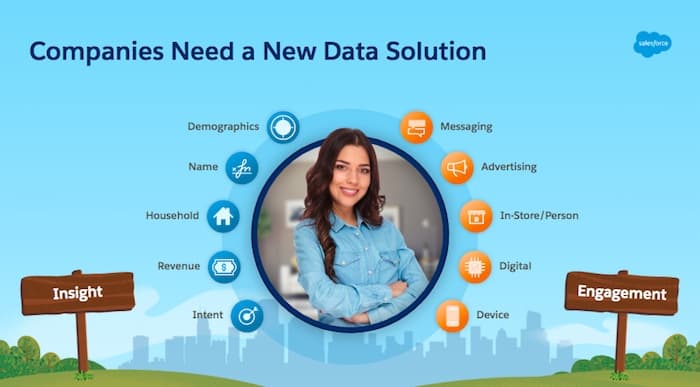 Connecting processes
One solution could be to connect processes and share more data. The 360-degree view was created a few years ago for this purpose. With this, the customer does get the best experience, regardless of which employee or department the contact goes through. So it doesn't matter whether a customer is in the marketing phase or the support phase.
This single source of truth ensures that customers and partners get the same information. It also makes it easier to offer customers different points of contact, such as apps and bots. They get much more of a sense that a company and its departments are connected and can choose the communication channel they want.
System setup
Salesforce wants to play a role in this with its Customer 360 platform and other software. The software vendor supports corporate customer contact by setting up chat, bots and portals. It also increases productivity as the software helps create cases in case of problems. Predictions can also be delivered using artificial intelligence. For example, the predictions make it easier to estimate whether a busy time is coming up, which in turn is useful when scaling up resources to handle the peak.
It is important to combine such things to support a company's day-to-day operations. Not only now, but also to be ready for future business models like product-as-a-service. In that case, it will be more about increasing and maintaining uptime, rather than selling a product or service to the customer.
Four steps
Salesforce basically sees four necessary steps to move to a modern approach. It starts with visualizing data. In other words, capturing the data you already have to look at manual processes. FSM often still uses whiteboards or paper, but you want to have visibility into that very data.
When there is more insight into what actually happens, you can look at how to automate the manual processes. Mistakes can also be addressed immediately. Salesforce therefore sees optimization as the third step. Still, steps two and three are tricky, as it requires a company to change and mature. An example from Salesforce: reducing the travel time of the entire workforce by five minutes. That reduces the cost of the entire field service process.
The final step, according to Salesforce, is innovation. In particular, it then refers to enabling technicians to help customers on time and properly. They need to be supported correctly, which requires data to determine what tools and things to bring. This is to be perfectly prepared for all possible work during a field service appointment.
Field service unifies business
With the right FSM approaches, all things are unified and a customer visit is personalized by connecting with the back office. Coordinators are in constant contact with technicians. It also deepens the relationship with the customer because the customer can see the status of the technicians' route in real time.
Coordinators have more insight with the help of a scheduling screen. For example, if there are occurrences in the field, such as a traffic jam or illness of the technician, the customer calls about the status of the appointment. At that time the coordinator must be able to make quick decisions based on these external factors.
Ultimately, it's a matter of a complete approach. That includes step-by-step guidance for the technicians in the field. The software must support the actions in the field.
Curious about more? This link will take you to a website with demos of FSM and you can request more information.
Also read: Salesforce updates Customer 360 ahead of Dreamforce