ServiceNow made its Paris release available this week, a new version of the Now platform. With this new version, customers can respond more quickly to the transformation of their businesses, whether this is due to the coronavirus or the changing demand from customers and industry solutions. In this new version, there is a wide range of expansions, each with their own purpose.
Twice a year, ServiceNow releases a new version of the Now platform. Some versions have focussed on adding a single solution or setting out a particular strategy. At other times, like with this Paris release, ServiceNow comes with a wide range of expansions. In this article we look at the most important new features and produts added in the Paris release.
ServiceNow responds to COVID-19 and the slow decision-making process in the C-Suite
In the presentation of the new Paris release, ServiceNow focuses on the slow decision-making process of the C-Suite when it comes to investing in innovation. There are plenty of opportunities to invest in digital innovations in large enterprise organizations. The board just has to approve them, because, without a budget and permission, the innovation cannot take place.
The outbreak of the coronavirus has proofed that these kind of decisions can suddenly be taken very quickly, because there was simply no other choice. People had to work from home and systems that were not suitable for remote working had to be adapted. Innovation suddenly went very fast.
ServiceNow hopes that the C-Suite that has accelerated innovation through COVID-19 will learn from the positive results. Think of efficiency, productivity and often increase in revenue. So that in the future decision-makers dare to invest faster and innovate more. In any case, ServiceNow is calling out the C-Suite to focus more on innovation.
ServiceNow has made a number of improvements to the platform in order to accelerate innovation.
Read also: Nobody knows what ServiceNow does, or what it can do for you
Workflows
This allows companies to develop and customize workflow apps faster with the Process Automation Designer. This solution stems from the stickey notes that you previously put on a whiteboard. This is now digital. ServiceNow lets users link actions and triggers to the stickey notes to automatically start processes. The Process Automation Designer is linked to the Flow Designer and Integration Hub of ServiceNow.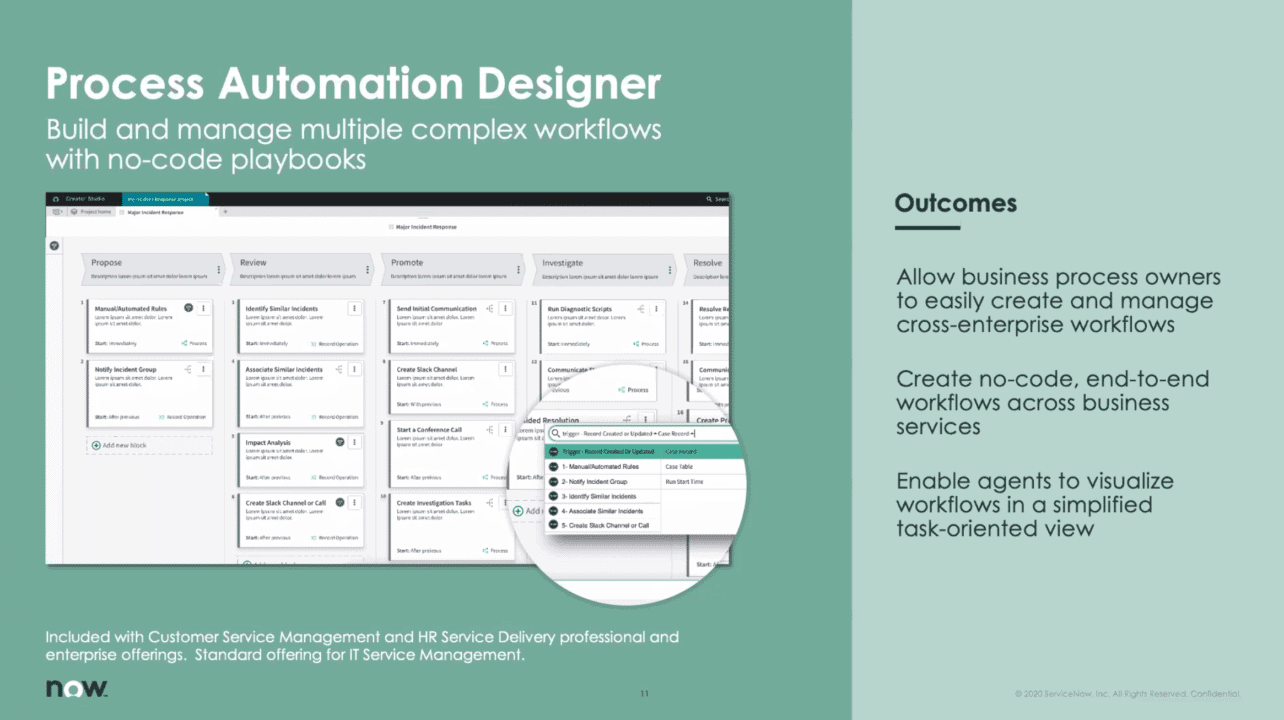 The main advantage is that adjustments can be made quickly if the situation demands it. With just a few clicks you can adjust a workflow. It is also possible to link Workflows to each other.
With the addition of AI, the experience becomes better, costs are reduced and more processes are automated.
ITSM
The IT Service Management solution, which is still the most popular ServiceNow solution, also got a number of improvements. Especially, in the field of AI and Automation. The goal is to automatically solve service requests and improve the efficiency of processes. Companies should be able to reduce costs in hardware, software and cloud services.
New ServiceNow solutions
ServiceNow also adds the necessary new products to the platform, in which we consider the following services to be the most important:
Business Continuity Management;
Hardware Asset Management;
Legal Service Delivery;
Analytics Center;
Connected Operations;
The ServiceNow Paris release introduces a number of new solutions. The solution aims to automate, improve processes, make companies more efficient and tackle potential problems in a timely manner.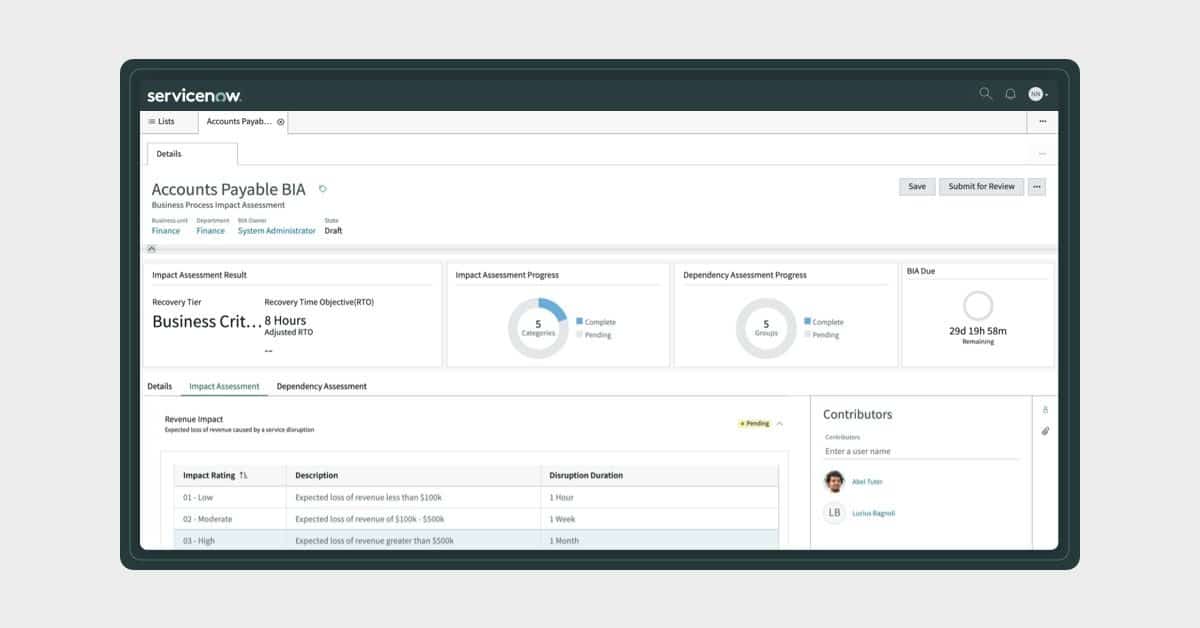 Business Continuity Management
One of the new solutions is the Business Continuity Management (BCM). With BCM companies can define all possible disaster scenarios and add protocols to implement when disaster strikes. The goal is to keep business operations running and prevent disasters from having a negative effect on the business results.
A lot has been learned from the coronavirus. Should there be a new virus outbreak in the future that forces us to work from home, the impact will probably be smaller. Companies have now learned and experienced what it takes to let people work from home; procedures for the future will be drawn up based on this.
For example, companies can automatically deliver an external monitor, mouse and keyboard to the homes of their employees. Or perhaps a complete workplace setup with a desk and a decent chair. In addition, more capacity will automatically be purchased in the cloud to facilitate remote working.
Of course, there are many more disaster scenarios to think of, for all of them it is good to have procedures in place. From natural disasters to suppliers going bankrupt. Or transport problems and online services that have long-term disruptions. As a company it is good to define these kinds of issues with an adequate solution, so that rushed decisions can be avoided when disaster strikes. Also problems will be solved faster and the impact on the company is minimized.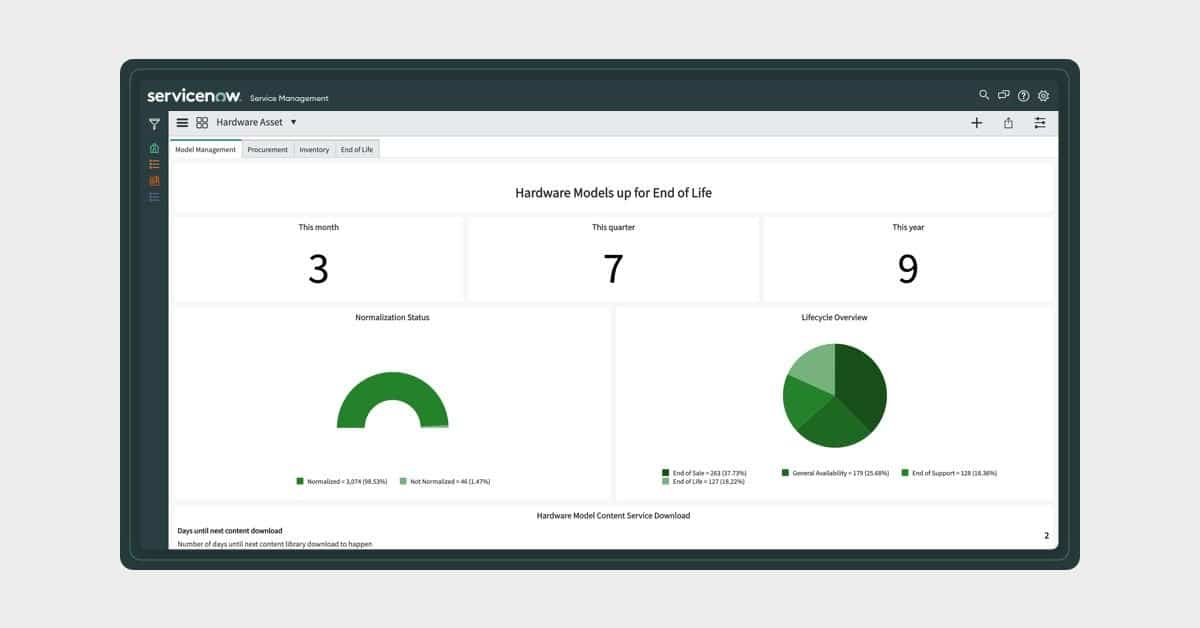 Hardware Asset Management
Managing all the hardware that is in circulation within a company is often done unstructured. ServiceNow wants to change that with Hardware Asset Management, previously the company launched Software Asset Management, now it's the turn for the physical equipment. Which systems are in use within a company? These systems might be laptops or smartphones, but also servers. What financial obligations are attached to these systems (lease, rent, buy) and what service contracts are applied (what is covered by the warranty)? In addition, it is a good idea to link a renewal program to this so that employees do not walk around with the same laptop for longer than five years. This often results in inefficiency, because a system of five years old is usually not equipped for todays requirements.
Legal Service Delivery
Something that is often seen as a problem in many large companies is the "legal department". As soon as contracts are drawn up between the company and a third party, the legal department should review the contracts. This is often seen as an obstacle, because these departments are not always well organized and need a lot of time to check documents. It causes processes to come to a standstill. You sometimes hear within large organizations: "let's keep it simple or involve a partner, so we can bypass legal". This is innocent in some cases, but it can also lead to major legal conflicts. With the Legal Service Delivery, ServiceNow tries to tackle this problem by better organizing the legal department.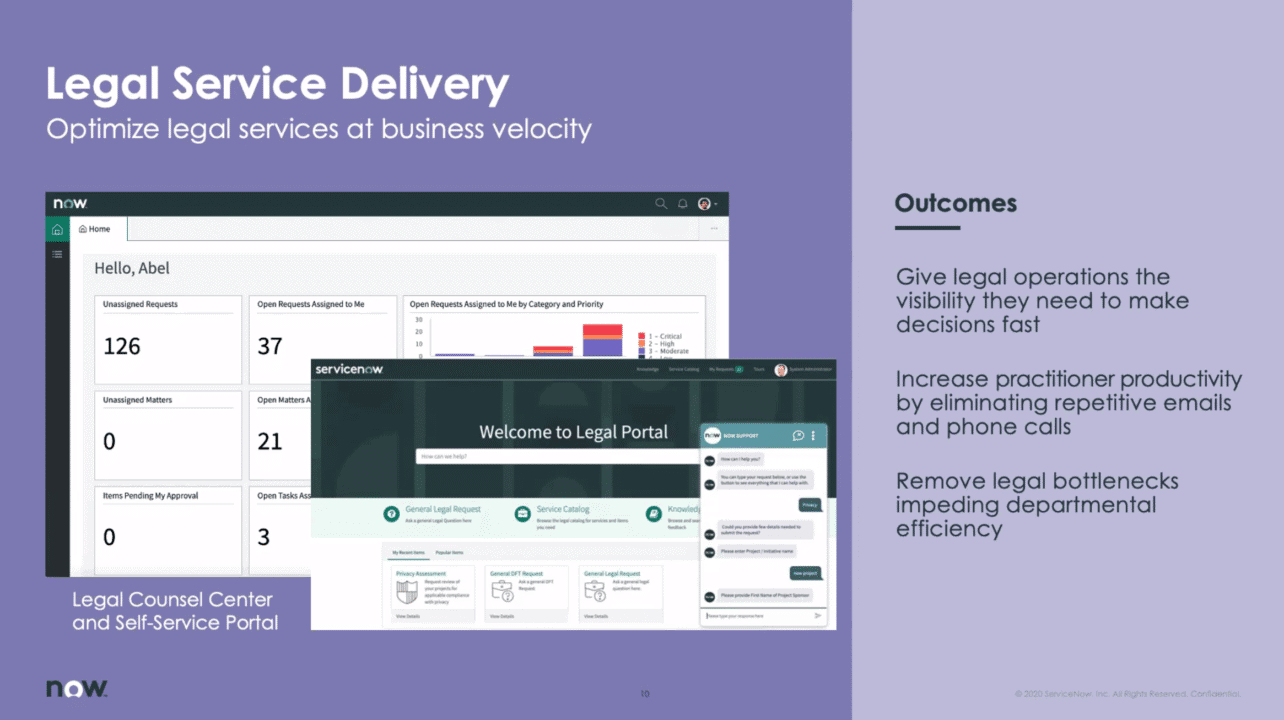 The Legal Service Delivery mainly tries to increase efficiency on two fronts. On the one hand, through a portal for employees to quickly consult and use the company's standard agreements. For example, a standard NDA or supplier agreement or templates for more complicated contracts. If the changes and additions are tracked, legal can review the adjusted contract (templates) faster.
On the other hand, a portal has been developed for the legal department itself, where they can quickly see which requests are still waiting for them and which contracts have priority. They can also process the more standard contracts faster, which will improve the satisfaction within the organisation, and there is no longer any reason to bypass the legal department.
Analytics Center
The idea of analytics center is that you can quickly find answers to questions about company data. For example, how many outstanding tickets are there in ITSM. That's a simple question that ServiceNow can quickly answer. The same applies to data related questions about other ServiceNow solutions. The idea is that of all the data stored in ServiceNow, can be summarized and queried, without the user having to learn SQL Queries. They can just ask a question.
To a certain extent, this works fine, but the situation becomes a lot more complex if a company also uses Salesforce, Oracle ERP or SAP S/4HANA. In that case, a lot of crucial business data is in the system or records solutions and not in ServiceNow. In any case, duplicating or synchronizing all that data with ServiceNow is not recommended. ServiceNow more or less indicates that you should see Analytics Center as a first step in their analytics journey. It provides insight into ServiceNow applications and processes.
In the future, the company hopes to be able to provide insight into data from other systems as well. It expects to establish integrations and connections to external systems like Salesforce and SAP S/4HANA so that Analytics Center can connect to those solutions and retrieve the data in realtime from their databases and provide insights. Maybe we'll hear more about this next year.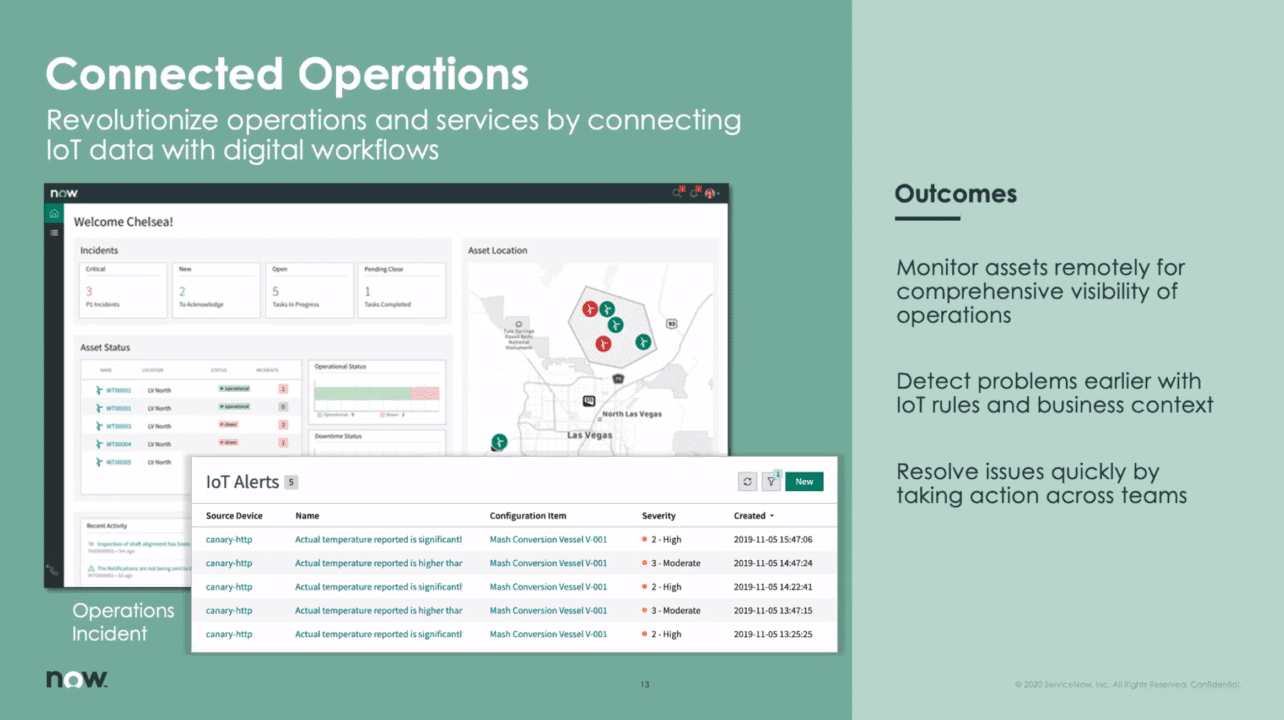 Connected Operations
ServiceNow Paris also introduces connected operations, a solution that the company didn't speak much about during its presentation. We do, however, see many opportunities for growth here. With Connected Operations, ServiceNow will try to play an essential role in the IoT market, by monitoring, analyzing and securing IoT devices.
Example of IoT in aircrafts
ServiceNow wants to integrate with existing IoT solutions to give them a new dimension. As an example, ServiceNow mentions an airline company. Reversing an aircraft involves a considerable number of processes that have to be carried out simultaneously:
Passenger boarding and disembarking;
Loading and unloading cargo;
Loading and unloading baggage;
Replenishing food;
Cleaning;
Refuelling the aircraft;
Disposal of wastewater and refilling of clean water;
Technical checks.
These are all stand-alone processes that have to run smoothly. Otherwise, a flight can be delayed, which costs a lot of money. All these processes have their own software systems that do not work together and do not exchange data. In such a case, ServiceNow would like to be the layer on top of those IoT solutions.
ServiceNow wants to collect all the data from these separate systems so that they can apply analytics and machine learning. The goal is to identify problems at an early stage, make processes more efficient and integrate the systems. One of the best examples is predictive maintenance. If the cleaner can report a loose seat or toilet seat, the technical service can fix it to prevent a flight from being delayed. Sometimes it is the simple things that keep an airplane grounded.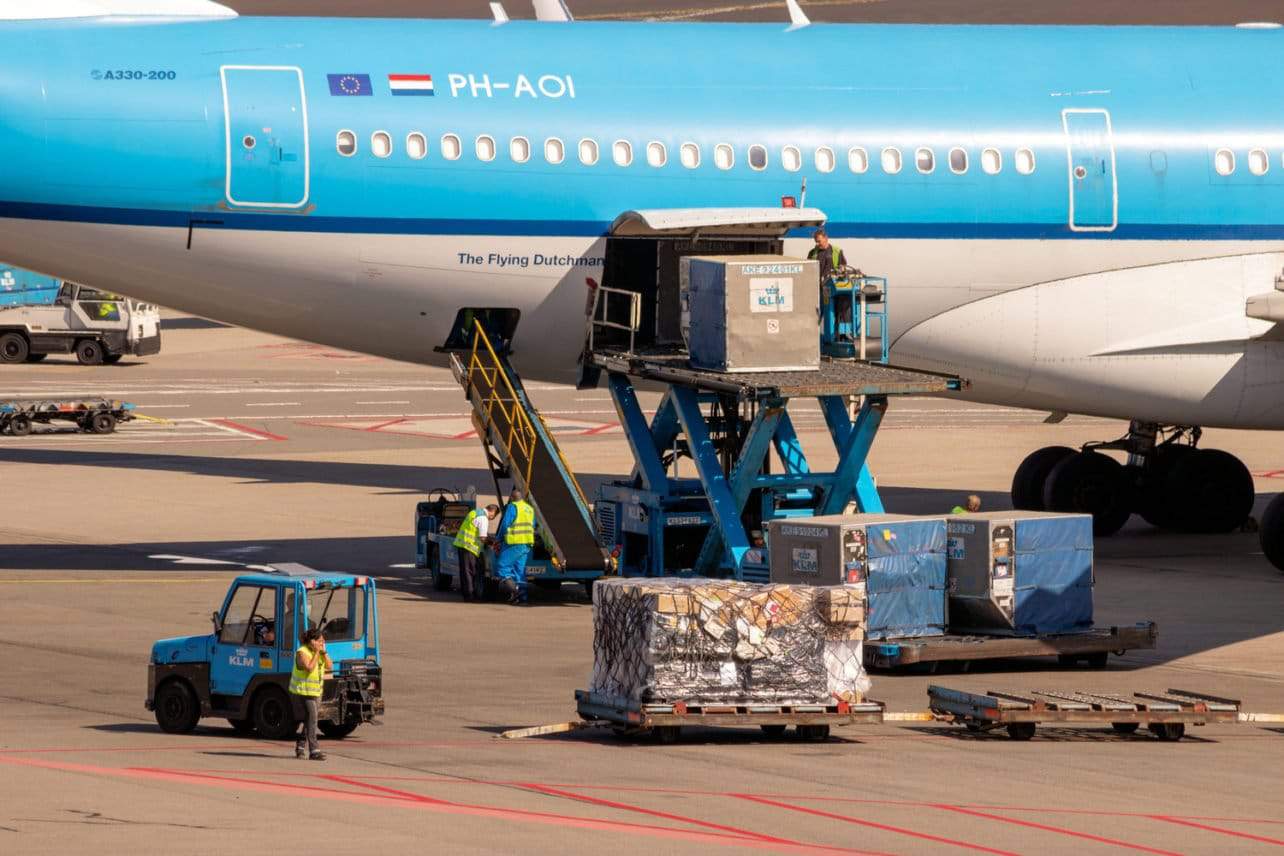 Also, all these separate processes can be done more efficiently if coordinated better. Although there is a lot of space besides an airplane, it is still better and much safer if not all the turnaround tasks are done at the same time. People will then get in each others way.
In addition to this example, there are many other industries that work with machines that are not linked to computers for analytics. Gathering and processing the data of industrial machines can improve the business in many ways.
ServiceNow is entering the IoT space which does have many specialists and competitors. ServiceNow hopes and thinks it can make a difference, because it is part of the Now platform and companies then have one central solution for their IT processes and workflows. It also does not want to compete with the industry specialists, but work together with them to connect their solutions to the Now platform.
Conclusion
All in all, ServiceNow has made the necessary improvements with the Paris release. It also launched a large number of new services that are already providing added value. For some services, the first steps have been taken, and with some further development, they can become successful solutions that will manage, improve or solve business-critical processes in the future. The Now platform is a continuous development