Box has long focused on "modern" ways of working together with its cloud-based platform for collaborating on content. However, that doesn't stop Box from continously improving on the Content Cloud, as Box calls it these days. That's what we're seeing at this year's BoxWorks. Box announced a large number of updates and new components that should make the platform even better. We were virtually present at BoxWorks and summarize the announcements here.
In general Box is pretty well positioned when it comes to the hybrid working we seem to be moving toward. It is, after all, a cloud-based platform. That makes it fairly straightforward to allow employees to work together regardless of their location. Whereas this used to be optional, it now seems to be becoming more of a necessity to use something like the Box Content Cloud. If you occasionally collaborate remotely on a document, you can do that via email. However, if you're going to do this more or less by default, then it's a good idea to look at other tools.
Of course, Box wants you to end up with their Content Cloud when looking for a platform for collaborating on content in the broadest sense of the word. Box's target audience is primarily larger companies. To illustrate this, the company likes to brag about the fact that 67 percent of Fortune 500 companies use Box. Especially heavily regulated industries more or less automatically end up with Box. Traditionally, there has been a lot of emphasis on things like security, governance, data privacy and other things that are important in those kinds of environments.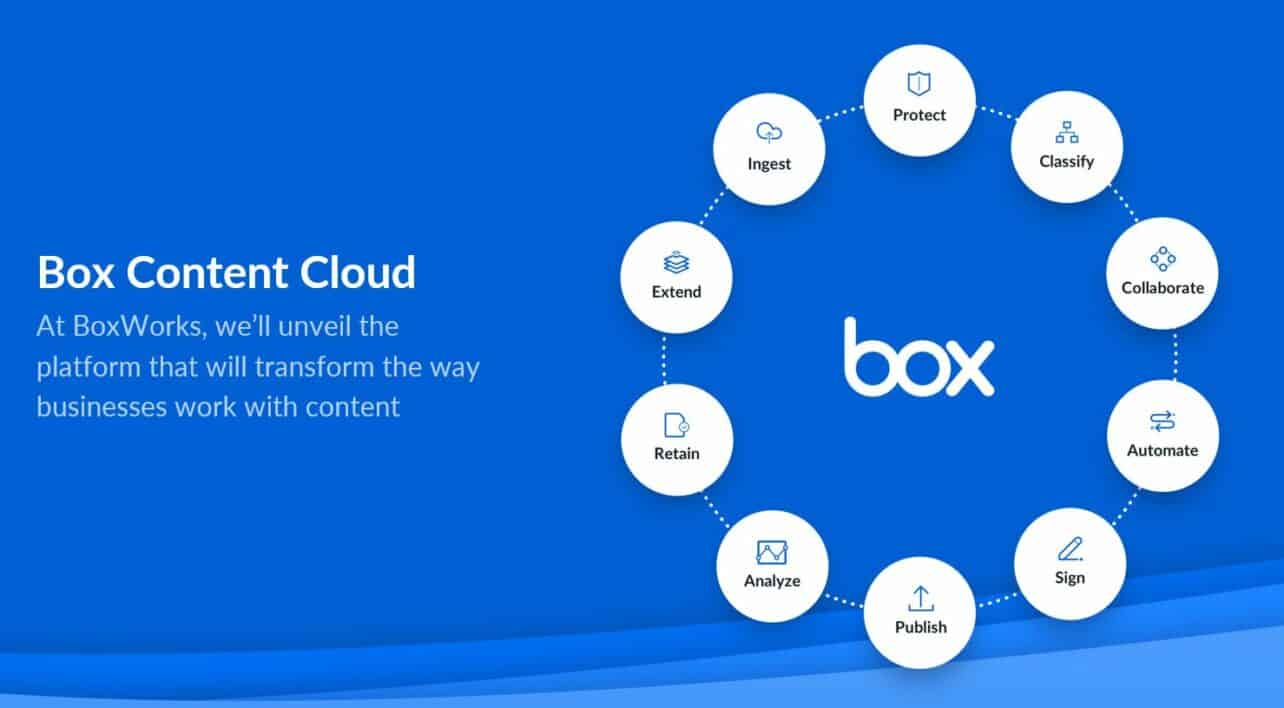 New components
The Box Content Cloud may already have quite a lot to offer, but of course there is always room for improvement. For example, earlier this year Box acquired the Dutch company SignRequest. The e-signature functionality from that solution, and some enhancements by Box to the solution are now in Box Sign. Officially announced back in July, Box Sign makes it possible to send documents to be signed directly from Box. The recipient does not need to have a Box account to be able to sign. Currently, it supports more than 15 languages, so the signing process can take place in the recipient's own language (if supported, of course). To keep the process safe, it is possible to protect documents via SMS and/or password. Box Sign is also part of the Box for Salesforce integration. You can now send things like contracts and NDAs directly from Salesforce.
Box Sign comes standard with all business and enterprise licenses/subscriptions. Its rollout begins in the U.S. and Canada. It will become available worldwide in the coming months.
In addition to Box Sign, there is also news to report about the mobile app. That was always relatively limited in functionality. That's why the latest version adds several new features. Capture Mode, for example, has been improved. This should make uploading photos, audio or documents to Box easier. Furthermore, Box adds OCR to the mobile app. This allows you to convert scanned documents into searchable PDFs.
A final piece of news in terms of specific products is that Box Notes has been completely revamped. With it, you can now add a bit more structure to your notes. Think about adding a table of contents and anchor links. In other words, you can now structure notes you have worked on with coworkers better. Furthermore, starting in January 2022, when the new Box Notes becomes available, you will also be able to see changes that colleagues make to the notes in real time. Of course, there will also be fairly fine-grained security features. Examples include access rights and statistics around access.
Deep integrations with Zoom and Slack…
Besides the news reported on above, which adds features and sometimes even components to the existing platform, Box also introduces deeper integrations with popular other applications. Specifically, these include Zoom, Slack and Microsoft. These integrations are very important in a hybrid work environment. They make you switch between apps less often. That provides serious gains in terms of productivity and job satisfaction. Without realizing it, we change our applications very often on a daily basis. Not having to do that gives you time to do other, more important stuff.
Within Slack, Box wants to become the content layer, to use Box's own phrasing. This means that you can upload files directly to Box from your Slack environment. You can do this without compromising on the security and compliance that Box offers. For Zoom, Box launched the Box app for Zoom last month. This app allows users to access content in Box within Zoom. So you don't have to leave the Zoom environment. You can view, search and share files in Box. It doesn't matter if you are in an active meeting or not. Finally, the new Box app for Zoom makes it possible to present a file in Box to all participants in a meeting with a single click.
…and with Microsoft
The last of the three integrations we'll cover here is the biggest. That is, it is the integration with the biggest platform of the three. The deeper integration with Microsoft concerns both Office and Teams. As far as we're concerned the most important component of this is the ability to work together in a document in real time. That was quite a gap in the offering up to now. It is quite indispensable in hybrid work environments, in our opinion. When it comes to Office, the integration is with both the desktop and mobile apps of Office, so in addition to Word also Excel and Powerpoint. All edits are stored in Box. So this is not just an Office Online integration, that was already there. Here Box adds desktop, web and mobile.
The deeper integration with Microsoft Teams makes it possible to use Box as the default storage for Teams. The idea behind this is that customers using both Box and Teams will have fewer problems with fragmented content. Content fragmentation is not only annoying for production purposes, but also causes compliance, security and governance issues.
The new features for integrations with Slack, Zoom and Microsoft are later this year (Slack), immediately (Zoom), early 2022 (Microsoft Office) and late this year (Teams), respectively.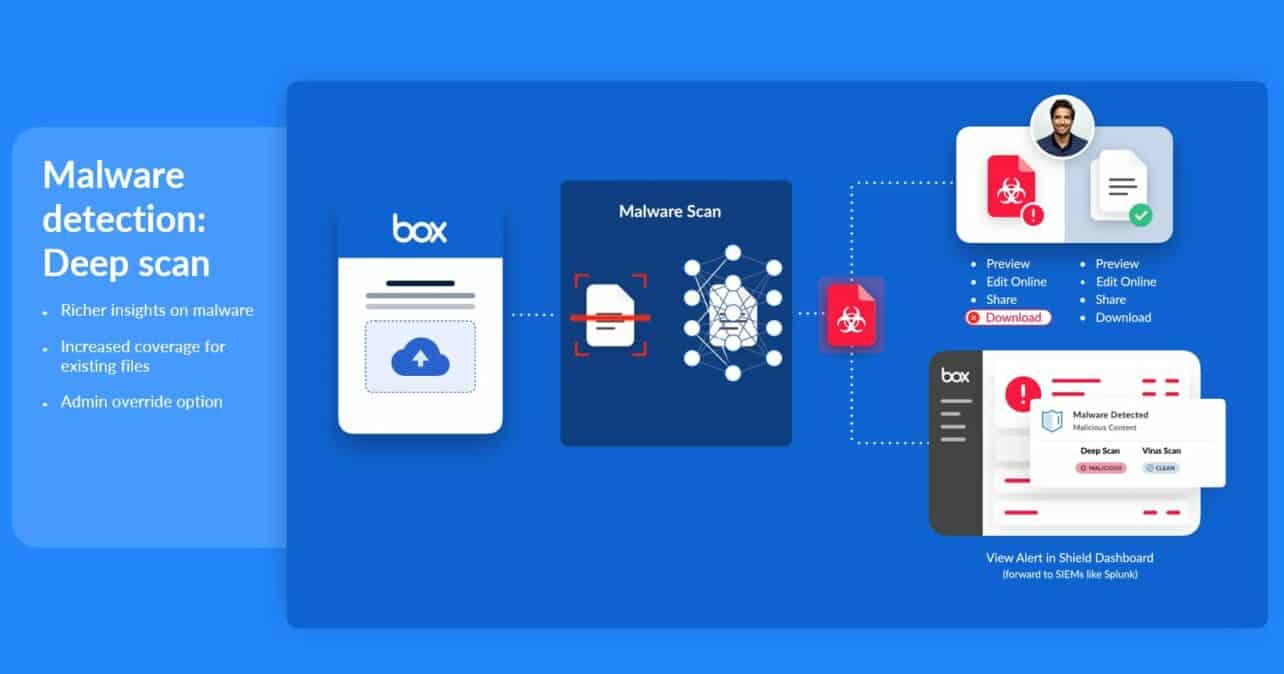 Deep malware scan
Security plays an important role for Box's target customers, so it's also important voor Box and its Content Cloud. That's why a few years ago the company launched Box Shield. The purpose of Shield is to make file sharing safer. For example, you can indicate whether certain files are allowed to be shared or not. You can also see if files are being downloaded suspiciously often, for example.
During BoxWorks, Box announced an extension to Shield. It adds new functionality that should allow for even better detection of malware. This so-called "deep scan" functionality uses deep learning, according to Box, in addition to traditional approaches to detect existing malware. These include hash-based and file-fingerprint scanning methods.
The deep scan addition ensures that Box Shield can detect malware even faster. Box itself talks about "near real time". Shield not only scans new content, but also the content that is already there. With every update, upload, download, preview, move and share of the content a scan takes place. Furthermore, it can also scan content from an external source. Admins remain in charge, by the way. Box has an override option built in. This allows admins to decide whether something is considered a threat or not. This is important, because that allows them to ensure that security functionality does not interfere unnecessarily with work processes.
Ready for hybrid working?
The above updates and new components certainly add interesting functionalitty to Box's platform, especially now that hybrid working seems to become the norm. The continuous emphasis on the security component makes Box a remarkable and standout player in the world of collaboration platforms. This emphasis must also have an impact on time to market for certain features. Real-time collaboration on documents, for example, has been possible for a long time in other environments. The fact that this is only now possible within the entire range of Microsoft Office will undoubtedly also have to do with the focus on security. Ultimately, however, this focus results in a safer, and therefore better collaboration environment. That is also worth something. It is also good to see that Box's announcements are accompanied by launch dates that are relatively close in the future. This has not always been the case in the past.
When it comes to hybrid working, the deeper integrations with Slack, Zoom and Microsoft are especially important for Box's success going forward. These integrations not only provide clear gains in productivity, but also ensure that employees can work more smoothly. The latter is, of course, very important in any move to hybrid working. This will undoubtedly be a big step for many organizations and employees, so it is nice if the software you use is ready for it. In theory at least, that should bring a smile to the faces of both the users and the decision makers of organizations.