At WWDC23, Apple unveils its various new operating systems. We don't see any significant groundbreaking novelties, but small changes should further enhance the Apple experience.
IOS 17 introduces new features for every phone's essential elements: calling and texting. For the iPad, the new system allows personalization of the Lock Screen. For Mac devices, the home screen becomes a more enjoyable place to dwell.
The updates include little that is spectacular. Apple developers will have spend their time to get the Apple Vision Pro ready, and there did not appear to be much time left to upgrade the operating systems properly as well.
Mac gets widgets
The latest version of the desktop operating system will be named macOS Sonoma. Adding moving screensavers and a new game mode does not immediately excite us. The ability to add widgets to the home screen, however, can make the digital workplace more organized and exciting.
Widgets are probably familiar from your smartphone or tablet. It is possible to transfer the widgets you use on your iPhone to macOS if both devices are connected to the same Wi-Fi network. Another option is to search for the desired widget in the notification centre.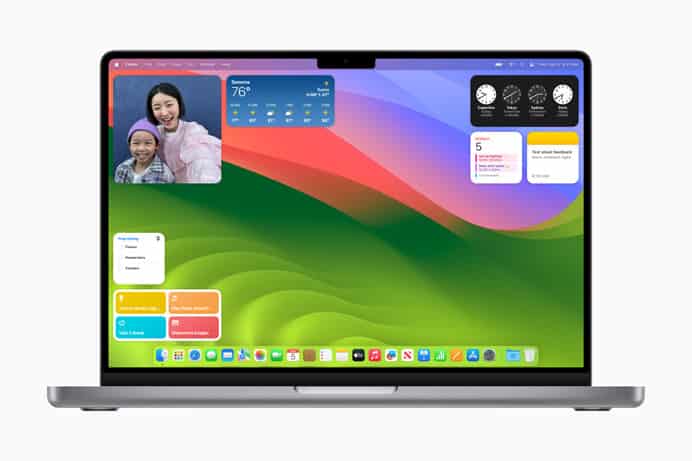 Because you don't want to have the weather for the next few days or the upcoming appointments in your calendar, constantly displayed, the operating system is designed to make the widgets disappear into the background as soon as you open an app or website.
Making your home screen even more personal is possible with the new features of web browser Safari. Applications on the Web will soon behave the same way as apps in macOS, making it possible to pin a Web app to the taskbar and receive notifications.
Finally, the new operating system should make it easier to give online presentations. With Presenter Overlay, you remain visible for video participants in front of your presentation. The feature is available on all video platforms, although many players will have add the feature a long time ago under a different name.
IOS 17 personalizes communication
Apple again places great importance on the basics of every phone in iOS 17. In fact, most of the update focuses on calling and texting capabilities. The additions are almost invisible because they feel so intuitive that they should have always been standard on every smartphone.
We'll start with the ability to personalize your calling profile. Once you call another iPhone user he or she will see your calling profile with, for example, your photo or avatar. You can also personalize voicemail by leaving a video message. If someone else leaves you a voicemail, you can get a message's transcript. This is very convenient as it is often faster than listening.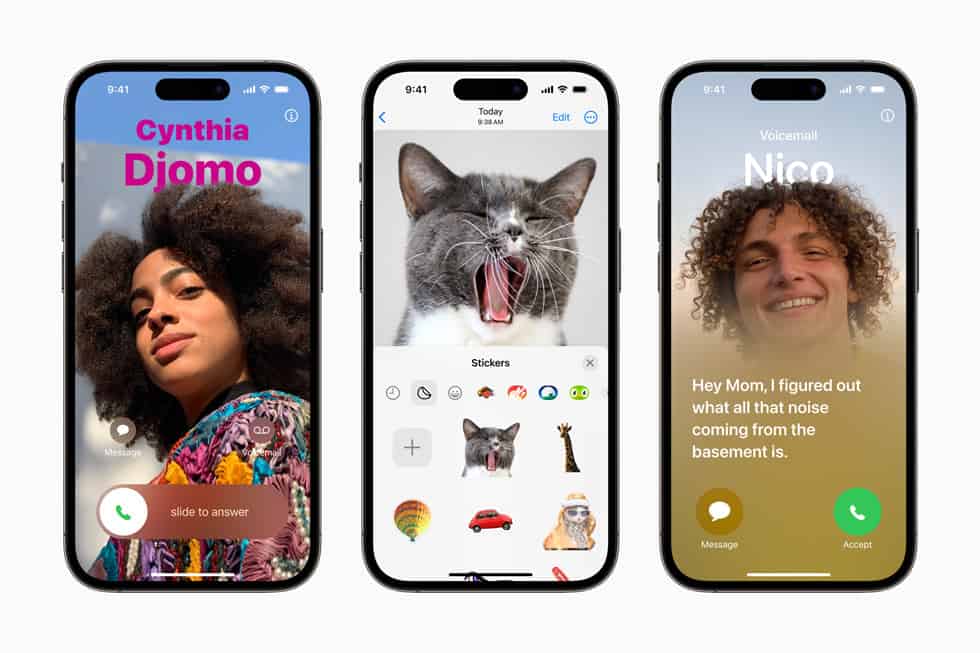 Quick searches in your messages are made possible by improved search options. Replying can be done with little effort by swiping over a bubble. In addition, the suggested words to write a reply should be more useful to you, as the function will now learn about your word jargon via machine learning.
Finally, exchanging your number with another iPhone user will be easier with the introduction of NameDrop. To do so, hold your iPhone or Apple Watch over the device of the person you would like to add. AirDrop is another new feature that works essentially the same for exchanging files and photos between iPhone devices.
Apple further reveals the ability to personalize the loading screen. For example, you can set the device to display the time or your favorite photos while it is charging.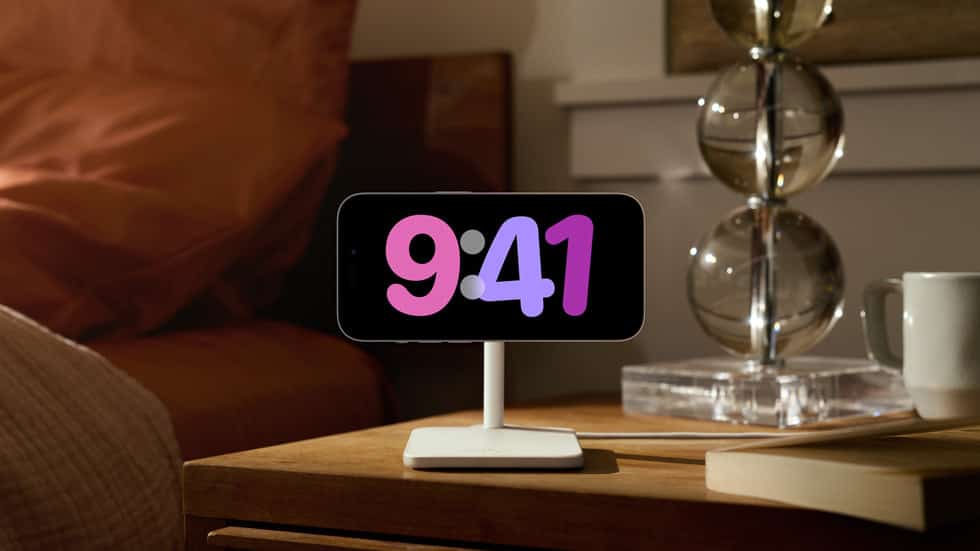 IPadOS 17 copycats the lock screen
IPadOS 17 is a noticeably smaller upgrade. It brings the ability to customize the iPad's lock screen. This can be done through different fonts and choosing the widgets of your preference. Moreover, it is possible to compose different lock screens, for the different Focus Modes you use.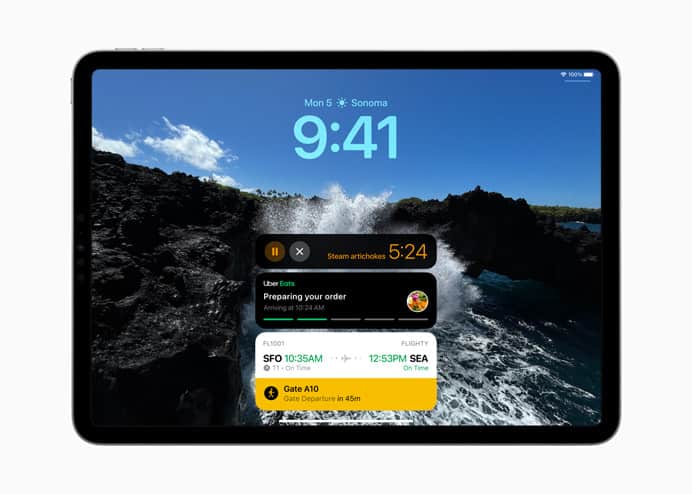 Furthermore, the Stage Manager functionality gets some expansion. This provided a major upgrade to the iPad operating system last year. In iPadOS 17, it will be possible to determine the position and size in which a new window appears.
Even more helpful in a business context is the enhanced PDF functionality. Through machine learning, the device can tell its user exactly which fields have not yet been filled in. Notes will also integrate better with a PDF file, making it easier to make adjustments and annotations to the document. Live collaboration will also make adjustments immediately visible to other active participants.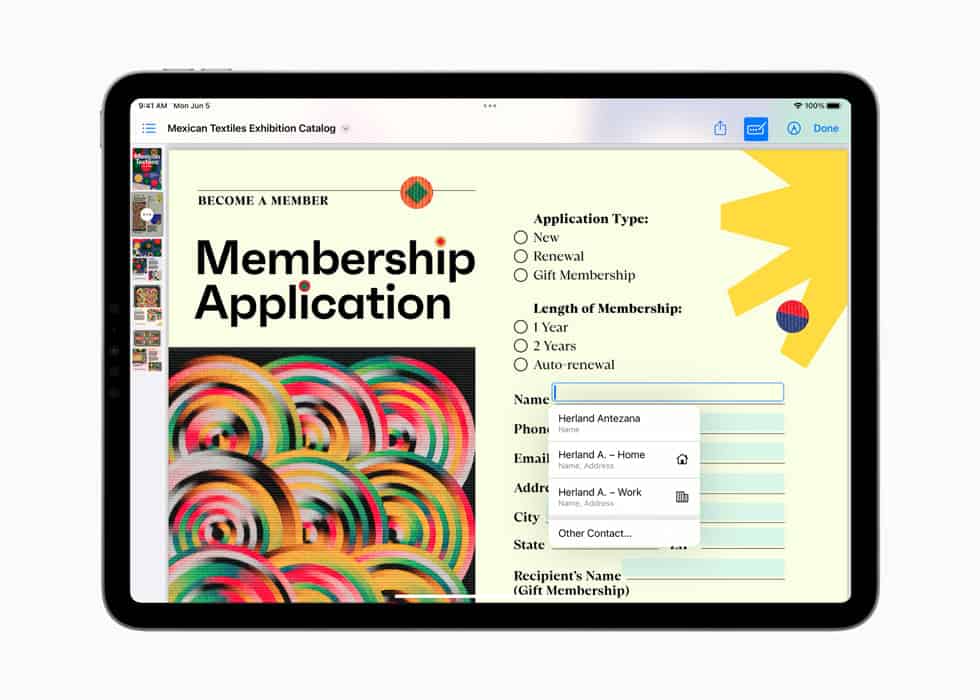 Although personalization for the Lock Screen is brand new for the iPad, Apple introduced the feature last year in iOS 16. Last year we still dared to say that iPadOS "improves a lot and gets more comprehensive every year," but Apple immediately backtracked on that and kept it very thin this year.
Availability
Beta versions of the various operating systems are immediately available to developers. These versions are not yet perfect and may contain security issues or system bugs.
Therefore, preferably wait until summer, when public betas become available. Officially, Apple will not introduce the latest versions until this fall.