Fortinet has announced a new firewall. The FortiGate 2600F is built for security-driven networking and, according to the company, is many times faster than competitors' offerings.
Fortinet has equipped the FortiGate 2600F with an NP7 processor and a CP9 coprocessor. According to Fortinet, the NP7 processor ensures that the firewall provides threat protection at network speeds up to 20Gbit/s, together with the CP9 coprocessor, which takes on some of the heavier applications.
Multiple times faster
All in all, Fortinet claims a solid speed advantage over competing products. In its own Security Compute Rating benchmark, the FortiGate 2600F outperforms competitors' tested firewalls in each of the tested specifications. The company has not shared any independent benchmarks.
If the benchmarks are correct, the FortiGate 2600F achieves speeds of 198Gbit/s in its firewall, 55Gbit/s in IPsec VPN, 20Gbit/s in threat protection and SSL inspection. It can handle 24 million concurrent sessions and maintain 900 connections per second. The comparison with competitors is shown in the table below.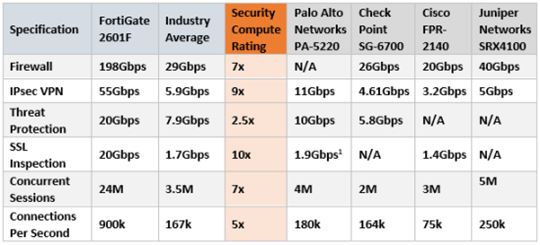 Other features
In its press release, Fortinet mentions some other features of the new firewall. For example, the firewall could be deployed on any network perimeter, regardless of scale, and protects against DDoS attacks via IPv4 and IPv6.
Furthermore, the firewall can be used with large numbers of employees working from home and can complement existing security mechanisms. The FortiGate 2600F combines network segmentation, SD-WAN and firewall functionality in a single device.