Huawei is currently having a hard time in the smartphone market, but it's making a lot of progress with its laptops. The Huawei MateBook X Pro is the best model the company currently has to offer. Although this Windows laptop might not be very original, it is very attractive. In this review, you can read all about it.
The Huawei MateBook X Pro 2020 is fully equipped to be optimally productive on the go. The design is extremely portable, with a weight of 1.3 kilos and incredibly small screen bezels. The device isn't lacking in terms of hardware either: there is a 10th generation Core i5 or Core i7 processor and optionally an additional graphics card as well. All versions of the MateBook X Pro have a 3K touchscreen and quite a lot of RAM and storage space.
Super portable, not very original
For years, Apple's MacBooks have been known as being the best-designed laptops on the market. With their aluminium unibodies, the devices are sturdy and well-finished and also house powerful components in a small enclosure. Huawei clearly took inspiration from those MacBooks, as all of those features have been copied one on one to the Huawei MateBook X Pro. Of course, more laptops appear very similar to each other, but the resemblance between the MateBook and the MacBook is very striking. The only thing special about the design is the colour of our review model: Emerald Green. This colour works very well as far as we're concerned, but unfortunately, Huawei decided only to sell the grey version of the MateBook X Pro in most countries.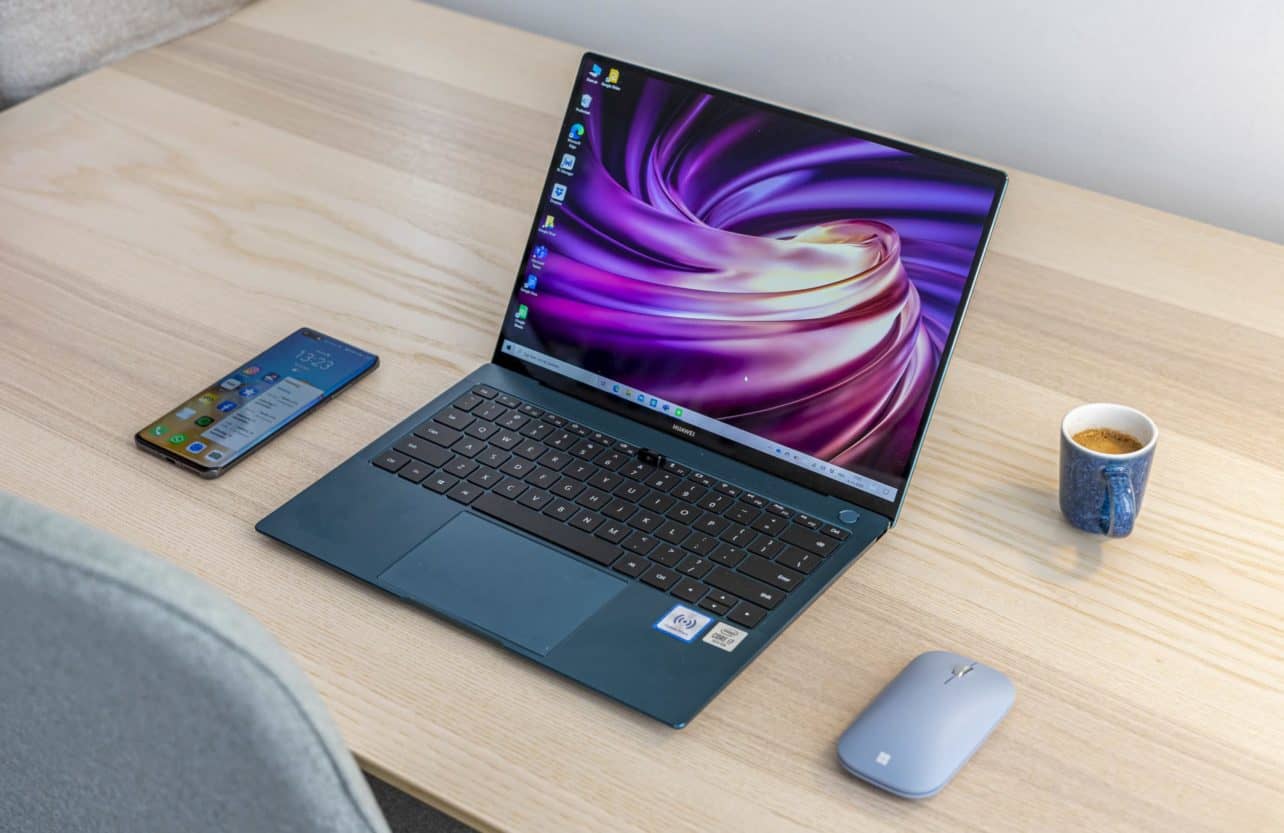 The design may not be very original, but there is nothing wrong with that. The MateBook X Pro looks beautiful, is remarkably thin and light, and has an excellent finish. Moreover, Huawei even surpasses its American competitor in one aspect. Because of the tiny screen bezels, the Huawei MateBook X Pro not only looks a lot more modern but also fits a 13.9-inch screen in a housing that is practically the same size as the 13.3-inch MacBook Pro.
Pleasant to operate, plenty of options
The keyboard of the MateBook X Pro is just a bit smaller than the entire width of the laptop to make room for two speakers. It's big enough and alright to type on, but there are better keyboards out there. Just above the keyboard is a fingerprint scanner that works well. The trackpad does perform a bit better, at least if you tweak the settings a bit. It is large enough, has multitouch support and works well. It's just set up a bit too sensitive, sometimes causing things to happen on the screen that you didn't intend to do. Fortunately, that's easy to fix.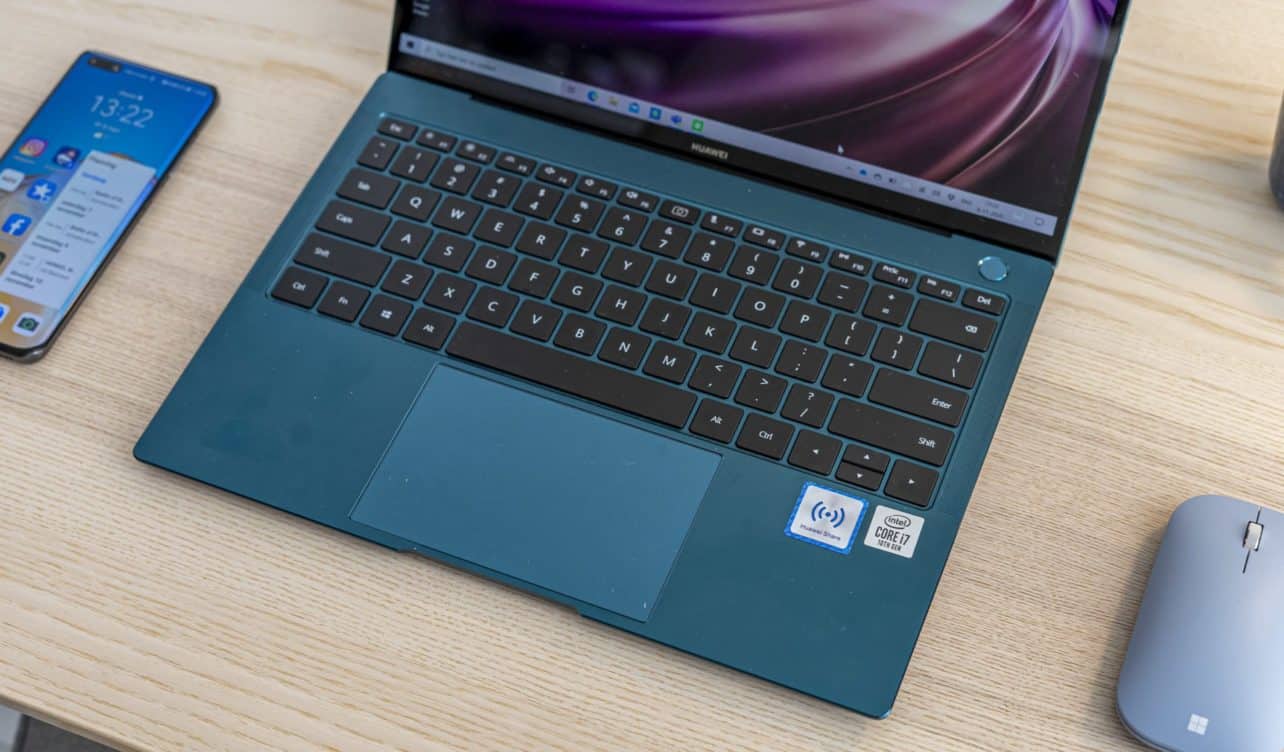 The connectivity of this laptop can be called decent, but nothing more than that. On the left side, there are two USB-C ports and an audio jack. On the right side, you'll find a single USB-A port. A memory card slot would've been a nice addition, as would an extra USB-A port, but unfortunately, the MateBook X Pro has to do without.
Not great for video calls
In order to make the MateBook X so small, a number of sacrifices have been made that make this laptop less than ideal for videoconferencing. The most important sacrifice is the webcam: Huawei didn't manage to fit it inside the bezel above the screen, so the company was forced to move it to the keyboard. In regard to potential privacy issues, the pop-up camera in the keyboard is very handy; but it's not very functional. The low angle makes you look weird during your Teams call and if you type something, your fingers will be covering the camera.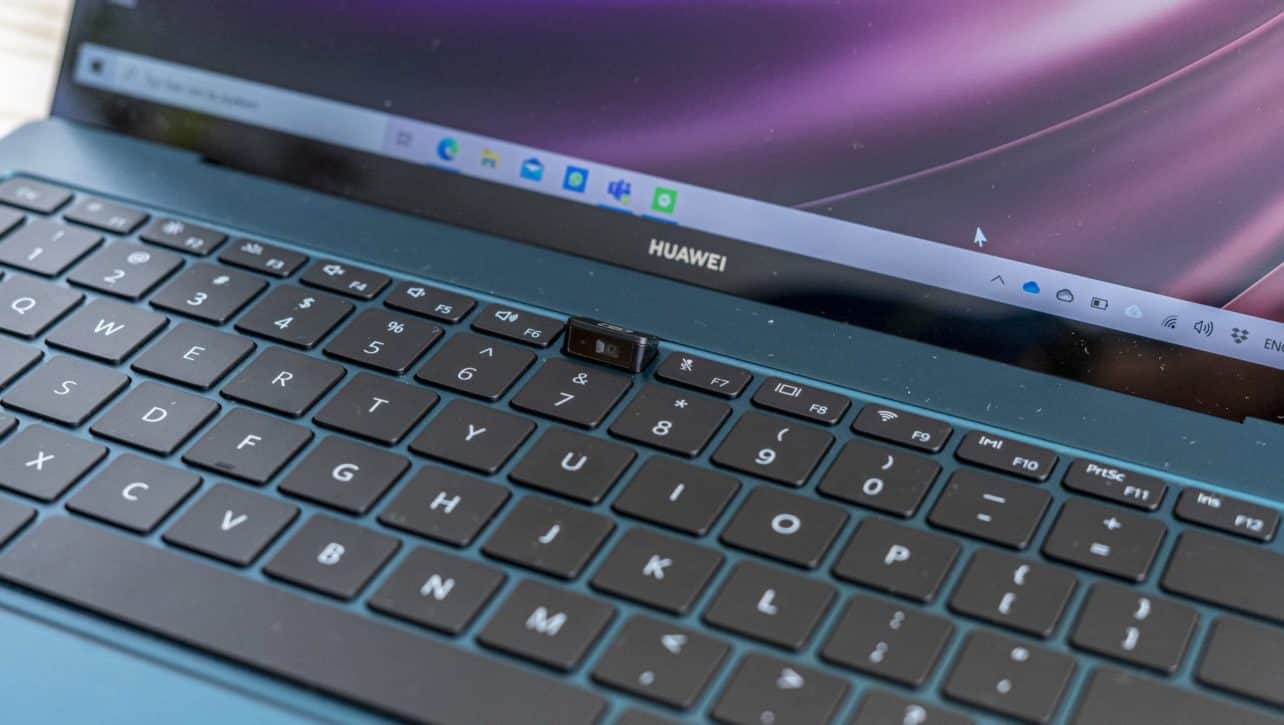 The second thing that appears to have been compromised upon is the speakers. Even though the Huawei MateBook X produces a nice stereo sound stage, the speakers itself sound rather tinny. They also tend to distort a little sometimes. Therefore, if you're in a video call and you're not wearing headphones, your colleagues won't sound very good.
3:2 display has its advantages and disadvantages
There is only one display to choose from when you're getting a Huawei MateBook X: a 13.9-inch IPS touchscreen with a resolution of 3000×2000 pixels. This obviously leads to an aspect ratio of 3:2. It is enjoyable for people that work with text documents or e-mails a lot: these come out better on the taller screen. On the other hand, putting two windows side-by-side will feel cramped. So if multitasking is your jam, this laptop might not be the best fit for you.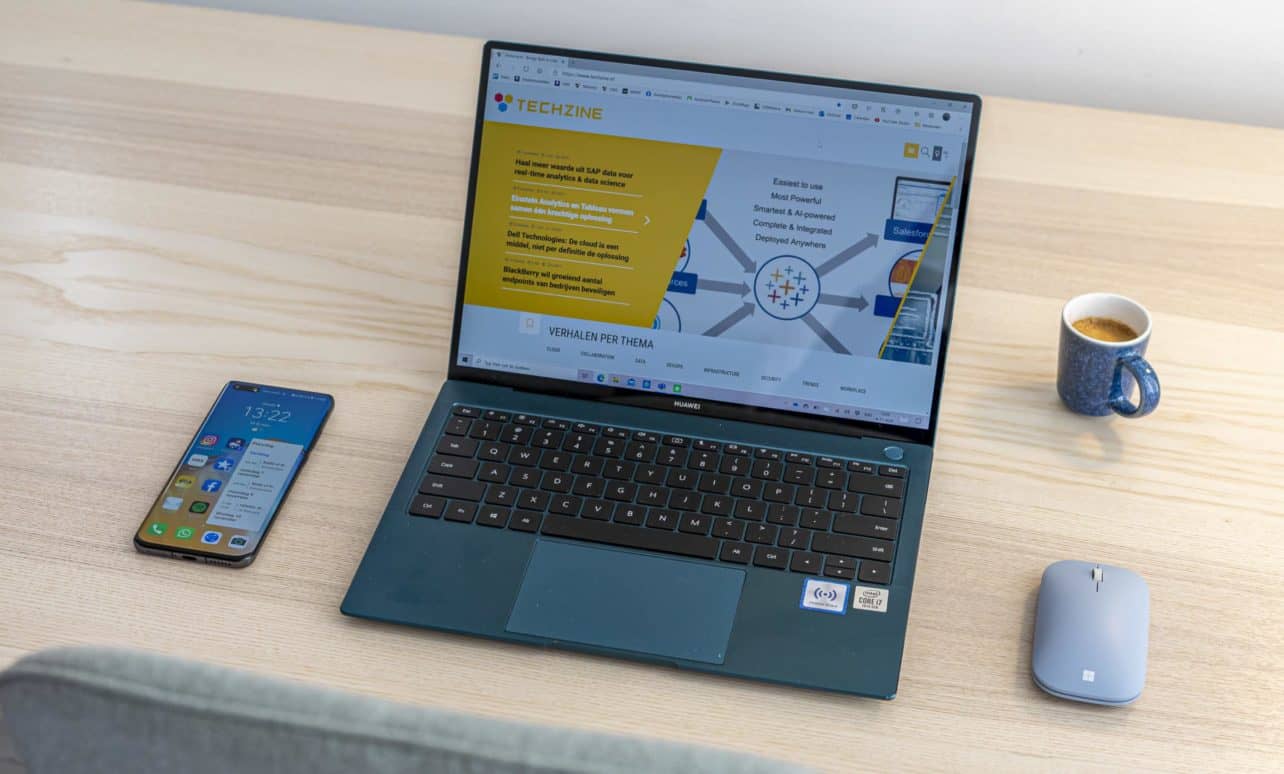 The MateBook X Pro's picture quality is good, but nothing more than that. The calibration of the screen is a bit on the cold side, and the contrast is not very high. Huawei says the screen supports 100% of the sRGB colour space, although the company doesn't mention anything about DCI-P3. So if you do a lot of graphic work on your laptop, this MateBook X Pro might not be the best for you, but the display is more than good enough for productivity tasks.
Well-equipped by default
Two versions of the Huawei MateBook X Pro are available: a version with a 10th generation Core i5 processor, GeForce MX250 GPU, 512GB SSD and 16GB RAM for 1499 euros and a version with a 10th generation Core i7 processor, GeForce MX250 GPU, 1TB SSD and 16GB RAM for 1999 euros. Despite the small housing, the device does not produce too much heat, and we have not suffered from excessive CPU throttling. At heavy load, the fan does ramp up, but fortunately, it is relatively quiet.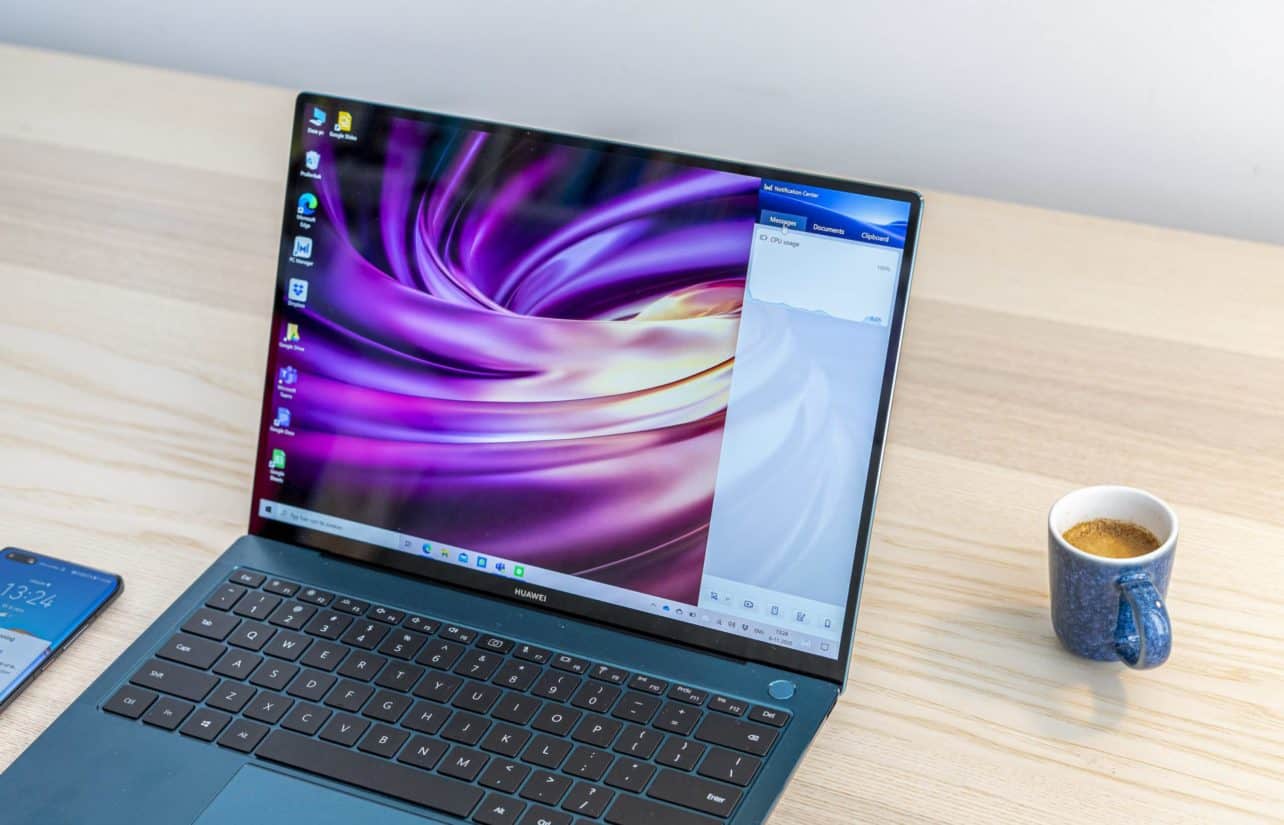 Here, too, the focus of the MateBook X Pro becomes clear. Those who do a lot of graphic work will need a laptop with a stronger GPU. But professionals who mainly work with documents or code will appreciate the MateBook X Pro. The processor is good, and there's plenty of storage space by default.
The battery of the MateBook X Pro has a capacity of 56Wh and, according to Huawei, it should last for 15 hours of 'normal work'. The company doesn't share what that means, and this number isn't very realistic in practice. But the battery in the MateBook X will last you a full workday, which is a good performance.
Limited use for Huawei Share
Huawei added some of its own software to Windows. The most useful of these theoretically is Huawei Share. This service effortlessly connects your phone to the laptop when you touch your phone to the NFC sticker below the keyboard. This allows for easy transfer of photos as well as the ability to project the phone's display on the laptop. This all works surprisingly well.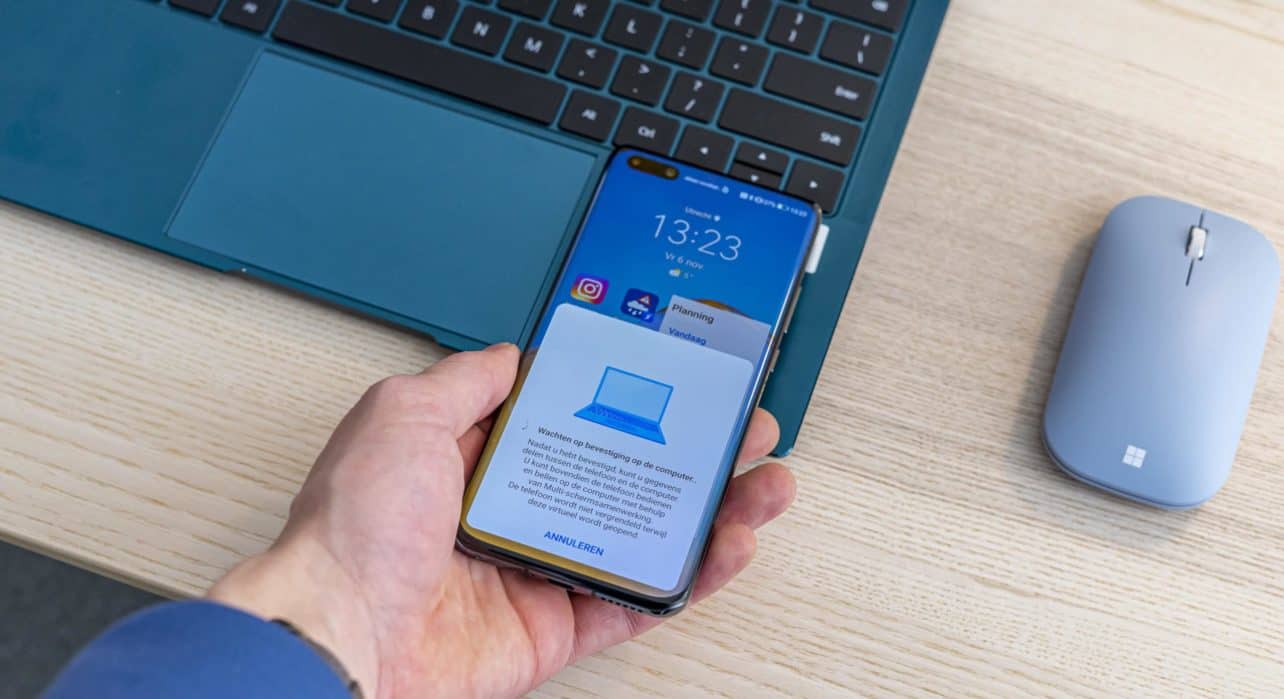 Unfortunately, the service is of little use, as it only works with Huawei or Honor smartphones. As we concluded in our review of the P40 Pro, it would be better to ignore these devices because of the severely gimped Android software. Therefore, the number of Huawei smartphones, and with that, the possibilities for Android Share, are becoming increasingly scarce.
Incidentally, Huawei Share is not the only useful addition Huawei has made to Windows. The PC Manager software allows you to maintain an extensive notepad easily and shows you an overview of recently opened documents and CPU statistics, for example.
A disadvantage for business customers is that the Huawei MateBook X Pro only comes with Windows 10 Home. Manually buying and installing a Windows 10 Pro license is, of course, an option, but this is not an ideal solution for large-scale rollouts within companies.
Conclusion
The Huawei MateBook X Pro is compact, has excellent battery life and good hardware. Although it is a step too far to call this a MacBook with Windows, the similarities are obvious. In our opinion, this is a good thing: with this Windows laptop, Huawei manages to achieve the same level of sexy hardware of a MacBook.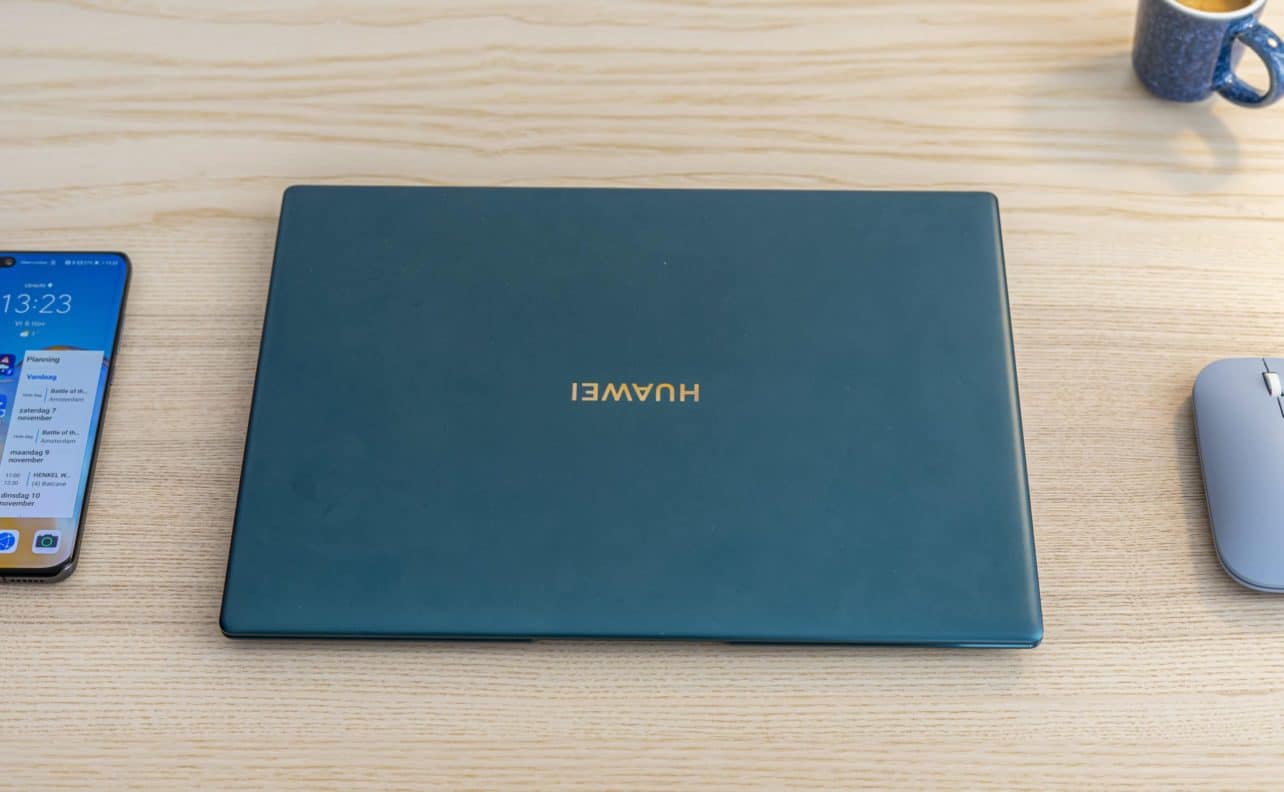 It is clear that Huawei's MateBook X Pro is mainly focused on productivity tasks. The 3:2 display is excellent for reading and writing documents, and the performance and storage are excellent. Are you working with graphical applications a lot? Then this laptop falls a bit short. The screen quality is not optimal, and although the GeForce MX250 GPU is an upgrade compared to the integrated graphics of the Core i7 chip, it's not really that powerful.
8.5
Beatiful hardware
Good performance
Sharp 3:2 touchscreen
Display quality could be better
Poor webcam positioning