Powerful router for small to medium businesses has a lot of features, and can also serve as the base station for a mesh network.
Synology is steadily building on the ecosystem it started with the NAS devices it became world famous for. It holds the lion's share of the NAS market aimed at SMBs. The consumer market is also firmly in the hands of the Taiwanese company.
To gain a little more foothold in both the business and consumer markets, the company has long recognized that it needed to release other products as well. Thus, in 2015, the first Synology router, the RT1900ac, saw the light of day. Synology was only too eager to hitch a ride on the 802.11ac (WiFi 5) train that started running sometime around 2011/2012 and gave router sales a solid boost. Especially since many providers woke up a bit late, many people were in the market for their own router, either to replace the provider's router, or to place behind it. More recently, Synology has also entered the IP camera market. That in itself is a logical move, as Surveillance Station, Synology's software for camera surveillance, is quite popular in the market.
Synology RT6600ax Wifi 6 router
In this article, we won't talk about Synology's overall strategy in the business market. We want to focus on the Synology RT6600ax router. This is a Wifi 6 router with several extra features that make it an interesting model for the (small) business user.
TIP: If you do want to know more about Synology's strategy for the business market, you can check out our interview with Synology's Victor Wang from six months ago below:
Before we get into the business functionality of the Synology RT6600ax, let's first discuss the general (external) features of the device. As we mentioned above, and also obvious from the name, we are dealing with an 802.11ax, or Wifi 6 router. Wifi 6 is a good step up from Wifi 5 (802.11ac), which Synology's previous generations of routers came under.
TIP: We explained in great detail a few years ago the specific advantages of Wifi 6 over Wifi 5. Read that article via this link. Highly recommended for network technology enthusiasts, even if we say so ourselves.
Please note that with the Synology RT6600ax, we are dealing with Wifi 6, not Wifi 6E router. The latter is the latest version that has been formally approved and is taking over the market very quickly. This latest version adds a whole extra GHz of bandwidth (the 6GHz band). At least in some parts of the world, in Europe it is about 500 MHz extra (the lower half of the new band). In any event, the RT6600ax does not support this.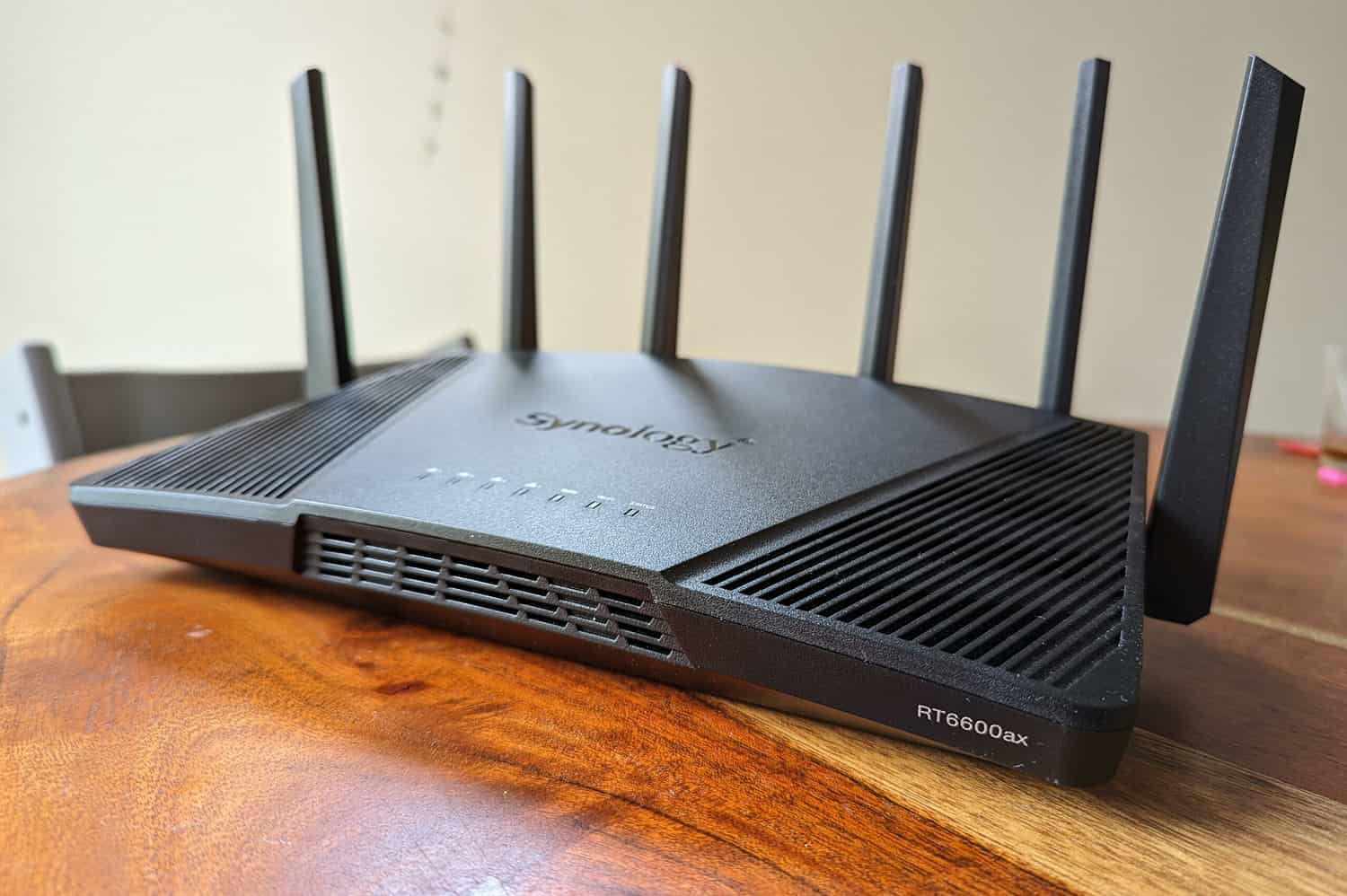 Tri-band
Synology developed the RT6600ax to enable the highest possible performance for a Wifi 6 router. There are several indications for this. The first is that it is a tri-band router. It has six antennas on it. That means it can set up two 5GHz networks in addition to a 2.4GHz. Four of those antennas provide the most powerful signal, achieving a line rate of 4800 Mbps. The other 5GHz connection reaches 1200 Mbps, while the 2.4GHz goes up to 600 Mbps. As usual, these are not speeds you'll achieve in practice. Not even by a long shot. These are speeds at the physical layer of the connection. In practice, you will never come close to this. However, the ratios between different connections are the same in practice. Faster at the physical layer usually means faster in practice.
By the way, it is possible to use all three network connections at the same time. So you don't have to choose the 5GHz frequency. That would also be a bit strange, because then Synology would have been better off offering only the fastest variant on it. Note, it is possible to set up a mesh network with the Synology RT6600ax as a base station. In such a case, you use some of the connectivity to set up that mesh network. We discuss how this works and our experience with it further below. Good to note is that you can only use 160 MHz wide channels on the fastest 5GHz connection. Why you would want that in business environments is beyond us. Especially when the density of devices goes up, this makes no sense whatsoever. But, it can be done, should you wish to do so.
2.5 GbE on WAN and LAN
A second indication that Synology's RT6600ax is also suitable for demanding environments can be found on the back of the device. There, as usual, are the RJ-45 ports. Four LAN and one WAN. However, that WAN port is a 2.5GbE port. So is one of the LAN ports. That port can be configured as a second WAN port. This not only creates a network with a solid backbone, but also immediately provides failover. To use this bandwidth, you will need a subscription with a provider that can offer it. In addition, you may also need to upgrade the other parts of your network to 2.5 GbE.
Finally, when it comes to bandwidths of Ethernet connections, it is good to keep in mind that not all connections communicate with each other as you might expect. You might be inclined to think that a 10GbE switch will operate at 2.5GbE bandwidth if you connect it to a 2.5 GbE port. It doesn't. Those two connections cannot communicate with each other that way. It does work, but at 1GbE. This means you have to watch very carefully what you buy if you want to upgrade an entire network to 2.5GbE.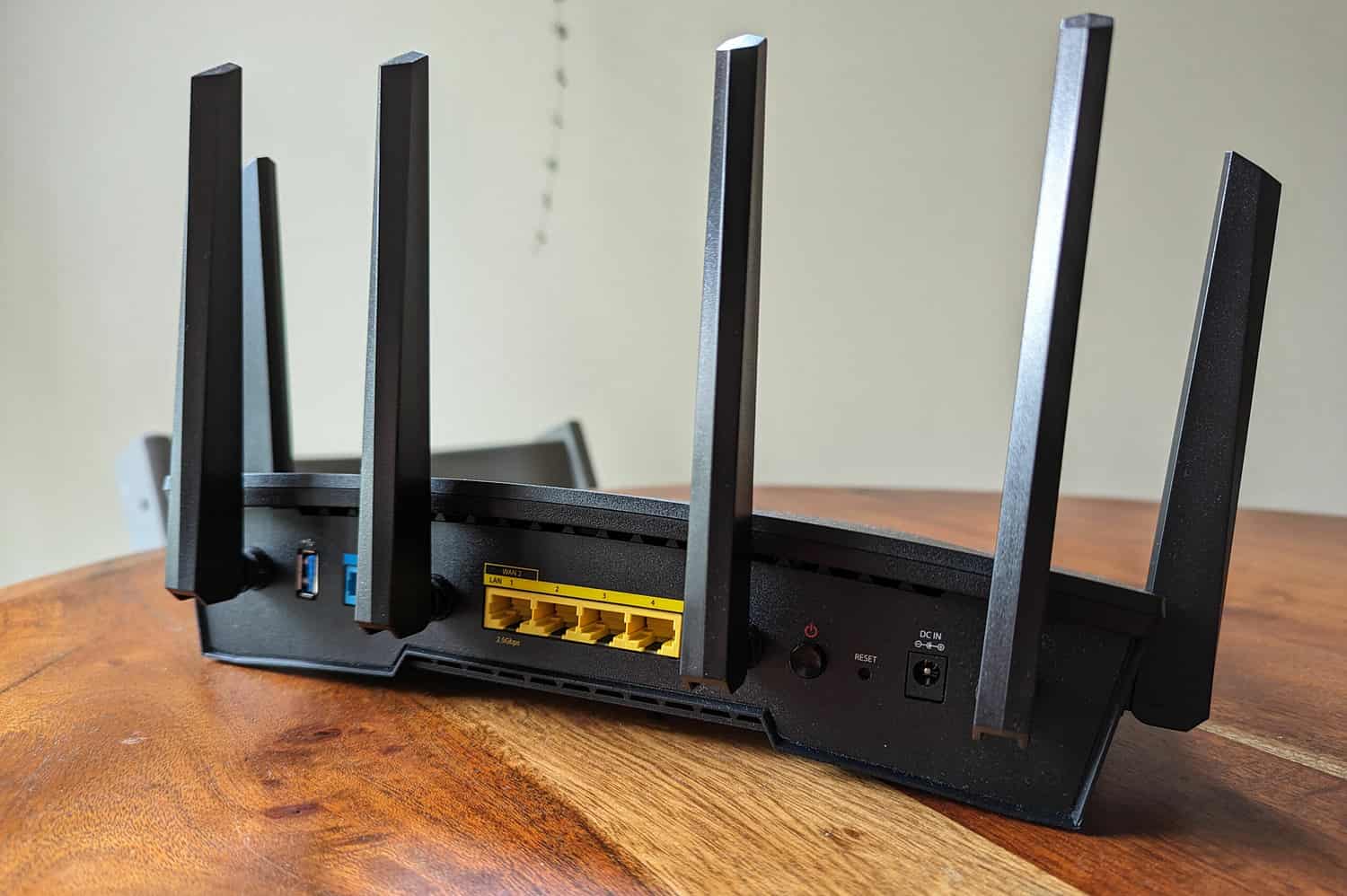 A third indication that we are dealing with a powerful device here is that it has 1GB of working memory. Compared to the previous generation, the RT2600ac, that's ouble. It also features a quad-core processor clocked at 1.8GHz (a Qualcomm Cypress IPQ6018, for those who like to know). That is also more or less a doubling compared to the previous generation. That one had a dual-core at 1.7 GHz. The big step up is not surprising, by the way, since the RT2600ac is already quite old. All in all, however, these internal specifications of the RT6600ax are certainly good.
Furthermore, on the outside we see another USB 3.0 Gen 1 connector, which provides power of just under 5 watts. Enough to power an external SSD. We no longer see the SD card connection from the RT2600ac here, nor the USB 2.0 connection. Somewhere hidden in the settings of the RT6600ax, however, there's a note that the USB 3.0 connector functions at USB 2.0 by default. This is in order to minimize interference. You can uncheck this box though.
Setting up a mesh network from Synology RT6600ax
In itself, the hardware is interesting, but it's the features that often matter with these types of devices. In other words, what functionality is under the hood. For that, we have to go to SRM, or Synology Router Manager. Especially if you also use NAS equipment from Synology, that environment will no doubt be very familiar to you. The platforms also share certain functionality.
We'll review the key features of SRM 1.3 in the following paragraphs. In this section, however, we will look at setting up a mesh network. For that, we need to be in SRM as well. This can be useful for smaller organizations who don't have enough coverage from a single router with wifi, but also don't want or can't pull cables to hang access points. We would always recommend the latter if possible, by the way. A wireless backhaul is never as stable as a wired one. So it's good to know that you can set up Synology's mesh network both wirelessly and wired.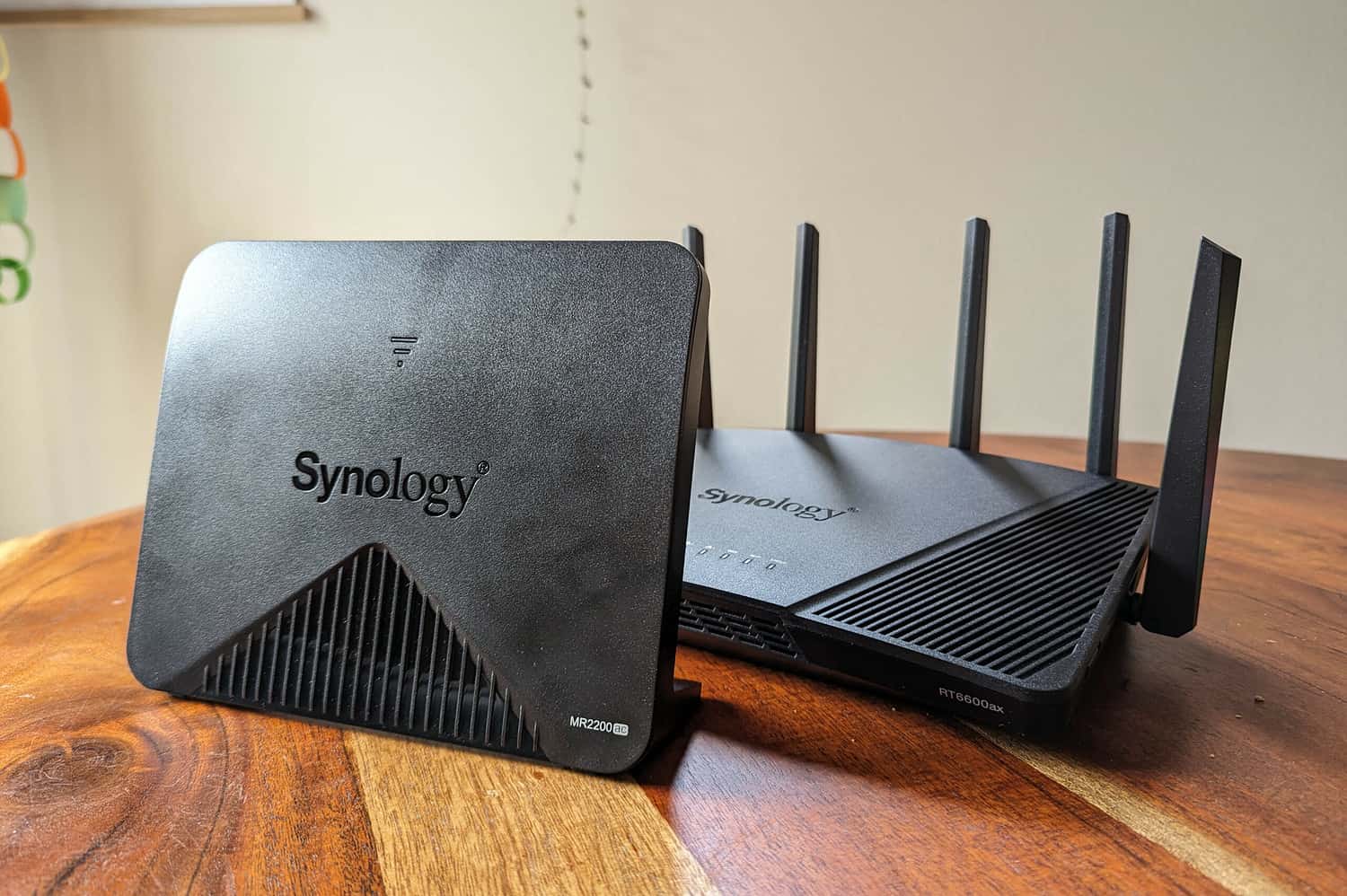 After logging into the web interface (or via the app), you can add an additional Wi-Fi access point via the Wi-Fi Connect application. This is done literally with a few clicks, very easy. You also choose a wireless and/or wired setup of the mesh network here. Just keep in mind that you first update the device that you want to add to the netwerk to the latest firmware, or at least the same firmware as the base station (in our case the RT6600ax). We were naturally stubborn and tried it first with an older firmware. That really doesn't work.
To get an idea of how to set up a mesh network, Synology sent us an MR2200ac. This is a router made specifically for setting up this type of network. 'MR' stands for Mesh Router. The MR2200ac offers only two fixed network connections per module, one of which can be used as a WAN. It is also possible to use a second RT6600ax, a WRX560, or an RT2600ac to extend the netwerk. Which device you can use depends on your base station. Only on the RT6600ax can you connect the entire list above. For the WRX560, only the RT6600ax you can't connect to it, the rest can. The RT2600ac works with a second RT2600ac and with the MR2200ac. The MR2200ac only works with another MR2200ac.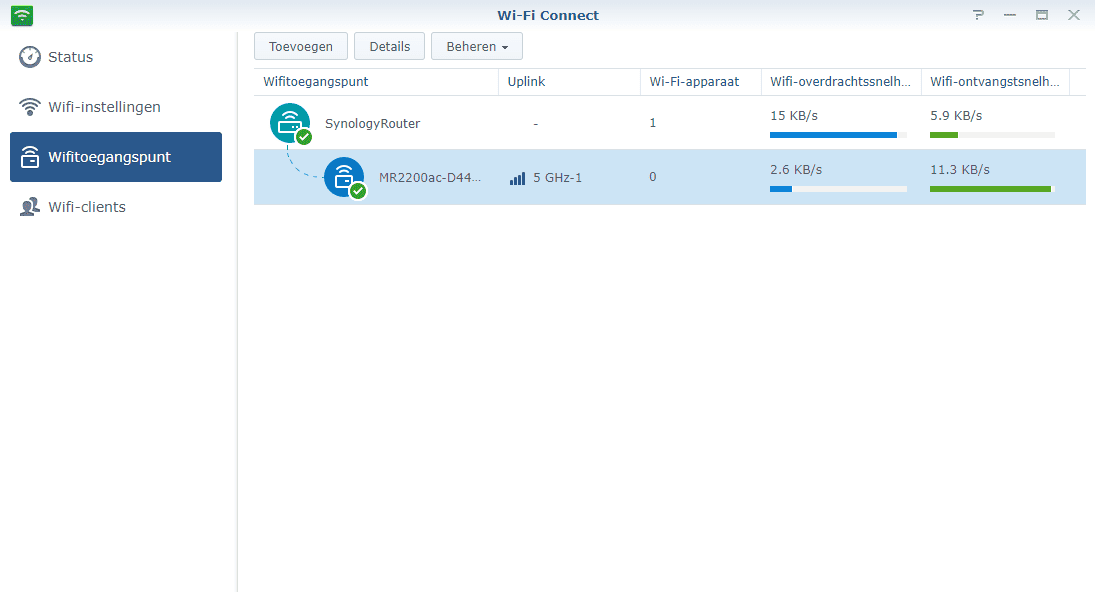 We tested setting up such a mesh network using this MR2200ac. As already mentioned, setting it up is child's play, provided you use the right firmware. For example, you don't have to choose which frequency to use to set up the connection between the RT6600ax and the MR2200ac. Synology takes care of that itself. This takes place dynamically. That is, the RT6600ax chooses what it thinks is the best signal and adjusts it as needed. This depends, among other things, on the distance between the two devices.
If you prefer to have a little more control over this, that's also possible. By default, the mesh functionality is set to "Automatic. Here, the router detects whether a new unit is connected wirelessly or wired. You can use this interchangeably, as we mentioned above. Furthermore, you can also choose the frequency for the uplink yourself, if you choose Wireless as the uplink type. Then you'll see "Manual" behind the frequency, as below (as the screenshot is in Dutch, you're looking for the word 'Handmatig':

Mesh in practice
Basically, as indicated, Synology's mesh technology works like a repeater. That is, the devices do not use one of the network signals exclusively to connect to each other. Synology could have done that, as the RT6600ax and the MR2200ac both feature tri-band Wi-Fi, much like Netgear's Orbi products, for example. However, Synology added mesh more as an extra option, just like business access points did and still do. It doesn't sell mesh systems like Asus, Netgear, Linksys and TP-Link, for example. That has the advantage that you can build a mesh system that is less buttoned up than the systems from those vendors. You can do much more with it. However, this is not without compromises.
We noticed that the RT6600ax and the MR220ac connected on 2.4 GHz quite often, even if the distance between the two devices was small. That's actually not what you want, because at 2.4 GHz the bandwidth is limited anyway. If it also acts as a kind of repeater to halve the bandwidth, then you're not left with much at all. So we would actually always recommend setting up the network (distances between devices and such) so that you can select the fastest 5GHz connection for backhaul (if you can't do it wired).
All in all, the mesh capabilities Synology offers on the RT6600ax (and MR2200ac, WRX560 and RT2600ac) are a nice and useful extra. It also works well and you can configure it quite granularly. The main advantage of this approach is that you don't have to predetermine how many units you need to create a covering network for your organization and the people who work there. You can start with the RT6600ax, so to speak, and then build out until it all works properly. This is also nice in terms of investment. At around 350 euros (including VAT), it is not very high for what you get and when you consider how important a good network is for any organization.
Synology Router Manager (SRM)
Now that we've discussed the hardware and setting up a mesh network, let's take a closer look at the capabilities SRM offers for the (small) business user. To do that, we prefer to navigate to the web interface. There is also an app (DS router) for Android and iPhone, but we find that it's always just not quite right. That in itself has nothing to do with this particular app. We find that to be the case in general. You can also generally configure more via the web interface. An app in itself is fine once you have things set up properly and, more importantly, you want to be able to quickly see from anywhere if something is going on that you need to take action on. For actual configuration, we wouldn't use an app.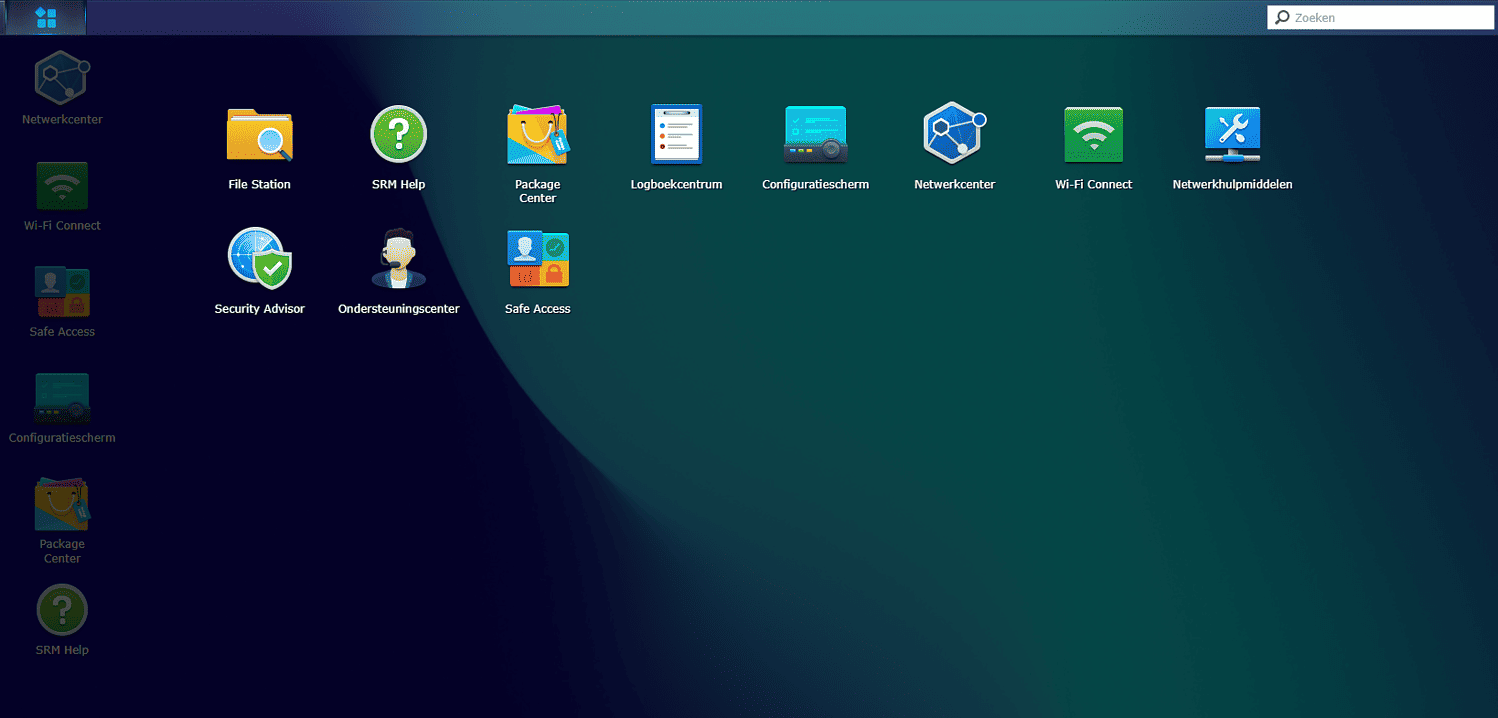 SRM is clearly very similar to DSM, Synology's NAS device management environment, as we mentioned above. Within the world of (small business) NAS devices, presenting the web interface as a kind of desktop with apps on it is quite common. For a network product, this is not the case. There, we are used to seeing some sort of dashboard first, showing the overall state of the network. You usually see alerts and the like right there, with pretty colors and other visual pyrotechnics such as graphs. That is not the case with SRM. This may take some getting used to, but this does not mean that SRM is unimportant. The opposite is true, as you can read in the rest of the article.
SRM capabilities on Synology RT6600ax: network settings
There are six "applications" on the "desktop" by default. Network Center, Wi-Fi Connect, Safe Access, Control Panel, Package Center, SRM Help.
If you want to see a dashboard like you might be used to from other platforms, Network Center is the place to be. The first tab is Status, which is actually your dashboard. Furthermore, you can enter all kinds of basic settings here. Among other things, you can set up WAN here, including dual WAN, set up port forwarding and triggering, create a DMZ and set up DHCP. Through Traffic Management, you can provide the connected devices with names and icons, and you can assign bandwidths to the various devices. The latter can be useful in business environments where a specific device must always be able to do its job. Finally, within Network Center you can create rules for the built-in firewall and set up blocks for external IP addresses.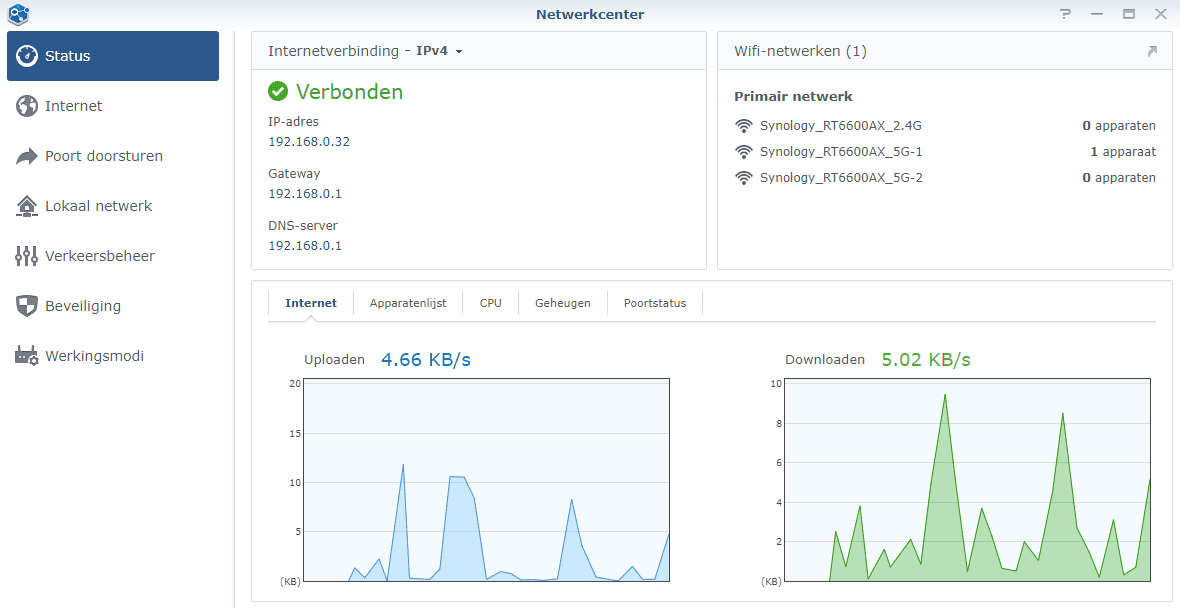 For all settings related to wireless connections, Wi-Fi Connect is the place to be. Again, this starts with a status page. So here you have two different dashboards for your network. A general one, where a section is already reserved for Wi-Fi as well, and one specifically for Wi-Fi. The options within this section of SRM are otherwise fairly standard, as on almost all devices.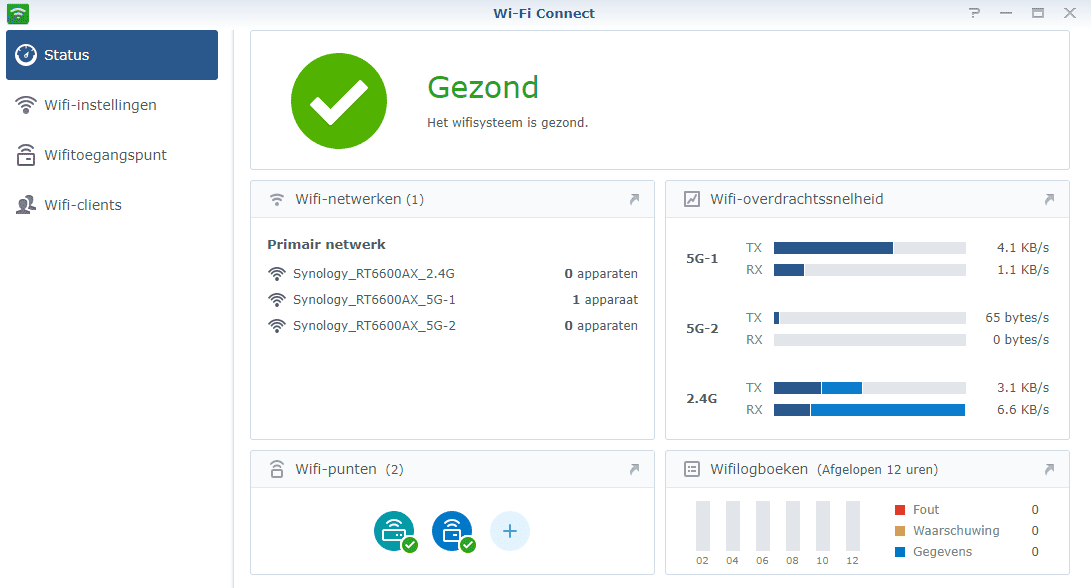 Among other things, you can create your SSIDs in Wi-Fi settings. You can setup 15 in total. That seems sufficient to us for this router's target audience. By default, Synology turns on Smart Connect here. This means that the different frequencies are offered together in an SSID. This is not suitable for all wireless devices by the way. Should you regularly listen to a Wi-Fi speaker in the office, for example, we would recommend connecting it to its own SSID associated with one of the frequencies.
Furthermore, you can also set up a guest network here. You can create your own landing page, or redirect to another URL. We notice that client isolation is not enabled by default. We think Synology should do that. That makes it more secure. A guest network is not intended to allow devices to connect to each other anyway. It's better to enable it by default.
SRM capabilities on Synology RT6600ax: additional options
An interesting feature of SRM on the Synology RT6600ax is Safe Access. Here you can set up who is allowed to do what on the network in a fairly fine-grained way. This starts with the creation of profiles. You can do this, for example, per employee. You can then assign all of an employee's devices to this one profile and set policies accordingly.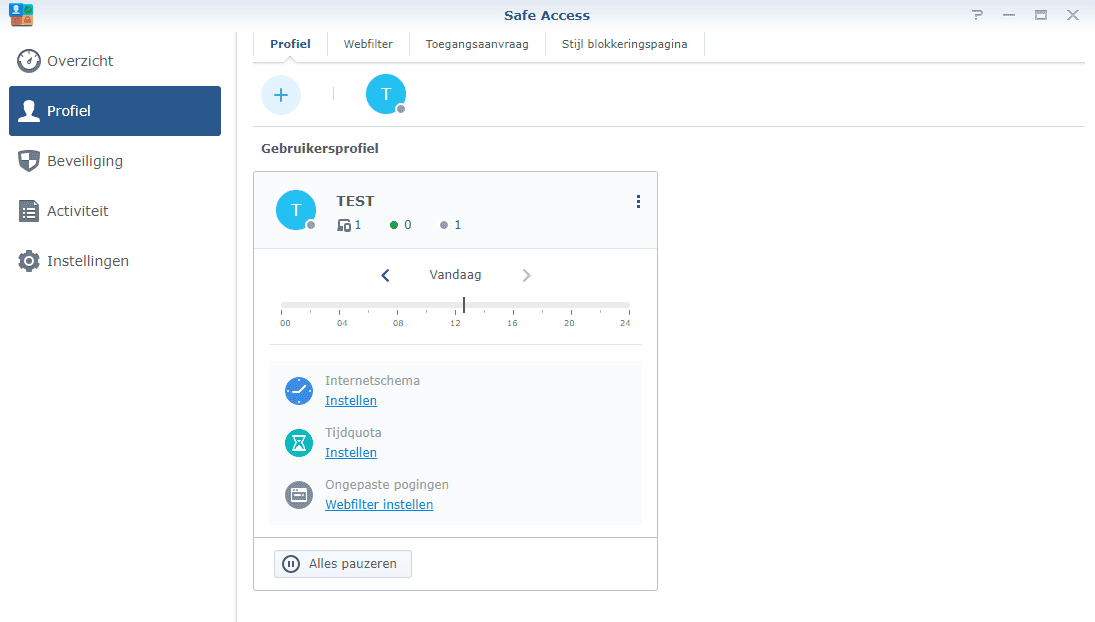 Some options clearly have a Parental Control flavour to it by the way. For example, you can limit Internet access to a specific duration and set when someone is allowed to use the Internet. That's not something you would quickly setup for an employee. However, you can also create a profile at the network level. Then this is interesting again, because then you can control the availability of the guest network. Of course, it is also possible to apply web filters. Synology has three preconfigured: employee, guest, child. You can also create your own.
Furthermore, within Safe Access you can also take some additional measures in terms of (online) security. For example, you can use Synology's Threat Intelligence database to detect known threats in a timely manner. Synology updates this database continuously. You have to specify that Synology may update it automatically, though. Otherwise, you won't be able to use this feature. You can also enable Google Safe Browsing here. Furthermore, you can see which activities have been blocked and view the system log. If you want a report of this, you can get that here.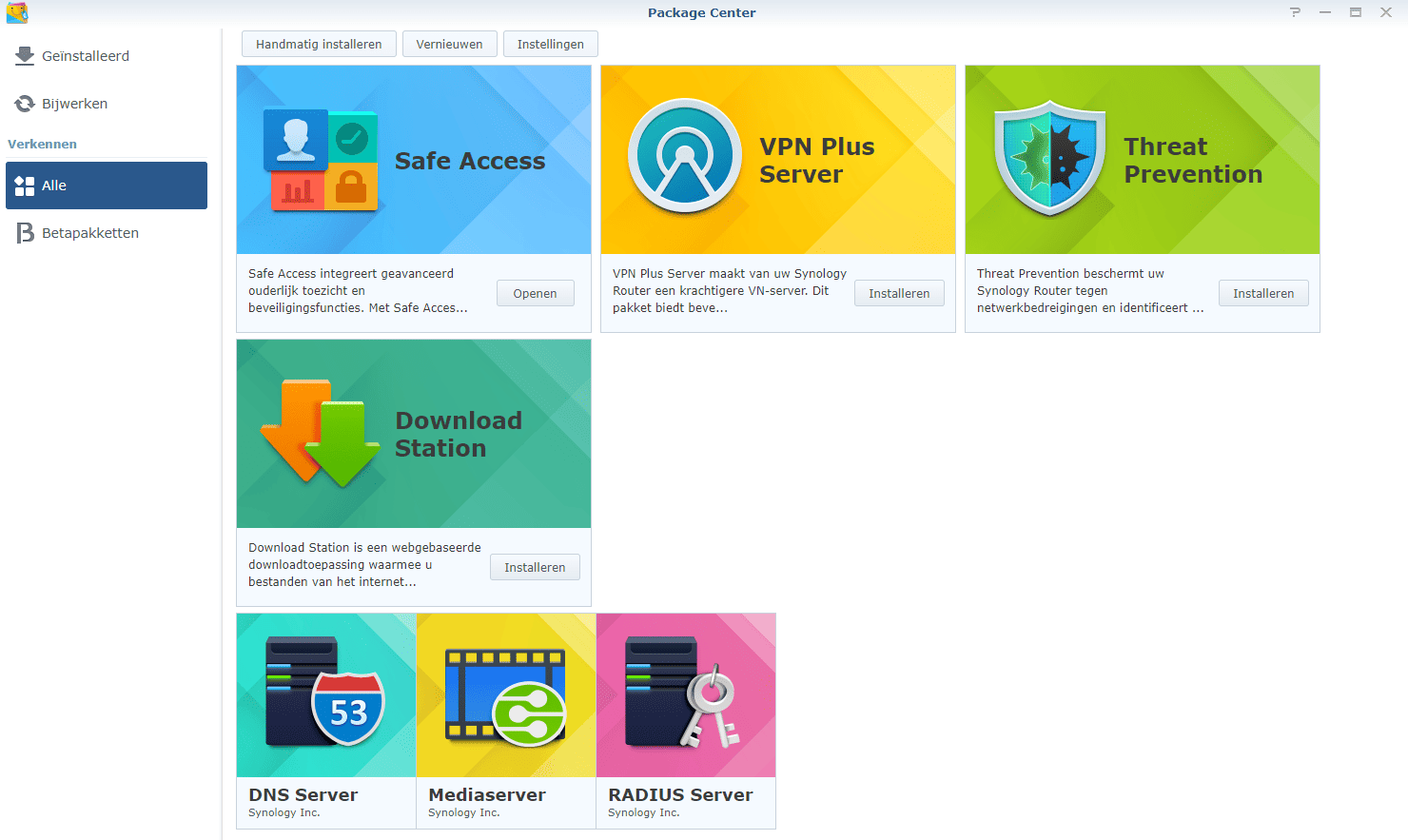 There is also a Security Advisor built in. This scans the settings and such on the router and gives advice on which parts can be improved. If you use weak passwords, for example, it will tell you.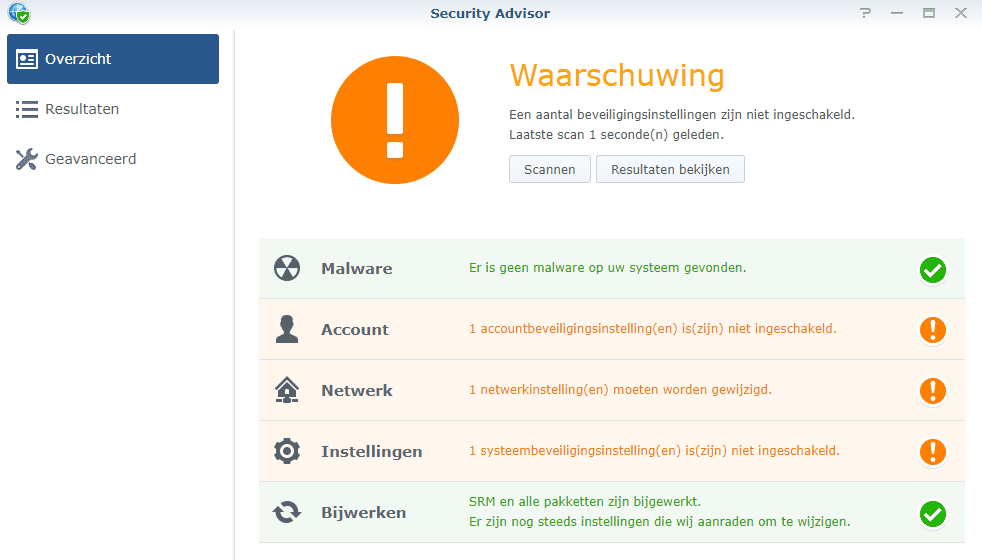 Finally, the Synology RT6600ax has a Package Center. This is logically less extensive than the one on Synology's NAS devices. After all, you're not going to be running applications in containers on a router any time soon, for example, so you don't need a Docker application. Interesting for business use in particular are the VPN Plus Server, Threat Prevention, DNS Server and RADIUS Server. The first one sets up secure connections between the outside world (client-to-site, site-to-site), the second one speaks for itself, the third one enables you to make your own domain name with linked servers reachable and findable from the public Internet and the fourth one sets up central authentication and authorization for your organization.
Conclusion: flexible and affordable wifi for small business environments
All in all, we are quite pleased with the Synology RT6600ax. It is a pretty powerful router by itself for the approximately 350 euros (including VAT) you have to pay for it. It features Wi-Fi 6 and offers many features that are important for business users. Since it is virtually impossible to make any guarantees about a router's coverage and performance in advance (which is also why we don't run benchmarks during the review process and give more of an impression of a device based on our vast experience with networking equipment), it is also very interesting that you can start small and then build out.
In general, the RT6600ax will suffice for office environments with a few rooms (depending on building materials used and such, of course). If you are really going towards en entire floor and certainly multiple floors, then you are going to need some help. That comes in the form of a second RT6600ax, or the slightly cheaper WRX560 or the even cheaper MR2200ac. If you switch from an RT2600ac, you can even keep using that in your new mesh network. We would always recommend a wired backhaul, though, if possible.
Also, it's useful to pair tri-band hardware to tri-band hardware, not dual-band to tri-band. In that light, it's a little odd that the WRX560 is a dual-band model. Actually, you'd prefer to go for Wi-Fi 6 these days, but for this particular mesh solution, we think it's better to let tri-band be the deciding factor, even if that means pairing a Wi-Fi 5 product with a Wi-Fi 6 product. Synology should fix this soon as far as we are concerned and come out with a tri-band variant of the WRX (with Wifi 6, that is). You can currently buy a second RT6600ax, but that's a bit of a waste of money. Synology would love it, of course, which may be why there is an apparent gap in the offering. But in practice, we would advise against it.
Finally, in terms of the business market, it is clear that Synology is primarily targeting the small business part of it with the RT6600ax. Towards the mid-market segment, possibly with a small IT department, you are much better off looking at modern cloud-managed solutions. Consider the offerings from EnGenius, Ubiquiti and TP-Link Omada. However, small businesses planning to upgrade (or rebuild) the network should definitely look at Synology's products.