The latest release of Zoho One is live. With the update, the business software suite consists of new applications, features for data analysis and integration, extended security options and more.
Zoho One is a platform of more than 50 web apps for CRM, marketing, support, project management, mail and other relevant business needs.
"A business operating system," as its developer creatively describes. The sharp price tag and focus on software integration make the suite an interesting fit for a variety of companies, large and small.
Now, the suite has been updated. Zoho One introduces new apps, platform-wide improvements (also known as services) and a transformed UI.
Apps
Five apps see the light of day, bringing the total size of Zoho One beyond 50 applications. We briefly describe the additions.
Zoho Learn offers a framework for creating, presenting and sharing manuals and guides. It includes a handy function for creating quizzes and viewing quiz results.
Zoho Lens allows users to remotely stream the smartphone camera of a customer or colleague. The app includes augmented reality, allowing users to highlight and mark 3D objects observed by the camera. According to the developer, Zoho Lens is optimal for remote support in cases such as machine and server failure.
DataPrep connects to data sources like databases, warehouses and REST APIs to boost the consistency and overall quality of data in a relatively user-friendly manner.
Zoho Commerce serves as a website builder and payment provider.
TeamInbox enriches Zoho's existing mail offerings with multi-user inboxes for teams.
Services
Parts of Zoho's technology recur in multiple applications. The developer describes such technologies as 'services'. The latest release introduces three new services.
Org Dictionary makes an appearance. Word lists can be uploaded to supply each app's text editors with a grammar check of terms such as company- or industry-specific words and employee names.
Work Graph tracks interactions between users, applications and projects to improve the relevance of search results in Zoho's platform-wide search engine, Zia Search.
All Zoho One apps run in browsers and a mobile app. The new Mobile Device Management allows administrators to remotely manage the app and system privileges of mobile users.
UI
Moreover, Zoho One's interface has been polished. According to the developer, changes serve to achieve a more consistent experience when switching between apps and devices.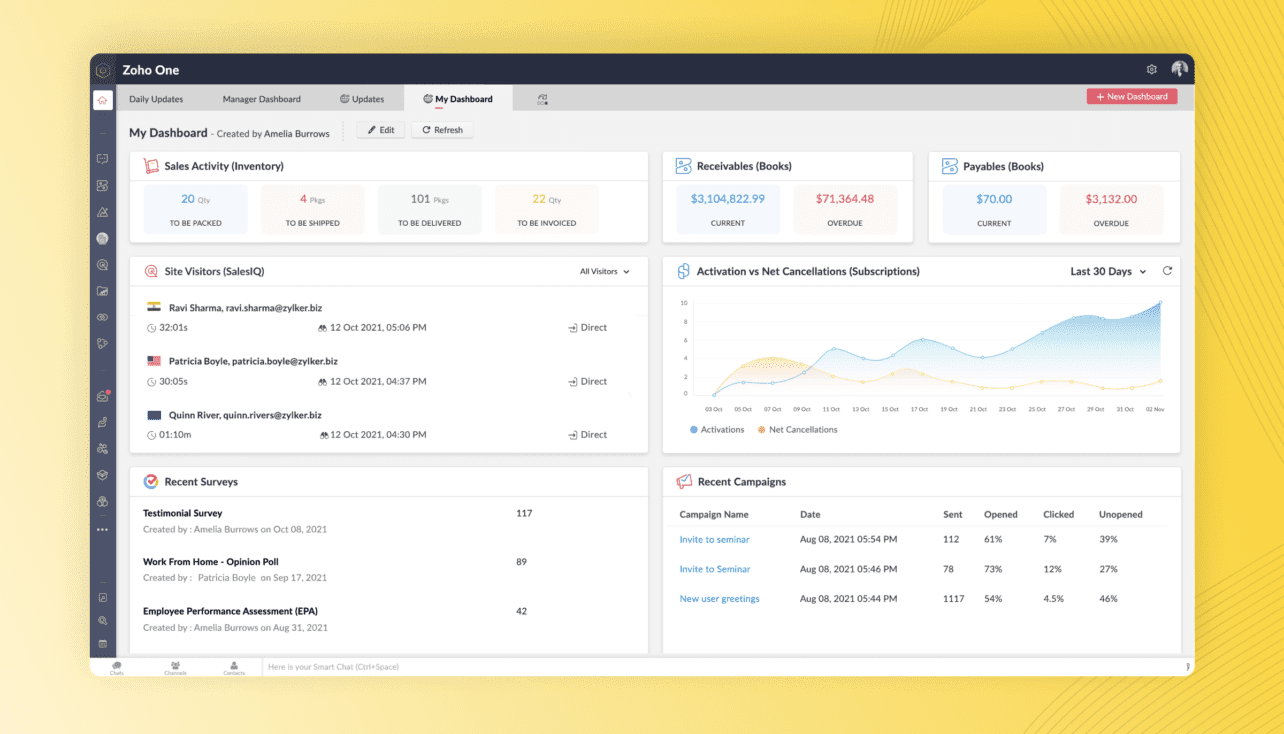 Dashboards
In addition to the aforementioned UI changes, the new release makes it possible to categorize frequently used apps into fixed tabs. Furthermore, users have the option to compile two dashboards with app reports of their choosing, also known as widgets.
Calendar and management
The 'Unified Calendar' also makes an appearance. This calendar is somewhat smart, illustrated by the fact that appointment invitations can be automatically assigned to the next available time slot.
Lastly, administrators no longer have to go through individual application settings and can instead tweak all apps through a centralized overview.