Microsoft Teams is introducing the Town Halls feature for holding virtual events. This feature replaces the existing Live Events option for holding large live events via the video conferencing platform.
The new Town Halls functionality, which will be available starting Oct. 5, 2023, should make it easier for companies to hold large-scale internal virtual events. The functionality provides companies with the necessary production capacity and a structured way for employees to participate in the events.
In this way, it will be possible not only to hold company-wide Town Hall meetings but also to present them to participants outside the organization. Here, presentation forms such as internal broadcasts, fireside chats, and more can be used.
Microsoft indicates that this should lead to maximum participation in this type of virtual live event and more focus on event content.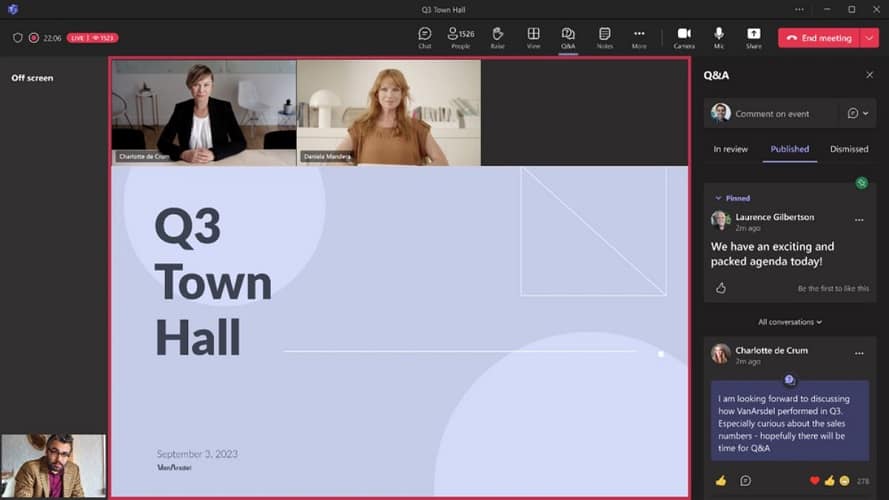 Implications for Live Events
The introduction of Town Halls in Teams does mean that the existing Teams Live Events option will disappear. A reason for the disappearance of this option is not given, but the overlap with the new, more comprehensive mass meeting functionality seems clear.
Migration path
Town Halls in Microsoft Teams will be available to Office and Microsoft 365 customers starting Oct. 5. The more advanced options will then also be made available to Microsoft Teams Premium users. The new option will gradually gain all the functionality that Live Events now offers.
Live Events in Microsoft Teams will eventually end on Sept. 30, 2024. This gives users of this option a year to prepare and switch. After this date, the option will no longer be supported, and actual access will also stop.
Existing recordings will remain available until December 31, 2024. To keep them, users must download the recordings before this deadline.
Tip: Microsoft announces price for Teams APIs to record and transcribe meetings