HPE Alletra Storage MP is the foundation for new services around file storage, block storage. Also new services for data protection.
The cloud experience is the norm today. Not only for things that originate in the cloud, other components have to go with it. HPE saw this development acutely years ago. That's why the company bet fully on GreenLake. That has since grown into a very mature collection of services that HPE offers to customers from the cloud. Mind you, this is not so much about workloads running in the cloud (even though that can be done), but mainly about HPE services running there. Most of HPE's customers still have their data on-premises and run their workloads there as well.
GreenLake was developed with the modern, hybrid infrastructure of organizations in mind. That is, it must be able to handle data and devices scattered across this hybrid infrastructure. All those silos together, from the edge to the cloud, must be able to be managed, configured, and deployed from a central location. What's more, this must be possible in a way that we are used to from the cloud: intuitive and smart, or AIOps-based.
Block and file storage on a single platform
The two announcements today that stand out the most are HPE GreenLake for Block Storage and HPE GreenLake for File Storage. The former already existed within GreenLake, but is modernized with this update. GreenLake for File Storage is completely new within HPE's portfolio.

You can best think of these two services as two different "storage personalities. Underlying, they use the same foundation. Namely, they involve storage systems located in customers' data centers. More specifically, we are talking about the HPE Alletra Storage MP architecture. This is actually not that exciting at all, if you look at it from a technical perspective. It's lego blocks that connect via a standard 100G TCP/IP NVMe fabric that you find in a lot of data centers. You give those blocks a block or file personality. On the back end, it's all the same hardware with the same controller. For GreenLake for File Storage, however, HPE collaborated with VAST Data. Its software runs on the underlying HPE Alletra Storage MP hardware.
Another interesting thing is that we are talking about a so-called disaggregated approach. That means you can easily scale based on your needs. If you want more performance, you can scale it up; if you want more capacity, you scale it up. You can see below what that looks like schematically: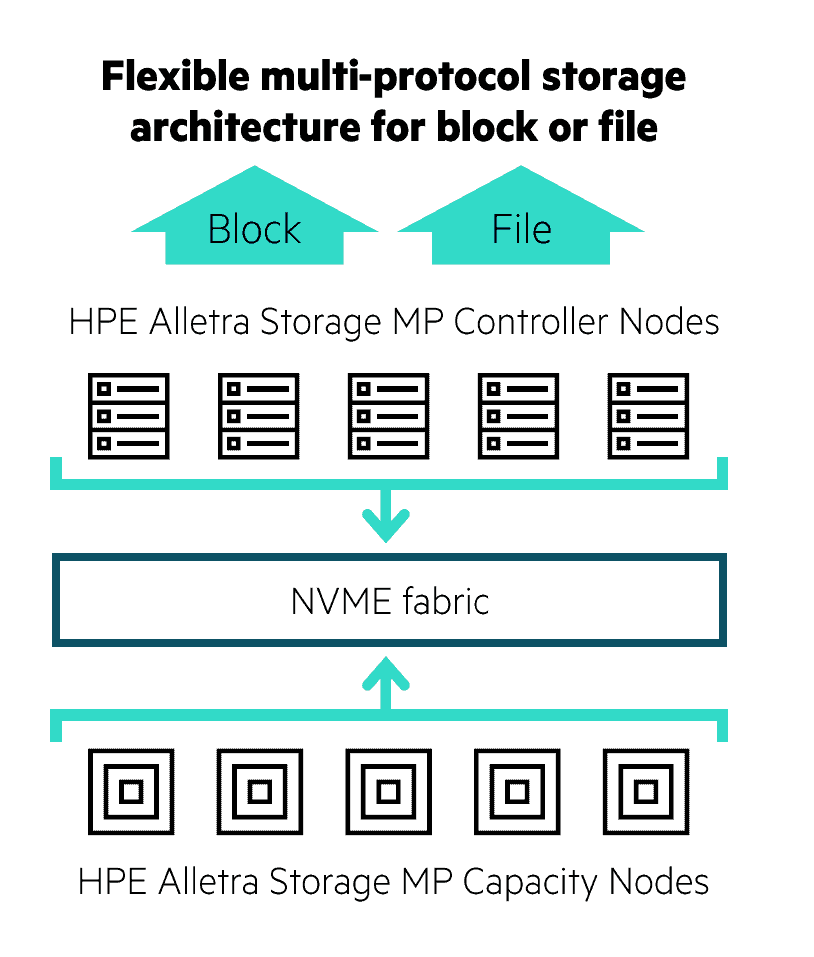 Simple usage model via GreenLake platform
Just because there is HPE Alletra Storage MP hardware in customers' data centers, however, does not mean that these customers actually have to do anything with it. They have to connect it (or have it connected), of course, but otherwise things like deployment, configuration and management go through the GreenLake console. There, you specify the "personality" you want and what you need the storage for. Then GreenLake pushes the software to the Alletra Storage MP devices, so to speak. This has itself signed up with GreenLake. Basically, everything is then ready for use. GreenLake also uses intent-based provisioning in this process. This means it chooses the right clusters and nodes per workload.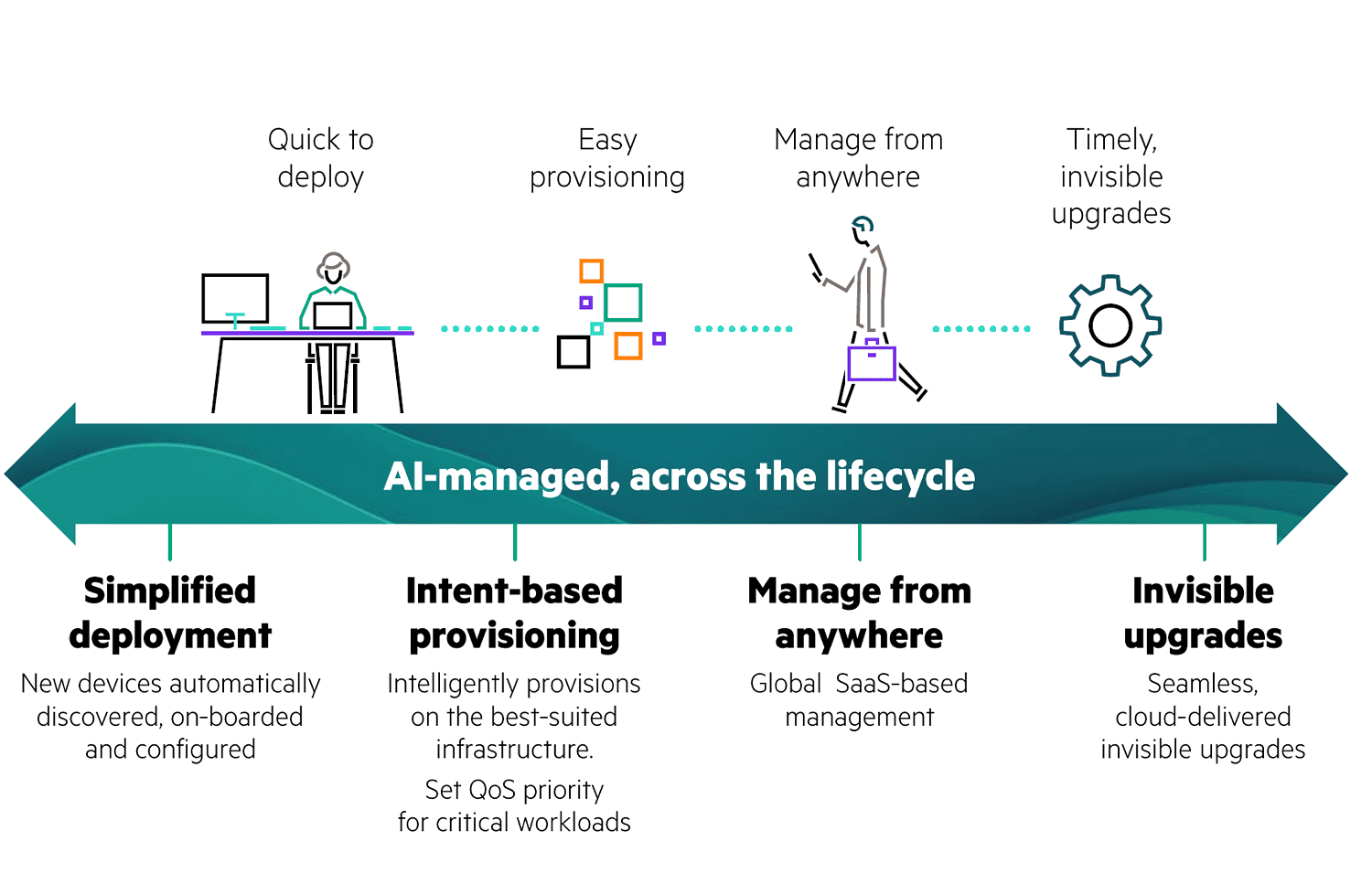 Practice will undoubtedly be a bit more unruly and nuanced, but the basic principle is clear. You don't have to physically log in to the hardware in your data center to set things up. You still can, by the way, should you want to. According to HPE, they see very little of that anymore with their customers, when they are given the option to do it centrally from GreenLake.
GreenLake Backup and Recovery and Disaster Recover
In addition to HPE GreenLake for Block Storage and HPE GreenLake for File Storage, HPE today announced two more new services within GreenLake. These are formally called HPE GreenLake for Backup and Recovery and HPE GreenLake for Disaster Recovery. The former is not new, but was launched last November. GreenLake for Backup and Recovery does get some enhancements. In particular, cloud-native backup capabilities have now been added. Think of SaaS backups. In addition, extensions on VMware backups and SQL backups have also been added. Again, by the way, no hardware configuration is required. As a spokesperson put it during a pre-briefing of today's news, "No installation, no management, no patching."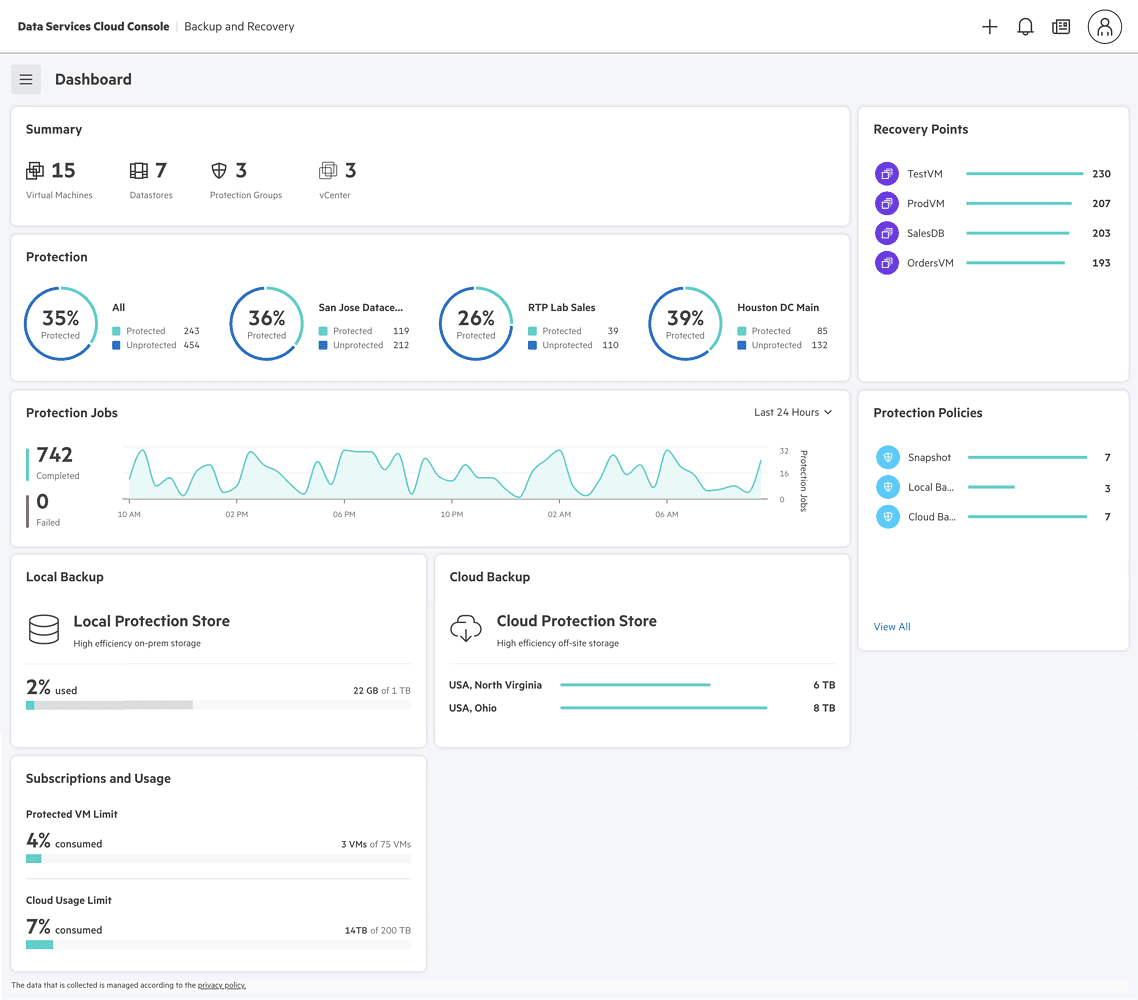 The last new GreenLake component around storage that HPE is announcing today is HPE GreenLake for Disaster Recovery. This is actually the integration of Zerto Continuous Data Protection, which HPE acquired a year ago, into GreenLake. So that now makes this recent acquisition available from HPE's cloud environment.
All in all, with each update, GreenLake gets more and more services on offer. It will have to, of course, because the hybrid cloud is also becoming increasingly complex, it seems. By cleverly combining hardware and services for optimal scalability as is the case around HPE GreenLake for Block Storage and HPE GreenLake for File Storage, HPE is also offering solid cost advantages.
Also read: HPE acquisition of OpsRamp expands GreenLake platform into ITOM