Toward the end of the year, Microsoft will be releasing Windows 11 version 23H2, which will add a host of additional features to the operating system. What is the tech giant adding to the latest release?
As usual, participants of the Windows Insider program have been working on the latest additions to the OS for a while. Still, it is usually the case that a Preview variant of a feature may contain bugs or is not yet fully fleshed out. In most cases, an innovation does not end up in the full Windows until it has been sufficiently tested. So for the features below, we should probably expect in a different manifestation than what is currently available to Insider members.
Windows Copilot
The most apparent new feature for 23H2 is undoubtedly Windows Copilot. It was unveiled in late May at Microsoft Build, promising to deliver AI assistance throughout the OS. In some ways, the tool closely resembles Bing Chat, the generative AI variant of Microsoft's search engine. On the other hand, Windows Copilot is more tightly integrated into Windows, allowing you to adjust system settings through conversation, for example. However, first impressions of Windows Central, for example, do show that the current Preview version still has somewhat limited functionality.
Also read: This is what Windows Copilot will look like
New design for Explorer
There are also innovations in familiar territory: the File Explorer is getting a new design. Behind the scenes, it's not a drastic revamp, but the search function should be a lot faster. This has been a thorny issue ever since an update to Windows 10 several years ago, as file search was significantly faster in earlier Windows releases.
There is also an integration with Microsoft Entra ID (formerly Azure Active Directory) where files can be seen in a carousel view. However, the Explorer is still very much recognizable in many areas.
Dynamic settings
The settings homepage gets a facelift and will now "learn" dynamically from user behaviour. For example, should you regularly go to Bluetooth settings or frequently tinker with your privacy settings, these will show up on the landing page for Settings.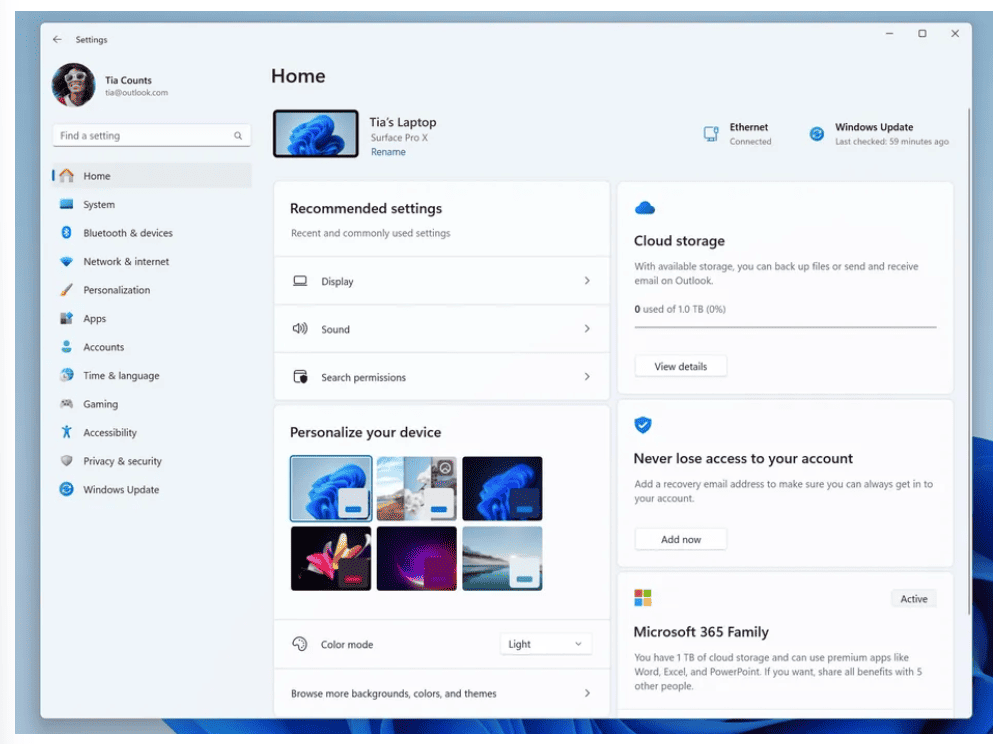 Dev Home/Dev Drive
For developers, the inclusion of Dev Home and Dev Drive should provide a "productivity boost," according to Microsoft. Preparing a system to code with it should go a lot faster with these applications. Dev Home and Dev Drive are available in preview form, with initial reactions talking about a not yet fully functional interface; for example, the preview release lacked an option to go to a previous screen.
Read more: Microsoft Build: overview, convenience and security for developers
Dynamic Lighting
With 23H2, Microsoft hopes to finally provide standardization when it comes to RGB lighting. For years, motherboards have been equipped with capabilities to control LEDs to create all sorts of patterns. However, in terms of implementation, it's the wild west: one manufacturer has yet another proprietary RGB hub, while another has a piece of software that overlaps with it.
With Dynamic Lighting, all addressable RGB lights should be addressable together. This will ultimately depend on the cooperation of third parties such as Corsair, Crucial and NZXT to truly work universally.
Native 7zip/.rar support
The WinRAR program has made compressed .rar folders openable in Windows for nearly three decades. Yet native support has been absent in all these years. By the end of this year, that should finally be a thing of the past and Windows 11 will be able to open compressed files without an additional layer of software. Currently, this option is already available in preview form.
Tip: After three decades, Windows finally supports rar, gz and tar files
Support for passkeys, improved recovery capabilities
In terms of security, there are improvements on two fronts. First, there will be support for passkeys, which should make passwords obsolete. This will make it a lot easier to log in to websites that support it, such as through Windows Hello facial recognition.
Microsoft has also been working on the backup and restore experience. The all-new Backup app should make it easier to determine what to keep, such as sensitive data, credentials and system settings. The new app remembers more than what previous backups from Microsoft could remember, such as where an application was pinned in the Start menu.
…and more
Windows 11 23H2 also comes with a mountain of improvements that improve user convenience. For example, handwriting recognition has improved and a user can use a digital pen to write directly into the text field, such as in a search in Explorer.
The volume mixer is again more like the one in Windows 10, where individual applications can be set by volume. Again, There is an option to never combine taskbar windows, such as two open windows of a browser.