Bosch wants to make work easier, roads safer, buildings more energy efficient and home appliances more useful. That can be done by focusing on a connected world, we understood from Bosch chairman of the board of management Stefan Hartung's press conference at Bosch ConnectedWorld. We attended the conference in Berlin, where a billion-dollar investment and a collaboration with IBM around quantum computing drew attention.
At Bosch ConnectedWorld, it was noticeable where Bosch's priorities lie. Much technological innovation today is in mobility, factories and homes. In these areas, connectivity and artificial intelligence are beginning to play an increasingly prominent role. Bosch's connected hardware, services and software generate data on consumption. This is a beneficial development for AI, as this technology can quickly draw conclusions from data. To some extent, it makes people's work and lives easier. And Bosch, in turn, can optimize and reinvent its technology.
"I strongly believe that digitalization offers great opportunities for Bosch in every business area. We are doing everything we can to exploit these opportunities," Hartung said.
Billions invested in digitalization and connectivity
In order to remain successful in this area and strengthen its efforts, Bosch will invest ten billion euros in digitalization and connectivity by 2025. Of this amount, two-thirds is intended to develop and expand "promising technologies". In this case, Bosch identifies Industrie 4.0, mobility and sustainability as promising areas.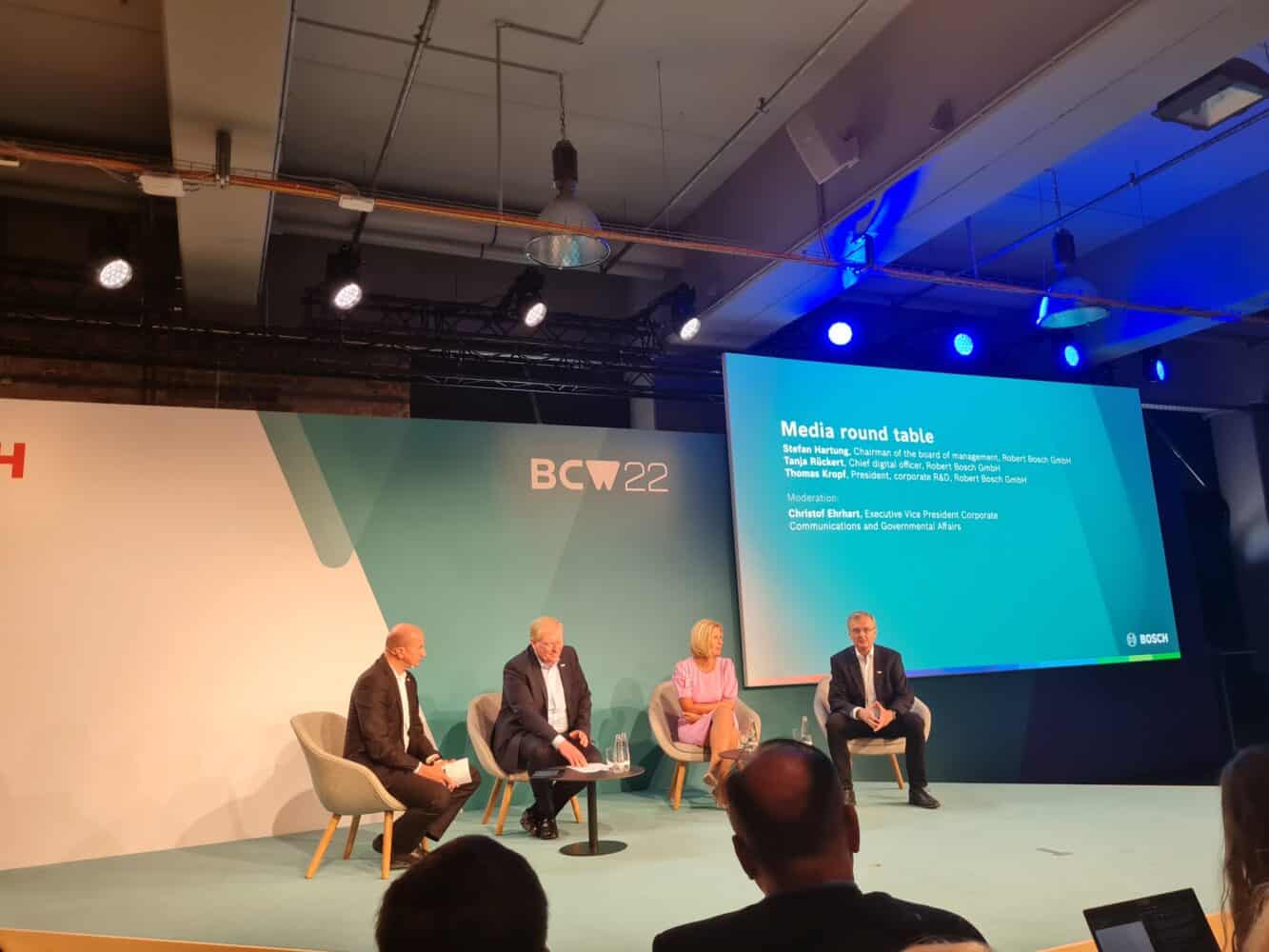 Industry 4.0 is of interest to Bosch because of its presence in industrial sectors. To companies in these sectors it supplies many materials, services, machine and more. These companies are expected to make great progress with Industrie 4.0. This by connecting business environments more and more. As a result, machines can be read out and the data analyzed for smarter operations. Think of a smart factory, where devices talk to each other and it is transparent what is happening. Processes can be better optimized this way.
Mobility is also currently a big focus area for Bosch. During Bosch ConnectedWorld, for example, there was a special hall for mobility solutions. The company develops a lot of car parts, such as brake discs. It has also developed sensors to enable self-driving cars. Bosch works a lot with other technology vendors in the automotive sector.
At the same time, a substantial amount will also go to technology to achieve a more sustainable world. There is a huge need for this, according to Hartung. "We are also using digitization and connectivity in the fight against climate change, one of the biggest challenges of our time. This fight is too big for any one company to tackle alone. It will be necessary to pull out all the stops and exploit all the possibilities that technology has to offer," Hartung said. According to the Bosch top executive, climate action requires determination and digital technologies, something the company possesses.
Part of the investment will also go into training and developing the staff to provide them with a good career in Bosch. "We are also working to remain an attractive employer for people with great potential in many areas, for future interest and expanding our position," Hartung said.
Bosch focuses on sustainability with startup Decarbonize Industries
Bosch gave climate some extra attention during Bosch ConnectedWorld. For example, it presented its startup Decarbonize Industries, intended for companies that want to reduce carbon emissions. Decarbonize Industries is developing cloud-based software for this purpose in cooperation with German energy supplier EWE AG. The software provides companies with a roadmap outlining the actions needed for carbon reduction. The platform uses current data from the energy market, legislation and other sources. Based on the data, the best route to sustainability should be shown. Hartung also shares concrete questions that Decarbonize Industries should answer. Think "how many charging stations should my company install to use solar energy?"
Partnering with IBM for quantum computing
Another way to contribute not only to the climate, but also to Bosch's technological position overall, is the new cooperation with IBM. Together with the tech giant, Bosch will support research in quantum technology. "Our goal in the next decade is to use quantum-based simulation of new materials. For example, for reducing the amount of precious metals and rare earths in carbon-neutral powertrains. This both in the electric motor and fuel cell," Hartung indicates.
Bosch's top executive indicates that today's most powerful computers are reaching computational limits. Quantum computers promise to go much further. Quantum computers, in fact, can achieve stronger and new computations through qubits. With these qubits, a bit can be a zero or a one or a zero and one at the same time. This is in contrast to regular computers, where a bit is only a zero or a one. The method can lead to multiple outcomes of a calculation. For example, Bosch can compute and calculate the properties of new materials in a short period of time. This, in turn, can also lead to finding alternative sustainable materials.
For Bosch, this is reason to seek cooperation with IBM, a party with knowledge of quantum computing hardware and building the computers. For its part, Bosch is looking for solutions in specific material areas. Bosch has more than 10 years of experience in materials, which makes it an interesting combination to engage in research. Together they can find new applications in the next decade, is the thought. Because, they believe, the true potential of quantum computing is yet to be seen in practice.
Investing to realize connected world
All in all, Bosch has shown with the return of a physical Bosch ConnectedWorld that it wants to take the connected world further. Ultimately, the industrial sector and mobility industry can look forward to investments and innovations in the near future. At the same time, sustainability is also receiving attention. This is an important area for Bosch. It wants to offer customers support in this area as well. With the announced billion-dollar investment and cooperation with IBM, the necessary steps have been taken.
Also read: Bosch expands autonomous driving expertise with Atlatec acquisition