Salesforce has recently added new functionality to its Field Service solution for field maintenance workers. With this extra functionality, companies can better manage and handle the backlog of maintenance activities.
Salesforce indicates that many of the updates are driven by the current pandemic. The updates should make it easier for maintenance staff to get a job done right the first time. In addition, customers do not have to make multiple appointments and take measures in connection with the various COVID19 protocols.
The updates of the Salesforce Field Service solution are build with the technology that was obtained when Salesforce acquired ClickSoftware last year.
Intelligent maintenance
The updated solutions include 'intelligent' maintenance scheduling, AI-based recommendations for the right parts and equipment for employees, insight into machine performance to determine what maintenance is required and new tools to inform customers exactly when maintenance employees arrive.
The Dynamic Priority solution enables maintenance planners to identify and prioritize the most crucial maintenance tasks. These can be based on SLAs but also on how critical the equipment is for the business activities.
Einstein Recommendations enables companies to use machine learning to improve the maintenance work and make it more efficient. Einstein also gives AI-based recommendations so that maintenance engineers always have the right tools and parts at their disposal. In doing so, the solution checks old equivalent work and recommends which tools and parts are required for the new maintenance.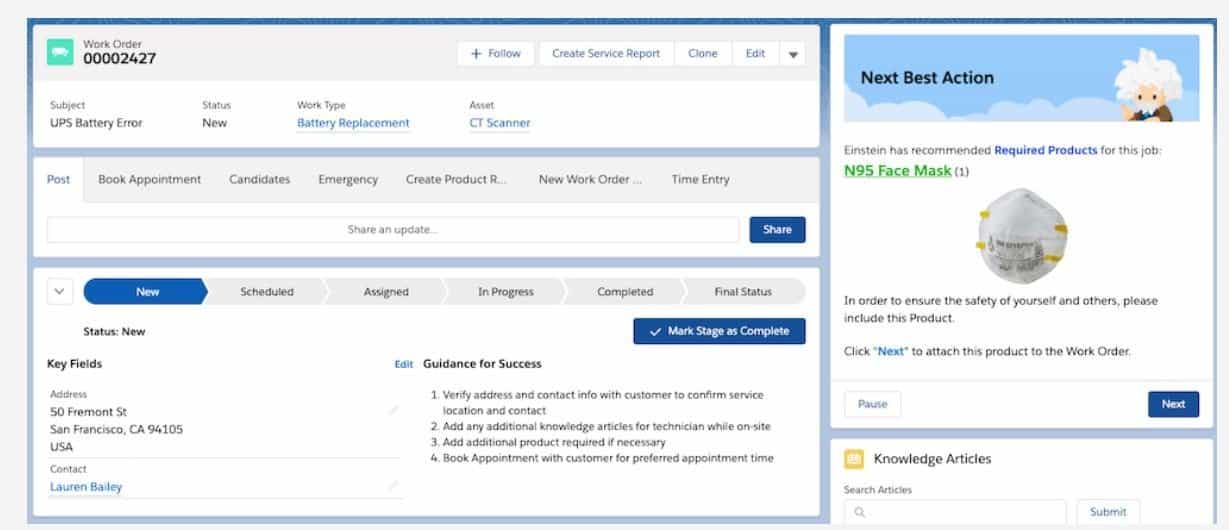 More insight
The newly added Asset 360 tool, jointly developed with Service Max, gives companies a complete overview of the available equipment, the performance of the equipment and the maintenance contracts. In this way, they can more easily determine which equipment needs maintenance and when. As a result, they ensure that their equipment always works and that operational costs are under control.
Furthermore, the Appointment Assistant solution, now added to Salesforce Field Service, shows live updates of the status of the arrival of maintenance staff and, via GPS, their location. This way, companies can prepare their locations properly for maintenance work and clear them in time for minimal contact.
The updates of the Salesforce Field Service solution are available immediately.