Problems with hard drives are mainly caused by aging drives. This concludes cloud backup and storage specialist Backblaze in its annual survey of its own non-working hard drives.
The backup and storage specialist annually investigates what causes hard drives to experience problems This is based on analyzing its own file of 231,309 data storage hard drives each quarter.
In its 2022 report, Blackblaze finds that most of the hard drives it uses are highly durable. The oldest hard drives the company uses, Seagate 6TB and Toshiba 4TB drives, now add up to nearly eight years in constant use.
Still, the number of problems with non-working hard drives increased 10 percent between 2021 and 2022. A total of 1.37 percent of all hard drives in use showed problems in 2022. A year earlier, the percentage was still at 1.01 percent, according to the researchers.
Almost all types have problems
The study found that almost all capacity types of hard drives, except for 16TB hard drives, saw an increase in the number of malfunctioning drives. Here, especially low-capacity hard drives, between 4TB to 10TB, showed a higher failure rate than those with higher capacities of between 12TB to 16TB.
Only one type of hard drive presented no problems at all, the 8TB Seagate. It should be noted, however, that Backblaze has only 79 copies of this hard drive on file and that they are only used as replacements for 8TB drives that break down.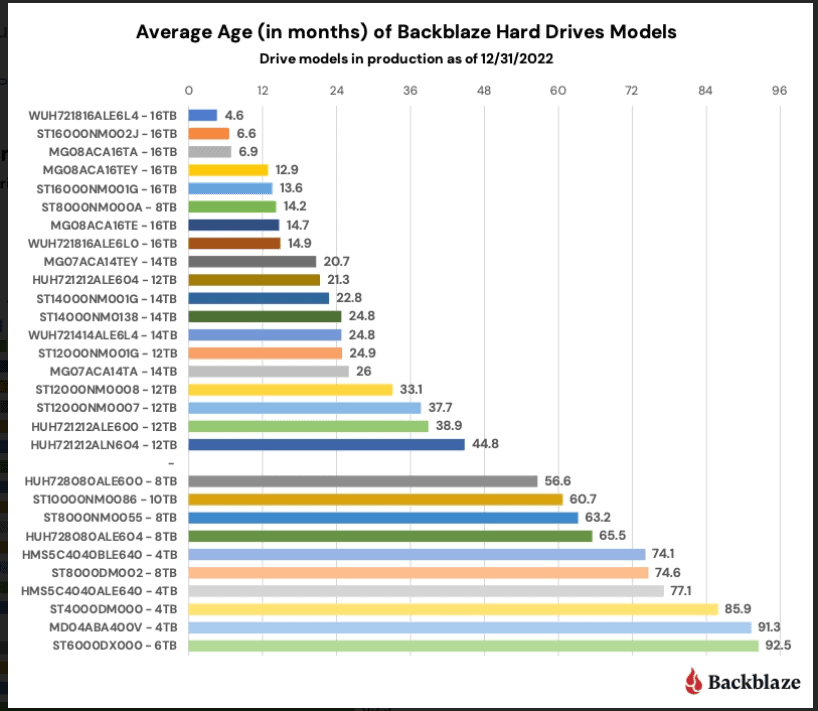 Aging drives
As the main reason for the growing number of hard drive problems, the backup and storage specialist identifies that hard drives are aging. This was evidenced in part by the observation that Seagate drives had the highest error rate. Most of these particular models are much older than the rest, according to the researchers. However, these Seagate drives are cheaper and the error rate is also not much higher than other brands. This does make these particular hard drives more cost-efficient.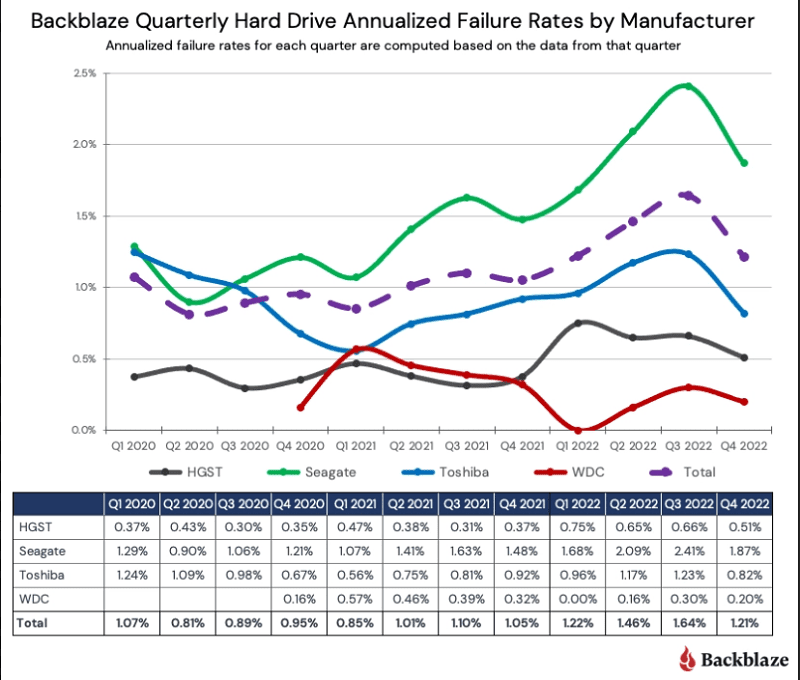 Western Digital delivers the best drives
When looking further into the brands of hard drives, Western Digital comes out on top, according to the survey. Only 0.20 percent of this brand's hard drives showed faults last year. Other hard drives used are from the aforementioned Toshiba and HGST.
The researchers expect the 2023 data may look very different. Backblaze plans to replace its older hard drives with new 16TB drives this year.