Lenovo presented a foldable PC at its Acceleration conference. According to Samsung, this makes it the first manufacturer to supply such a product, although at the end of last year Samsung announced that it would be working on a laptop with a foldable screen. This means that trend from the smartphone market is being extended to the PC market.
The Chinese electronics manufacturer positions the foldable PC, which will be part of the ThinkPad X1 family, as a product for the 'highly mobile professional who demands the best tools'. It emphasizes that it is not a phone, tablet or hybrid model. We have to see the product as a laptop with hinges in the middle to fold it up. When folded, this ThinkPad looks a bit like a business notebook.
The fold, however, offers possibilities that are a bit like a tablet. This allows the screen to be fully used for media playback. An angle of just over 90 degrees can also be chosen, so that half of the screen serves as a keyboard and the other half as a screen for regular laptop tasks. Another scenario is that you use the ThinkPad to read a book, also in a kind of 90 degree angle.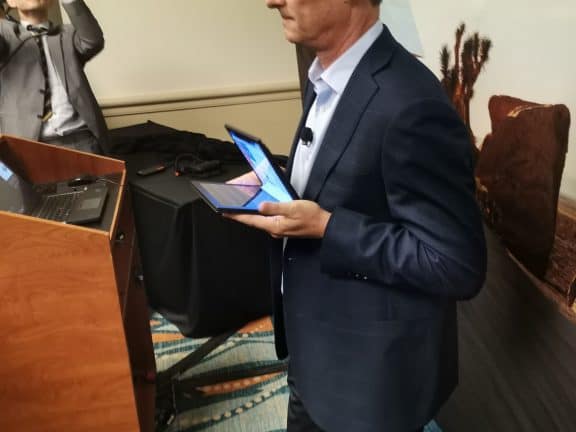 Specifications and launch
For the 13.3-inch OLED screen, Lenovo works in conjunction with LG. This is a 2K display with a 4:3 aspect ratio. Lenovo is aiming for a battery that will help you get through the day. On board we find an Intel-chip, in a later stage it will become clear which one it is. Furthermore, the PC will run on Windows. Several reports have been suggesting that Microsoft is working on an operating system that is optimized for foldable PCs for some time.
The foldable ThinkPad will be launched on the market in 2020 at an as yet unknown price. The product shown is a prototype, which could lead to some changes. Further product details will be published as time goes by.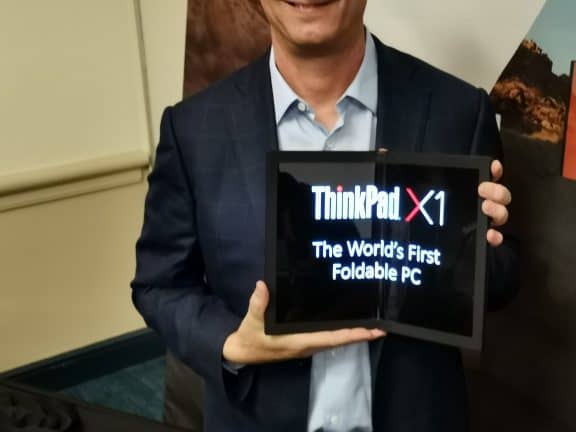 This news article was automatically translated from Dutch to give Techzine.eu a head start. All news articles after September 1, 2019 are written in native English and NOT translated. All our background stories are written in native English as well. For more information read our launch article.